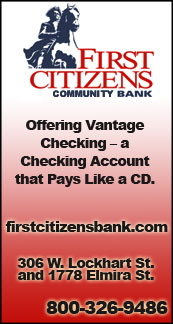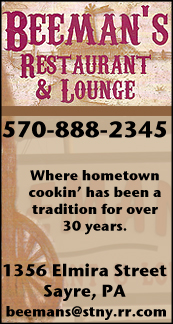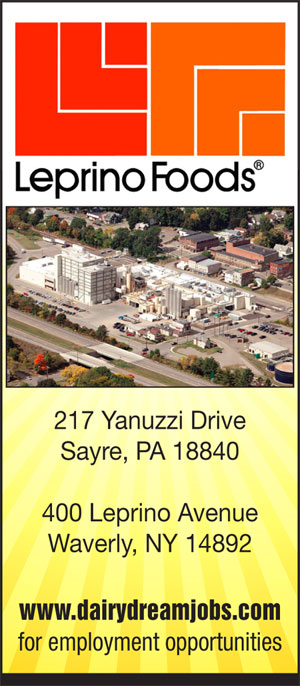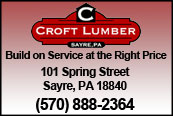 THE FINAL WORD: TIOGA FOOTBALL TEAM, COURTNEY'S TITLE RUN HIGHLIGHT UNBELIEVABLE 2015-16 (2016-06-24)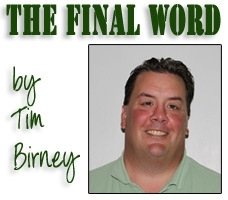 The 2015-16 school year is in the books, and what a year it was.

I've been covering high school sports in the Valley for a long time — a very long time, and this has to go down as one of the best years ever for Valley sports. As a matter of fact, if you were to use it as the basis of a Hollywood script, it would seem rather unbelievable.

The two biggest stories of the year for me were the Tioga football team's march to a state championship, and Athens junior Brian Courtney's historic run through his bracket, which included three defending state champions, to win his first PIAA wrestling title.

The Tigers marched through the regular season with their only mis-step coming at home in a loss to arch-rival Newark Valley — a loss coach Nick Aiello pointed to later in the season as a galvanizing moment for his squad.

Tioga sailed through the Section IV playoffs and crushed Sandy Creek in the state quarterfinals.

In the state semifinals, Tioga built a 38-20 lead early in the fourth quarter, then needed a late defensive stand, which included a game-clinching fourth-down QB sack by senior linebacker Adam Zwierlein, to preserve a, 38-36, win over Bishop Kearney.

In the state finals, Tioga fell behind, 14-0, before its high-powered offense even touched the ball.

The Tigers fought back, but a turnover left Ticonderoga with the ball at Tioga's 44 with 1:23 left in the game and the score tied at 26-26.

Two plays later, Manuel, one of most accomplished running backs in New York State history, made a play on the defensive side of the ball that will go down in Tioga football lore. Covering the Ticonderoga receiver on the outside, Manuel spied the tight end coming open down the seam and jumped the route, picking off the pass and returning it 46 yards to the Sentinel 34.

Two plays later, Manuel took the hand-off to the left, away from the power side, broke a tackle at the line-of-scrimmage, cut off a big block from junior Tyler Whitmore down field and raced 33 yards for the score on the final carry of his illustrious career with 16 ticks remaining on the clock.

For Manuel, who finished the season with a Section IV record 2,866 yards and 45 TDs, it was a fitting way to cap off his career. A career that ended with Manuel second all-time in New York State with 8,524 rushing yards and third all-time with 125 TDs.

In my 28 years on the sports beat, it was the single most exciting event I've ever covered. And Jesse Manuel, who was named the Class D "Player of the Year." is the best running back I've ever covered.

I honestly didn't know if I'd ever cover something that lifted me to such an emotional high again. And then, just three months later, there was Brian Courtney.

As a freshman, Courtney authored up one of the better stories I've had the privilege of covering when he lost his opening-round match at the PIAA Championships, then won five straight bouts to finish third.

The following year he lost a heart-breaker in the finals to finish second.

In March, Courtney's antics blew the roof off the former Hersehypark Arena with wins over three returning state champions en route to a 126-pound title.

After an impressive, 23-8 technical fall win over Hunter Goodlin of Jamestown in the round-of-16, Courtney began his historic run with an 8-3 win over Bedford's Jon Gabriel, a bout that started with Gabriel flat on his back for what appeared to be a pin.

Not only had Courtney beat the defending 126-pound champion, but he had avenged a loss to Gabriel from earlier in the season at the Bedford Tournament.

In the semifinals, Courtney avenged his loss in the 120-pound finals as a sophomore with a dominating, 9-3, win over Reynolds' Cole Matthews. Again, the bout started with Matthews flat on his back for a prolonged period of time in what appeared to be a pin.

Courtney finished off his run with a hard-fought, 3-2, win over Central Cambria's Max Murin, who was the 113-pound champ in 2015. As the final seconds clicked off the clock to complete Courtney's march into history, the crowd reached a fevered pitch — for me, matched only by the crowd reaction to Cary Kolat's fourth state title in 1991.

Beating three returning state champs was something that had never been done before and with PIAA changing the way it seeds the top wrestlers in each weight class, it likely won't ever be done again.

Courtney wasn't the only Wildcat to win PIAA gold.

Athens sophomore Breana Gambrell also brought home a PIAA gold medal, repeating as state champ in the long jump. She won the gold medal with a leap of 19-feet, 4 3/4-inch — more than a foot better than her gold medal-winning jump of 18-feet, 4-inches as a freshman.

The state record is 19-feet, 10-inches and I wouldn't be a bit surprised to see Gambrell push that mark well over 20 feet before she's done.

Aside from the state title for the football team, Tioga athletics as a whole had a banner year.

The Lady Tiger volleyball team won its third Section IV title in four years and advanced to the state semifinals for the second time in three years.

The Tioga baseball team won its second consecutive Section IV title, while the softball team won an overall IAC championship, the boys soccer team won its first-ever division title, the boys and girls bowling teams,and the boys golf team each won division titles, and the girls track team won its first division title in more than 35 years.

Individually, freshman John Worthing finished second in his first trip to the New York State wrestling championships, seniors Malley Bowen (100 hurdles) and Gage Lubertowicz (pole vault) finished third and fourth, respectively, at the New York State Track & Field Championships, and 8th-grader Sam Taylor finished sixth at the Section IV Individual Golf Tournament to qualify for States.

One of the biggest stories of the fall was the continuation of the Athens girls soccer team's NTL win streak, which reached 64 games then came to a screeching halt at Sayre in the regular-season finale.

The Waverly football program also won its third Section IV title (second in Class B) under coach Jason Miller, then lost in overtime to eventual state champ Cazenovia in the state quarterfinals.

The winter season saw the return of the Valley Christmas Tournament after a nine-year absence. It was well-received by big crowds and featured well-played basketball games. The Waverly teams swept the team titles.

Not every story had a happy ending this year, however. Waverly sophomore A.J. Burkhart, a returning state champion, suffered a major knee injury just 3 1/2 days before the state tournament. He advanced to the semifinals with a pair of wins Friday, but was unable to get untracked Saturday and finished sixth. All things considered, it was a gutty performance.

One of the more captivating stories of the spring was the success of the extremely young Waverly girls golf team. With two sophomores, a freshman, an 8th-grader, and a pair of 7th-graders getting the majority of starts, the Lady Wolverines went 26-0 during the regular season, then became the first team other than Horseheads to win a Section IV title.

They advanced four players — sophomore Capria Picco, freshman Alex Tomasso, 8th-grader Gianna Picco, and 7th-grader Gabby Picco — to the New York State Championships, and had a fifth player (sophomore Madison Kittle) on hand as an alternate.

Seventh-grader Gabby Picco accounted for the rarest and most incredible feat of the 2015-16 sports year, carding a pair of holes-in-one in one round — the odds against such a feat being 162,562,500-to-1, according to Golf Digest.

——————

Every year, we say good-bye to a different group of seniors. This year's group is an especially talented group, led by Manuel, who not excelled on the gridiron, but had a career record of 178-43 and two trips to States on the wrestling mats, and was all-state on the diamond as a junior, and is a sure-fire first-team selection this year.

Waverly will say good-bye to Josh Mastranutono and Peyton Miller, whose career resumes nearly rival Manuel's.

Mastrantuono ran his streaks of consecutive sports seasons participating in state competition to five by reaching that level in all three seasons in 2015-16.

As well as playing on Waverly's Section IV championship football team, he qualified for the New York State Swimming & Diving Championships for the third straight year, and the New York State Track & Field Championships for the second straight year.

Miller pulled off the rare trifecta of being named all-state in three different team sports during his career. He was a third-team all-state quarterback as a junior, and first-team as a senior, while earning sixth-team all-state honors on the diamond as a junior, and 13th-team all-state on the hardwoods as a senior.

Sayre's Paige Wampole and Athens' Morgan Westbrook were three-sport standouts and Tioga's Malley Bowen was a two-sport whiz, who was among the best in the state in both sports (volleyball and track) — they will be missed.

There are others, including Athens' Austin Lister, Ryan Segar, Hannah Reid, and Kaitlyn Testen, Tioga's Tanner Folk, Zach Hutchison, Adam Zwierlein, Gabe Hoose, Katelyn Stubbs, Sam Wood, Brittany Vergason, and Taylor Ayres, Sayre's Ali Peet, and Gavin McCutcheon, and Waverly's Jake Goble, Shane Carpenter and Breanna Featherson are among a much longer list of seniors who will be missed.

It's been quite a year, and we may not see another like if for quite some time. Then again ….

——————

The Final Word returns in the fall. Have a great summer!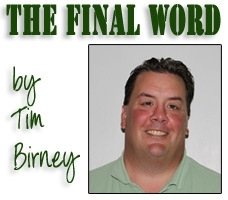 Print Friendly Version
You've asked about helping ...
here's your chance. Click HERE