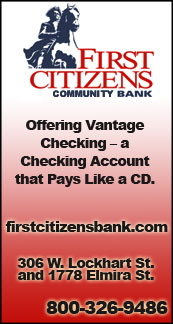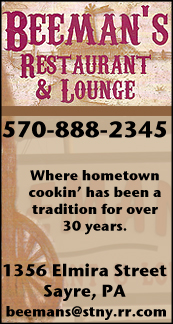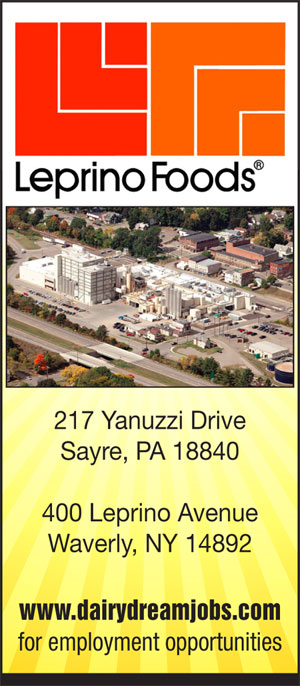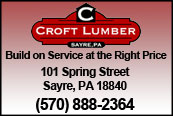 FROM THE PRESS BOX: "FIRSTS" IS COMMON THREAD IN "SUPER 7 STORYLINES OF THE FALL" (2016-11-18)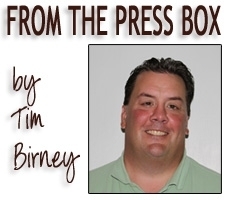 I've talked about storylines in the past and how they normally come in one of four realms: the start of a storyline, the continuation of one, the likely culmination of one, or a storyline totally out of the blue.

This year, the "Super 7 Storylines of the Fall" are a bit unusual in the fact the majority of them deal with firsts, which are usually tough to come by these days.

With any further ado, I give you, from No. 7 to No. 1, the top storylines of the fall:

7. Tioga volleyball wins fourth Section IV title in five years: Despite moving up from Class D, Tioga continues its dominance with a Section IV, Class C title — its fourth in five years, and the seventh in the storied career of longtime coach Des Ford.

The Lady Tigers ran their regular-season win streak to 64 consecutive matches and won their fourth consecutive IAC overall Small School title.

With Tioga returning a great deal of talent, this is a storyline we'll definitely re-visit in 2018.

6. Tioga football's Section IV, Class D dominance comes to an end: For the first time in coach Nick Aiello's career at Tioga, the Tigers failed to reach the Section IV, Class D semifinals. For just the second time in his seven years at the helm, they failed to win the Class D title.

Tioga's five-year run atop the Class D ranks came to an end with a loss to Groton in the quarterfinals. Crossover losses to Class B Chenango Valley and Waverly put the finishing touches on a 3-7 season, which including four losses to bigger schools, including potential state champions Chenango Forks and Newark Valley.

With one storyline complete, it will be interesting to see which direction Tioga football takes its new storyline.

5. Sayre's Ryan Murrelle wins District 4 golf title: Sayre junior Ryan Murrelle won his first District 4 golf title, thus qualifying for Regionals for the third time in three tries.

Murrelle has fallen short of qualifying for States in all three opportunities — the last two years by the narrowest of margins.

Murrelle will write the final chapter in this storyline next fall with his eyes on a District 4 repeat and an elusive trip to the PIAA Championships.

4. Sayre volleyball advances to first-ever District 4 title game: The Lady Redskins enjoyed one of their finest seasons ever on the volleyball hardwoods, collecting the program's first-ever NTL title and making its first trip to the District 4, Class A championship game.

I can't say this storyline came out of nowhere because Sayre was the most improved team in the area in 2015 and returned the core of its team. Add to that, the PIAA re-classification and the fact a few perennial Class A powerhouse bumped up to Class AA, the door to success was wide-open for the Lady Redskins and they took full advantage.

With heavy graduation losses ahead and with coach Tom Shay stepping down, I'm afraid this is a storyline that's coming to an end.

3. Waverly girls advance to first-ever Section IV, Class B championship game: The Lady Wolverines played three thrilling games against Section IV, Class C champion Notre Dame — splitting the first two, then losing in a shootout in a divisional playoffs.

That said, few gave Waverly much chance against perennial Class B power Seton Catholic in the semifinals, especially after the Lady Saints' dominating 3-0 win at Memorial Stadium during the regular season.

The Lady Wolverines, however, pulled out a win penalty kicks after 110 minutes of scoreless action to advance to the championship game against top-seeded Chenango Forks, which won 1-0 and then went on to win a state title.

Waverly graduates just one starter, so this storyline has several more chapters to be written.

2. Sayre football advances to first-ever District 4 title game: The 2016 season started on an inauspicious note with back-to-back losses, but seven weeks and seven wins later Sayre had clinched it first league (or division) title of any sort since 1980, and the top seed in the District 4, Class A playoffs.

A win over Canton in the semifinals — the program's first postseason win since the inception of state playoffs in 1986 — propelled the Redskins into their first-ever appearance in a district championship game.

Despite the loss to Muncy in the title game, 2016 will go down as one of the most successful in program history in nearly four decades, however, with heavy graduation losses it's a storyline likely coming to a close.

1. Athens boys win first-ever District 4 soccer title: After winning numerous NTL titles only to come up short in the District 4 playoffs, Athens broke through with its first-ever District 4 title, coming from behind in both playoff games to top Selinsgrove and Mifflinburg.

In its first state playoff game, Athens dropped a 1-0 decision to Northwestern Lehigh, which plays in the championship game tonight.

The Wildcats finished the season at 18-2-1 with the only losses coming to Northwestern Lehigh and Section IV, Class B champion Notre Dame, which lost in the state quarterfinals. The Wildcats also played to a tie with Notre Dame.

Athens loses a few key seniors, including "Player of the Year" Shane Colegrove, but returns several talented starters and has a talented group of sophomores-to-be returning. It will be interesting to see if there's another chapter or two left in this storyline.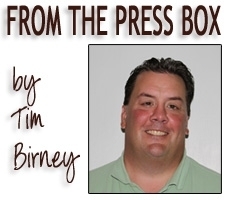 Print Friendly Version
You've asked about helping ...
here's your chance. Click HERE