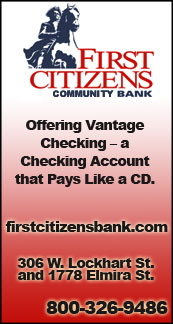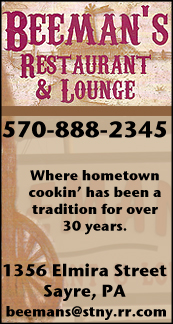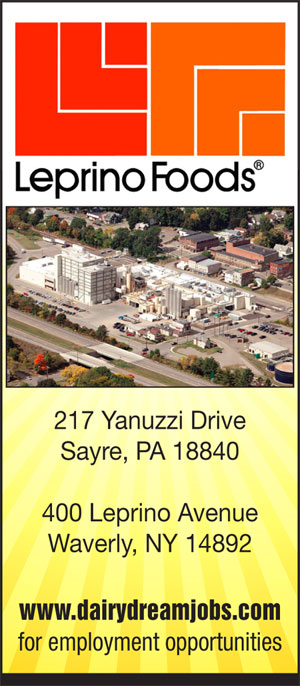 FROM THE PRESS BOX: THE SUPER 7 'STORYLINES OF THE SPRING' (2017-06-17)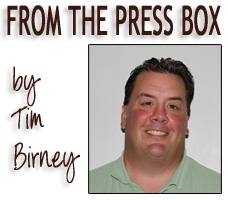 I've talked about storylines in the past and how they normally come in one of four realms: the start of a storyline, the continuation of one, the likely culmination of one, or a storyline totally out of the blue.

This spring season is no different.

Without any further ado, I give you, from No. 7 to No. 1, the "Super 7 Storylines" of the spring:

7. Tioga's Jonny Polo Rankin conquers new event quickly.
In a storyline that came out of nowhere, Tioga senior Jonny Polo Rankin ran the 400-meter hurdles just a dozen times during his high school track & field career, yet on the 12th and final time, he captured a sixth-place medal at the New York State Division 2 Championships.

And, Polo Rankin broke the school record at the Class C Championships, then lowered it by 1.62 seconds to 56.83 seconds at the Section IV Championships.

6. Record-setting Tioga boys golf team dominates IAC Small School ranks.
The Tigers only loss of the season was by one stroke to Large School foe Watkins Glen. They won the Small School title by 18 strokes over Marathon.

During the season, the Tigers broke the school record twice. The second time, they shot a five-man aggregate score of 198 at Hillendale Golf Course to eclipse the mark of 201 from earlier in the season.

Sophomore A.J. MIddendorf shot a 31 at Hillendale to break the school record of 32 held jointly by teammate Sam Taylor (earlier in the season) and head coach Josh Robinson (in 2004).

Expect this storyline to continue as the Tigers return in tact next year, and will add another youngster who could make an immediate impact next season.

5. Tioga's Parker Hendershot and Waverly's Shailei Kraft wrap up prolific diamond careers.
Hendershot not only had a senior season for the ages, his .645 batting average and eight triples both rank 10th all-time in New York State history, but finished off a career with a school-record 165 hits and 20 triples, which ranks sixth all-time in state history.

He had a career batting average was .521 with 154 runs scored, 125 RBI, 45 doubles, 42 stolen bases, and nine home runs. He had a career on-base percentage of .587, and a career slugging percentage of .874 for an OPS of 1.461.

He also posted a 9-4 record on the mound with a 1.98 ERA. He fanned 86 in 59 1/3 innings and allowed just 36 hits.

Kraft hit an astounding .689 on the season with 42 hits in 61 at-bats, including 19 extra-base hits. She had 13 doubles, five triples, 34 RBI and 36 runs scored, and struck out just three times in 68 plate appearances.

During her five-year varsity career, Kraft hit .498 with 137 hits in 275 at-bats, including 39 doubles, 12 triples, and five home runs. She also had 105 RBI, and scored 120 runs.

Kraft is a slick-fielding shortstop with a cannon of an arm. She did not commit an error in 48 chances this season.

Obviously, this is the end of a very entertaining storyline. Hendershot and Kraft are both once-in-a-generation talents we likely won't see again in the Valley for quite some time.

4. Waverly's Tomasso, and Tioga's Taylor earn all-state honors.
In a storyline that we will likely see again, perhaps more than once, Tioga freshman Sam Taylor, and Waverly sophomore Alex Tomasso both earned all-state golf honors by finishing in the top 20 at their respective New York State Championships.

While they were both dominant during the regular season, they took different routes to get there in the postseason.

Taylor shot a two-day total of 161 at the Robert Trent Jones Course at Cornell to finish seventh at the Section IV Championships, while Tomasso finished third with a 90 at Soaring Eagles Golf Course.

At States, also at Cornell, Taylor shot a 76 in the second round to move up eight spots for a 17th-place finish, while Tomasso shot an 80 in the second round, an improvement of three shots from the first round, but still dropped three spots in the standings to finish 20th.

Taylor and Tomasso both established school records with their scores at States.

3. Waverly girls golf continues dominance in Section IV.
The Lady Wolverines posted a 39-0 record this season, running their win streak to 65 matches, and repeated as Section IV champions.

In the second match of the season, Waverly shot a four-player aggregate score of 163 to shatter the previous school record by 14 strokes.

The Lady Wolverines defended their IAC title, beating runner-up Watkins Glen by 77 strokes, then dominated the Section IV Championships with a school-record four-player aggregate of 362 to top runner-up Horseheads by 40 strokes.

Waverly also qualified five players for States, up from three the previous year, although two Waverly girls were alternates that year, and one played at States.

The bad news for the rest of Section IV, the Lady Wolverines return virtually in tact next year, so this is a storyline we will definitely revisit.

2. Athens, Sayre win District 4 baseball titles.
The Wildcats rode the arm of senior Cody Jennings to its first District title in 20 years in a 3-2 win over Mifflinburg, while the Redskins battered NTL counterpart 10-0 Cowanesque Valley for their first title since 2010.

Perhaps the neatest thing about the entire story is the two Valley teams won D4 titles in a doubleheader at Penn State's Medlar Field.

The teams are quite different in terms of make-up, but one common thread is both teams are comprised of year-round baseball players, unlike many teams in the area, which consist of athletes who play baseball during baseball season.

The Wildcats will graduate 12 seniors, including eight starters, while Sayre graduates just three starters and returns a strong senior class next year, and a few talented underclassmen.

It appears the Sayre storyline will add another chapter next year, but it may be the end of the story — for now — for Athens.

On a sidenote, the Waverly and Tioga both qualified for and won a postseason game. The four teams combined for a 70-20 record.

1. Athens junior Breana Gambrell piles up more PIAA medals.
Athens junior Breana Gambrell won two more PIAA gold medals to bring her total to four, and also won her second career silver medal, bringing her career medal count to seven.

She also set District 4 records in the long jump, and 100-meter dash en route to States.

It would have been a huge upset if Gambrell had not defended her PIAA long jump title and won her third straight gold medal in the event, especially considering she had set an unofficial state record at the Wyalusing Invite with a leap of 20-feet, 8 1/2-inches.

She didn't disappoint, winning with a leap of 19-10 3/4-inches — nine inches better than the runner-up.

After two years of frustration at Shippensburg, Gambrell broke through in the triple jump with a school-record hop, skip, and jump of 38-feet, 8 3/4-inches — 18 inches better than the runner-up.

In perhaps the most surprising turn of events in the postseason, Gambrell regained her "freshman form" and won a silver medal in the 100-yard dash — just a year after not qualifying for the finals.

This storyline will culminate next year with her fourth and final trip to Shippensburg, but a sequel awaits in the not too distant future at a lucky Division I college.

1B. Lady Wildcat track & field team enjoys historic season.
Breana Gambrell was not alone in Shippensburg. She was joined by classmate Emily Lunger, who qualified for States in four events, sophomore Rachel Hutchison (two events), senior Shanell Baglini (two events), and sophomore Ariana Gambrell (one event).

The aforementioned quintet, along with their teammates, also won the program's first-ever District 4 title.

At States, Lunger won a pair of medals to bring her career total to three, and Baglini, Hutchison, and Ariana Gambrell each won their second career medal.

There may be a different cast of characters next season, but the stars of the storyline will return for one final run.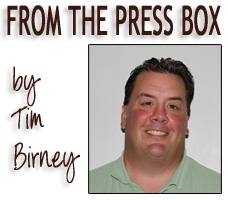 Print Friendly Version
You've asked about helping ...
here's your chance. Click HERE