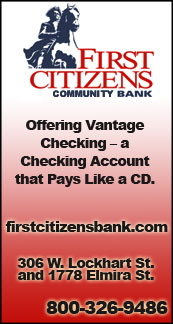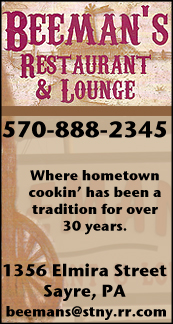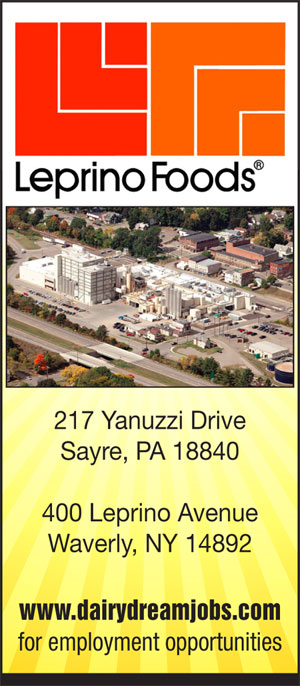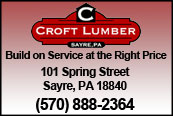 FROM THE PRESS BOX: 'BAKER'S DOZEN TOP STORYLINES OF THE 2016-17 SPORTS YEAR' (2017-06-20)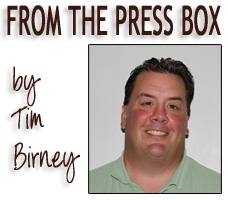 I've talked about storylines in the past and how they normally come in one of four realms: the start of a storyline, the continuation of one, the likely culmination of one, or a storyline totally out of the blue.

The 2016-17 sports year was dominated by dynamic seniors writing the final chapters to their legacies. It was also a year of firsts.

Without any further ado, I give you, from No. 13 to No. 1, the "Baker's Dozen Storylines" of the 2016-17 school year:

13. Careers come to an end, and occasionally they are historic.
Graduation is a recurring storyline, but every year there are different names. Occasionally, the names are ones that will not be forgotten anytime soon.

Last year it was Tioga's Jesse Manuel. This year a quartet of athletes — Athens senior Brian Courtney, Sayre's Chloe Tracy, Tioga's Parker Hendershot, and Waverly's Shailei Kraft — graduate with numbers in their respective sports that may not be matched anytime soon.

Courtney (for his career statistics, read on) graduates as a two-time PIAA champion and a four-time state place-winner. He will wrestle collegiately at the University of Virginia.

Tracy, who will play Division I soccer at Binghamton University, is a once-in-a-generation talent with amazing quickness, field vision, and an off-the-charts soccer IQ.

As a senior, Tracy scored 34 goals and doled out 29 assists — the only time in her four-year varsity career that she recorded more goals than assists. She finished her career with 105 goals what is believed to be a District 4 record 129 assists.

Hendershot hit .645 for the season, which ranks ninth all-time in New York State history. He also had eight triples this season, which ranks 10th all-time.

He tied his own school record with 49 hits, including 12 doubles, eight triples, and five home runs, in 76 at-bats. He also scored 41 runs, had 45 RBI, seven stolen bases, and struck out just five times in 93 plate appearances. He had a .688 on-base percentage, and a 1,211 slugging percentage, for an 1.899 OPS.

For his career, Hendershot hit .521 with a school-record 165 hits and 20 triples, which is sixth all-time in state history. He also had 45 doubles, and nine home runs, 125 RBI, and 154 runs scored. He struck out just 14 times in 382 plate appearances.

Hendershot will be playing at Division I Penn State in the fall.

Kraft, a slick-fielding shortstop with a cannon of an arm, did not commit an error in 48 chances this season. She hit an astounding .689 on the season with 42 hits in 61 at-bats, including 19 extra-base hits. She had 13 doubles, and five triples, 34 RBI and 36 runs scored, and struck out just three times in 68 plate appearances.

During her five-year varsity career, Kraft hit .498 with 137 hits in 275 at-bats, including 39 doubles, 12 triples, and five home runs. She also had 105 RBI, and scored 120 runs.

Kraft will be playing at Division II Dominican College in the fall.

All four will be missed by Valley sports fans, but we may not see the likes of their talents anytime soon.

12. Sayre's Murrelle wins District 4 golf title — Waverly's Tomasso, Tioga's Taylor earn all-state honors.
It was quite a year for Valley golfers, and all three who brought home hardware return for next season.

Sayre junior Ryan Murrelle won his first District 4 golf title, thus qualifying for Regionals for the third time in three tries.

Murrelle has fallen short of qualifying for States in all three opportunities — the last two years by the narrowest of margins — one stroke.

Murrelle will write the final chapter in this storyline next fall with his eyes on a District 4 repeat and an elusive trip to the PIAA Championships.

In a storyline that we will likely see again, perhaps more than once, Tioga freshman Sam Taylor, and Waverly sophomore Alex Tomasso both earned all-state golf honors by finishing in the top 20 at their respective New York State Championships.

While they were both dominant during the regular season, they took different routes to get there in the postseason.

Taylor shot a two-day total of 161 at the Robert Trent Jones Course at Cornell to finish seventh at the Section IV Championships, while Tomasso finished third with a 90 at Soaring Eagles Golf Course.

At States, also at Cornell, Taylor shot a 76 in the second round to move up eight spots for a 17th-place finish, while Tomasso shot an 80 in the second round, an improvement of three shots from the first round, but still dropped three spots in the standings to finish 20th.

Taylor and Tomasso both established school records with their scores at States.

11. Waverly girls golf dominance continues.
The Lady Wolverines posted a 39-0 record this season, running their win streak to 65 matches, and repeated as Section IV champions.

In the second match of the season, Waverly shot a four-player aggregate score of 163 to shatter the previous school record by 14 strokes.

The Lady Wolverines defended their IAC title, beating runner-up Watkins Glen by 77 strokes, then dominated the Section IV Championships with a school-record four-player aggregate of 362 to top runner-up Horseheads by 40 strokes.

Waverly also qualified five players for States, up from three the previous year, although two Waverly girls were alternates that year, and one played at States.

The bad news for the rest of Section IV, the Lady Wolverines return virtually in tact next year, so this is a storyline we will definitely re-visit.

10. Tioga sophomores Worthing and Lamb win state wrestling medals.
Tioga sophomore John Worthing won his second state medal in as many years, and classmate Austin Lamb won one in his first trip to Albany.

Worthing turned in a dominant season, winning his first 40 matches before losing in the 99-pound state semifinals. He bounced back with a pair of wins to finish with the bronze medal with a 42-1 record.

Lamb finished his season with a 40-8 record, with all eight losses coming against state qualifiers. He also had a number of wins against state qualifiers en route to his sixth-place finish at Albany.

This storyline is one that will be written again the next two years, but will likely to include team accolades.

9. Waverly boys basketball enjoy historic two-year run.
The Wolverines fell just shy of their first Section IV title in 20 years, but did cap the most successful two-year stretch in the storied history of the program in more 60 years.

Waverly tied a school record, originally set in 1951-52, with 22 wins this season, including a school-record 21 consecutive wins, eclipsing the record of 18 set last year. The 43 wins over the last two years is also a school record.

The Waverly teams in 1951-52, and '52-53, featuring Bill Rolls, won back-to-back Section IV titles in a day when there were no classifications — just one champ.

If there's another chapter to be written in this story, it will feature a vastly different cast with four starters graduating from the Wolverine line-up.

8. Sayre volleyball advances to first-ever D4 title game.
The Lady Redskins enjoyed one of their finest seasons ever on the volleyball hardwoods, collecting the program's first-ever NTL title and making its first trip to the District 4, Class A championship game.

I can't say this storyline came out of nowhere because Sayre was the most improved team in the area in 2015 and returned the core of its team. Add to that, the PIAA re-classification and the fact a few perennial Class A powerhouse bumped up to Class AA, the door to success was wide-open for the Lady Redskins and they took full advantage.

With heavy graduation losses ahead and with coach Tom Shay stepping down, I'm afraid this is a storyline that's coming to an end.

7. Waverly girls soccer advances to first-ever Section IV title game.
The Lady Wolverines played three thrilling games against Section IV, Class C champion Notre Dame — splitting the first two, then losing in a shootout in a divisional playoffs.

That said, few gave Waverly much chance against perennial Class B power Seton Catholic in the semifinals, especially after the Lady Saints' dominating 3-0 win at Memorial Stadium during the regular season.

The Lady Wolverines, however, pulled out a win in penalty kicks after 110 minutes of scoreless action to advance to the championship game against top-seeded Chenango Forks, which won 1-0 and then went on to win a state title.

Waverly graduates just one starter, so this storyline has several more chapters to be written.

6. Sayre football plays in first-ever District 4 title game.
The 2016 season started on an inauspicious note with back-to-back losses, but seven weeks and seven wins later Sayre had clinched it first league (or division) title of any sort since 1980, and the top seed in the District 4, Class A playoffs.

A win over Canton in the semifinals — the program's first postseason win since the inception of state playoffs in 1986 — propelled the Redskins into their first-ever appearance in a district championship game.

Despite the loss to Muncy in the title game, 2016 will go down as one of the most successful in program history in nearly four decades, however, with heavy graduation losses it's a storyline likely coming to a close.

5. Sayre and Athens win District 4 baseball titles.
The Wildcats rode the arm of senior Cody Jennings to its first District title in 20 years in a 3-2 win over Mifflinburg, while the Redskins battered NTL counterpart 10-0 Cowanesque Valley for their first title since 2010.

Perhaps the neatest thing about the entire story is the two Valley teams won D4 titles in a doubleheader at Penn State's Medlar Field.

The teams are quite different in terms of make-up, but one common thread is both teams are comprised of year-round baseball players, unlike many teams in the area, which consist of athletes who play baseball during baseball season.

The Wildcats will graduate 12 seniors, including eight starters, while Sayre graduates just three starters and returns a strong senior class next year, and a few talented underclassmen.

It appears the Sayre storyline will add another chapter next year, but it may be the end of the story — for now — for Athens.

4. Athens win first-ever District 4 boys soccer title.
After winning numerous NTL titles only to come up short in the District 4 playoffs, Athens broke through with its first-ever District 4 title, coming from behind in both playoff games to top Selinsgrove and Mifflinburg.

The win also doubled as NTL's first-ever boys soccer district title.

In its first state playoff game, Athens dropped a 1-0 decision to Northwestern Lehigh, which went on to lose in the state championship game.

The Wildcats finished the season at 18-2-1 with the only losses coming to Northwestern Lehigh and Section IV, Class B champion Notre Dame, which lost in the N.Y. state quarterfinals. The Wildcats also played to a tie with Notre Dame.

Athens loses a few key seniors, including "Player of the Year" Shane Colegrove, but returns several talented starters and has a talented group of sophomores-to-be returning. It will be interesting to see if there's another chapter or two left in this storyline.

3. Sayre girls basketball win first-ever D4 title, notch first-ever state playoff win.
Despite scoring just two points in the first quarter, Sayre rallied for a 38-36 overtime win over East Juniata to win its first-ever District 4 championship.

Eight days later, the Lady Redskins used the same formula, scoring just two points in the first quarter en route to a come-from-behind, 36-31, win over Elk Lake in the opening round of the PIAA Class AA playoffs — Sayre's first-ever state playoff win.

In its "Sweet 16" game, Sayre scored just two points in the first quarter, and despite closing the gap to within three midway through the fourth quarter, dropped a 51-37 decision to Philadelphia's West Catholic.

The Lady Redskins finished the season with a school-record 23 wins.

If there's a sequel to be written to this storyline, it will feature a much different cast of characters with Sayre set to graduate four starters.

2. Athens junior Breana Gambrell piles up more PIAA medals.
Athens junior Breana Gambrell won two more PIAA gold medals to bring her total to four, and also won her second career silver medal, bringing her career medal count to seven.

She also set District 4 records in the long jump, and 100-meter dash en route to States.

It would have been a huge upset if Gambrell had not defended her PIAA long jump title and won her third straight gold medal in the event, especially considering she had set an unofficial state record at the Wyalusing Invite with a leap of 20-feet, 8 1/2-inches.

She didn't disappoint, winning with a leap of 19-10 3/4-inches — nine inches better than the runner-up.

After two years of frustration at Shippensburg, Gambrell broke through in the triple jump with a school-record hop, skip, and jump of 38-feet, 8 3/4-inches — 18 inches better than the runner-up.

In perhaps the most surprising turn of events in the postseason, Gambrell regained her "freshman form" and won a silver medal in the 100-yard dash — just a year after not qualifying for the finals.

This storyline will culminate next year with her fourth and final trip to Shippensburg, but a sequel awaits in the not too distant future at a lucky Division I college.

2B. Lady Wildcat track & field team enjoys historic season.
Breana Gambrell was not alone in Shippensburg. She was joined by classmate Emily Lunger, who qualified for States in four events, sophomore Rachel Hutchison (two events), senior Shanell Baglini (two events), and sophomore Ariana Gambrell (one event).

The aforementioned quintet, along with their teammates, also won the program's first-ever District 4 title.

At States, Lunger won a pair of medals to bring her career total to three, and Baglini, Hutchison, and Ariana Gambrell each won their second career medal.

There may be a different cast of characters next season, but the stars of the storyline will return for one final run.

1. Athens senior Brian Courtney caps off brilliant career with second PIAA title.
While it wasn't as historic as his first, Athens senior Brian Courtney brought home PIAA gold for the second straight year, becoming the school's first-ever two-time champion.

As a junior, Courtney became the first wrestler in state history to knock off three defending state champions en route to a PIAA title. This year's title run was less dramatic as Courtney notched a tech fall and two pins, including a first-period fall in the finals.

Courtney will graduate as the most accomplished grappler in Wildcat / Bulldog history with a 153-6 record, which is an all-time best winning percentage of 96.22 percent.

Courtney also has an incredible 47-2 record in the postseason and this year became just the third NTL wrestler to win four North Section, four District 4, and four Northeast Regional titles.

In his four trips to Hershey, he posted a 16-2 record with both losses coming to the eventual state champ.

In his career, Courtney lost six matches. Five were to wrestlers with a combined seven PIAA gold medals, including two-time Class AAA champ Luke Karam of Bethlehem Catholic, and two-time Class AA champ Max Murin of Central Cambria. (Courtney beat Murin for his gold medal his junior year.)

Courtney is a once-in-a-lifetime talent, and we may never see the likes of him again.

1B. Athens graduates four seniors with more 500 career wins between them.
Brian Courtney is not the only accomplished wrestler bidding adieu to the Wildcats this season.

Kaidon Winters, who brought home a fifth-place PIAA medal this season, finished his career with a 120-43 record, ranking him 10th all-time on the school's win list, while Gage Cannavino, a state qualifier as a junior, finished at 118-44 — 11th all-time.

Brock Horton never won fewer than 27 matches in his four-year varsity career and leaves the program with a 114-38 record, which is 14th all-time.

The four graduate with a combined 505 wins. It could be a long time before that win total is matched.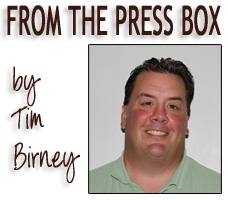 Print Friendly Version
You've asked about helping ...
here's your chance. Click HERE