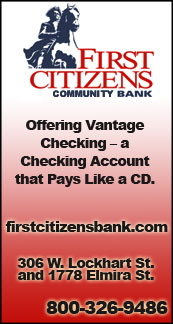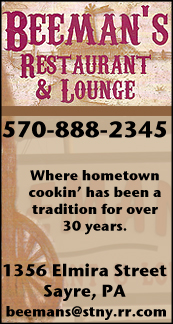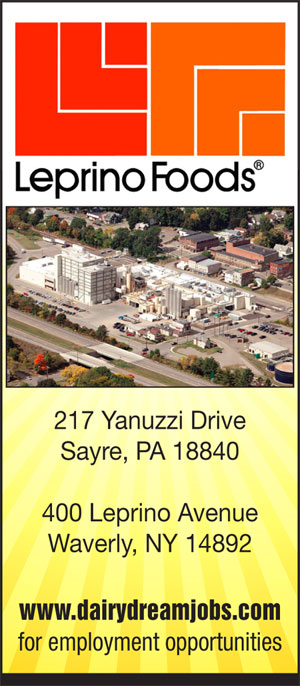 FROM THE PRESS BOX: A GLIMPSE INTO THE CRYSTAL BALL (PART II) -- WEEK 2 PICKS (2017-09-01)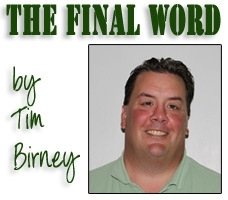 The New York State high school football season opens tonight, and coincidentally the crystal ball is coming into focus.

Tioga and SVEC host games in Week 1, while Waverly hits the road against a divisional foe in its opener.

SVEC Eagles: Despite heavy graduation losses, the Eagles have a few things going for them in a pair of good halfbacks in Tom Llewellyn and Christian Haynes, a pair of of good receivers in tight end Nathan Mack and wideout Cameron Fitzgerald, a solid offensive line, and a coach in Ron Miller with a good offensive mind who will find a way to make them productive.

The biggest question on offense is how quickly junior Wilson Cooper or sophomore Cameron Doane will come along at QB.

Inexperience usually rears its ugly head on the defensive side of the ball. If the defense comes together, SVEC could be dangerous.

Prediction: The Eagles play a tough schedule, including a rugged three-game stretch at the end of the season at Dryden and at home against Oneonta and Newark Valley. If things go seamlessly for SVEC, it could win five or six games, but that rarely happens. … 2017 Record: 4-4 in regular season.

Tioga Tigers: The Tigers are coming off a 3-7 season — coach Nick Aiello's first losing campaign after five consecutive Section IV, Class D titles, including a state title run in 2015.

Team chemistry and senior leadership has improved by leaps-and-bounds this season, and Aiello has a slew of athletes at his disposal, led by senior QB Connor Hutchison.

I expect this TIoga team to once again pile up yards on the ground, and be very dangerous through the air with seniors Nick Klossner and first-year senior DeMario Cambers possessing big-play potential.

The defense is more of a question mark, but could end up being very good before the season is over.

Prediction: The Tigers will be hard-pressed to beat defending Class C state champion Newark Valley in the season-opener, but could run the table after that if it knocks off a big Delhi team in Week 2. 2017 Record: 6-1 in regular season.

Waverly Wolverines: Waverly started the 2016 season at 1-4, but won four of its final five games for a 5-5 mark.

The Wolverines graduated a slew of skill-position players, but return enough to be dangerous behind a veteran and very good offensive line.

Junior QB Gavin Judson is another in the long line of quality quarterbacks coach Jason Miller has produced, and he'll do damage on the ground and through the air.

Waverly's MO on defense is to get better as the season progresses. I expect no different this year.

Prediction: The Wolverines face a rugged schedule that includes a brutal three-game stretch near the end of the regular season against Maine-Endwell, Chenango Forks, and Owego. After that, they play Chenango Valley, a program that has turned into one of its biggest rivals and nemesis. Against this schedule, a successful season would be 4-3, and 5-2 would be exceptional. … 2017 Record: 3-4 in regular season.

——————

Tonight is the first full weekend of high school football action as the New York State schools begin play.

I was 2-0 in Week 1 and look to put another perfect week on the board, although I hope I'm wrong on a couple of my picks.

2017 RECORD: 2-0. WEEK 1 RECORD: 2-0

North Penn (1-0) at Athens (1-0), 7 p.m. @ Alumni Stadium: The Wildcats easily disposed of Cowanesque Valley in Week 1, 46-0, while the Panthers had some unexpected problems against Northwest Area in a 14-10 win.

This is a very good under-the-radar rivalry in the NTL. Both programs have been in the upper-echelon of the NTL football battles for years.

The Panthers always seem to have athletes to fit into their spread offense, and junior QB Brent Burleigh will look to take advantage of all of them against an athletic Wildcat defense.

On the flip side, Athens will likely give North Penn an unhealthy dose of big senior tailback Zach Jayne, with the speedy sophomore tailback Damian Hudson getting some touches for good measure.

Prediction: It's hard to take much from the Wildcats' win in Week 1, but Jayne is a man-child and Hudson is very dangerous. Defensively, they need to contain North Penn's big-play potential. This is not a game I had Athens winning before the season, but … ATHENS 24, NORTH PENN 19.

Waverly at Windsor, 7 p.m.: The Wolverines won four of their final games in 2016 to finish at 5-5, while Windsor finished the season at 7-3 with its season ending in the Class B championship game.

The Black Knights have one of the most dangerous players in Section IV in the speedy Damian Kimbro, but Waverly coach Jason Miller and his defensive coordinator David Shaw have had a knack for taking away team's best weapons.

Waverly has graduated a slew of skill-position athletes over the past two year. The Wolverines still have enough athletes there to win, but their strength seems to be in the backfield. Miller has already admitted you could see more of a ground-bound attack this year, but that could just be coach-speak.

Even though it's Week 1, when you're in the same division with Chenango Forks and Maine-Endwell, you can't afford to lose if you want a shot at a division title, as well as a top-four seed and a home game in the opening round of the Class B playoffs.

Prediction: Miller will find a way to get the Wolverines in the end zone enough to win. The question is, can the Wolverine defense, which gave up a couple of long TD runs to U-E's talented QB Devon Hogan in their scrimmage last week, keep Kimbro from running wild? … WAVERLY 28, WINDSOR 26.

Newark Valley at Tioga, 7 p.m. @ Haggerty Field: The Tigers are coming off a 3-7 campaign in 2016, while the Cardinals finished at 13-0 with the program's first-ever Section IV and state championships.

Tioga has a plethora of athletes and a big and talented, but young, offensive line that will face a fast and talented Newark Valley defense.

The biggest concern may be the Tiger defense's ability to stop the Cardinal offense.

Prediction: Tioga will be a much better team this year, but this is a tough way to start the season. I think the Tigers will compete, but … NEWARK VALLEY 26, TIOGA 19.

Groton at SVEC @ Candor H.S., 7 p.m.: The Eagles enjoyed a 7-3 season and a trip to the Section IV, Class C championship game in the first season of the merged S-VE and Candor programs, while the Indians won their first eight games before losing in the Class D semifinals.

Both teams suffered heavy losses to graduation, but both programs have good coaching staffs and should still be dangerous this season.

SVEC coach Ron Miller has been around for a long time, and has a good offensive mind. I think the Eagles will score some points. They ran the ball well in their scrimmage, and threw the ball better than I expected.

The question is, how much does Groton have on offense, and will the Eagles young defense be able to stop what is likely to be a ground assault.

Prediction: If the Eagles take care of the ball, I think they'll score some points. … SVEC 33, GROTON 20.

Sayre (0-1) at Wellsboro, 7 p.m.: The Redskins are coming off a 27-6 loss to Wyalusing, while the Green Hornets rolled to a 64-12 win over Canton.

This is a big mismatch on paper, with an experienced and ultra-talented Wellsboro squad lining up against a talented, but very young and inexperienced Sayre squad.

Wellsboro senior QB Quinn Henry, who accounted for six TDs (four rushing and two passing) will surely make his mark again in Week 2. Don't be surprised if he equals his Week 1 production.

Prediction: I just can't see how the Redskins can compete in this game. That's not meant to be a knock on Sayre, it's just Wellsboro and Henry are very good. … WELLSBORO 62, SAYRE 6.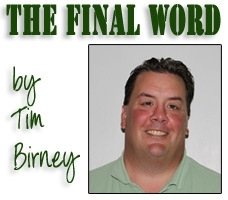 Print Friendly Version
You've asked about helping ...
here's your chance. Click HERE