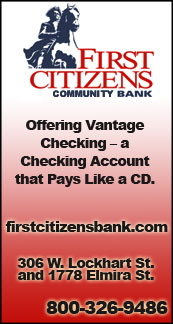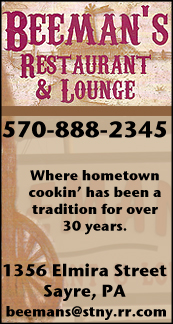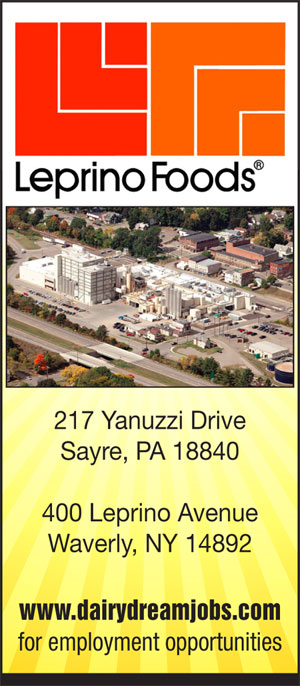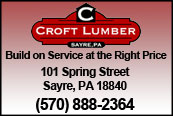 FROM THE PRESS BOX: A GLIMPSE INTO THE CRYSTAL BALL AT THE 2018 FOOTBALL SEASON (2017-11-22)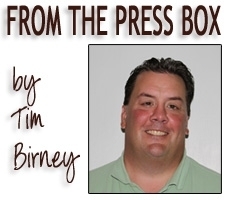 The 2018 football season is more than nine months away, but the crystal ball is already starting to come into focus as we look ahead.

The crystal ball forecasts three of the five Valley teams improving on their 2017 records — with one advancing to the state playoffs, while two teams will take a step back.

According to the crystal ball:

Athens Wildcats: The Wildcats graduate a large senior class, including record-setting tailback Zach Jayne, but return a solid core group of under classmen, led by senior-to-be QB Kaden Rude, and junior-to-be middle linebacker Dawson Leiser.

Athens is going to have to replace a lot of offensive production with Jayne's graduation, and senior-to-be Nick Watkins, and junior-to-be Damian Hudson will likely get the first crack at doing so. The Wildcats will need to replace several linemen — on both sides of the ball.

Kaden Rude has a couple of familiar targets returning, including his brother junior-to-be Keegan Rude. Don't be surprised if sophomore-to-be Ben Pernaselli becomes a major contributor at tight end (and defensive end) over the next few years.

Athens will have quite a bit returning at linebacker, and in the secondary, but have some work to do up front.

After two years at Class AAAA, the Wildcats will drop to Class AAA this fall.

Prediction: Every team gets hit by graduation, and the NTL is not exactly at a high point as far as competition goes. The Wildcats, coming off an 8-3 season, should be just fine in the league next year, with Wellsboro still the team to beat, but coming back to the pack a bit. … The crystal ball says 6-5 in the 2018 regular season, and a loss to top seed Loyalsock in the Class AAA semifinals.

Sayre Redskins: The Redskins graduate just four seniors from a 1-9 season, so have a wealth of experience returning.

Quarterback Corbin Brown returns along with running backs Nate Garrity and Isaiah Firestine, and top receivers Gage Carnrike, Ethan Miller, and Dominik Mazzarese. The Redskins also return several linemen.

Defensively, Garrity and Firestine lead a slew of experience returning.

Sayre also has a freshman-to-be class that could provide depth, and even a starter or two next year.

Prediction: The Redskins have all the pieces to put together another winning season. It will be interesting to see if they can put them all together. … Muncy remains the team to beat in the Small School race. … The crystal ball says 4-6 in 2018.

SVEC Eagles: The Eagles graduate just six seniors, but four of them are starting linemen, and another is leading ground-gainer Thomas Llewellyn.

SVEC returns junior-to-be Cameron Doane, and senior-to-be Wilson Cooper, who both saw time at QB this year, as well as senior-to-be running back Christian Haynes, and senior-to-be tight end Nathan Mack.

Defensively, Haynes and Mack will be joined by seniors-to-be Kyle Jelliff, and Cameron Fitzgerald, and junior-to-be Marcus Rypekma, so there's plenty of pieces returning on both sides of the ball.

The obvious question is, who will be joining senior-to-be Ben VanGalder on the offensive and defensive lines.

The SVEC modified "A" team had a good season and could provide some help next season as well.

Prediction: Class C will get a little tougher next season with the Waverly likely dropping down from Class B. Sidney could also join the ranks from Class D when the new BEDS (used to determine classifications) numbers are released in January. With so many questions in the trenches for the Eagles, it could be difficult to improve on 2017's 2-6 record. … The crystal ball says 2-7 in 2018.

Tioga Tigers: The Tigers graduate 10 seniors, including seven two-way starters, who made up the majority of their skill position starters.

Tioga does return starting senior-to-be linemen Alex Bloss, Austin Lamb, and Stephen Taylor, and sophomore-to-be Jacob Armstrong at tight end, but only senior-to-be John Worthing returns with any experience in the backfield.

Replacing three-year starter Connor Hutchinson at QB may be coach Nick Aiello's most difficult task.

Defensively, Tioga will have Lamb, Taylor, Armstrong, Worthing and senior-to-be Wanck returning.

The Tioga JV team was 7-2 this season, playing a more difficult schedule than the varsity's, and should provide plenty of re-enforcements for Aiello in 2018.

Prediction: It's possible that the Tigers could bump up to Class C, but likely they'll remain in D in 2018. If they remain in Class D, they'll be favored to win their division again. If Sidney, which has always been a bit bigger than Tioga in terms of enrollment, stays in the Class D, they'll be the favorite in the chase for a Section IV title. If Sidney moves up, it will be a wide-open race with Greene likely the early favorite. Section IV likes to schedule Tioga against Class C teams for their non-divisional games, so my guess is they open the 2018 slate against Newark Valley and Waverly. … The crystal ball says 7-3 with the season ending in the Class D finals against Sidney.

Waverly Wolverines: The Wolverines graduate 15 seniors, including several two-way starters, but return senior-to-be QB Gavin Judson, sophomore-to-be RB David Hallett, juniors-to-be Thomas Price and Scott Woodring at receiver, and senior-to-be Cole Jenner at fullback.

Waverly does graduate several linemen, but coach Jason Miller and his staff have always done a good job of getting younger players on the field during the course of the season, so they'll have a little less work to do in the offseason than you might think.

Defensively, senior-to-be Montana Davis and Price will return at linebacker, and are two dynamic pieces to build around.

Like the varsity team, the Waverly JV team played a tough schedule, and had a solid season. The JV team will likely have several players ready to contribute next season.

Prediction: If Waverly does drop to Class C as expected, it will become an instant contender for a Section IV title, with Newark Valley remaining as the team to beat. If Sidney bumps up from Class D, it could make Class C very interesting in 2018. … I expect to see more of a ground game from the Wolverines with Hallett, and Judson the main weapons, but Judson will still be a threat to throw the ball downfield. … Section IV has a habit of giving Waverly tough non-divisional games when it's in Class C. My guess is the Wolverines open up against Chenango Forks or Maine-Endwell. … The crystal ball says 8-3 and a Section IV, Class C title, with the season ending against Section III champ Skaneateles in the state quarterfinals.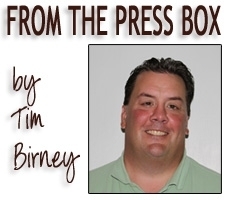 Print Friendly Version
You've asked about helping ...
here's your chance. Click HERE