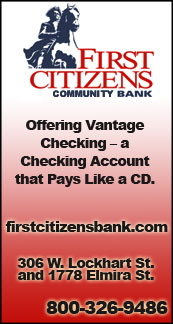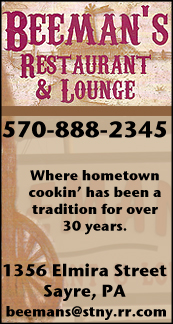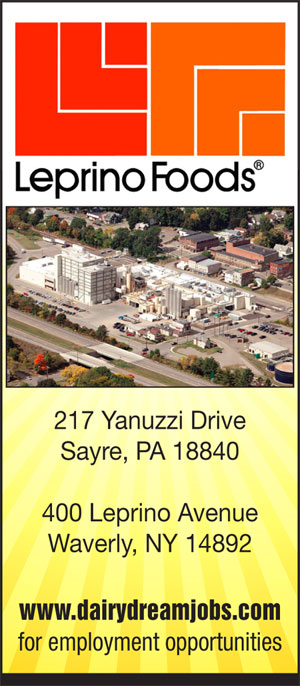 FROM THE PRESS BOX: MY CHRISTMAS WISHES FOR 2018 (2017-12-24)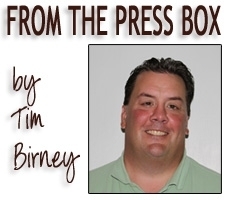 Itís hard to believe that another Christmas is here.

While all my Christmas shopping is done, there are a few things on my list that Iím hoping Santa will deliver in 2018.

Dear Santa:

I know youíre busy, so I donít expect anything I want to be under the tree Christmas morning, but if you could take care of my list over the next few months, it would be greatly appreciated.

1.Keep the Valley Christmas Tournament in the Valley: Iíve been asking for this for more than 25 years now, but after this year, can we please keep the Valley Christmas Tournament in the Valley?

I have nothing against Towanda. I actually started my career there and have a lot of fond memories of coaches and athletes I covered there, but letís face it, the possibility of two or three teams and fan bases driving 15-plus miles, instead of two or three is unnecessary.

2: Play the IAC boys and girls hoop games on different nights: As driven as the schools are by the Almighty dollar, itís hard to believe IAC schools are missing out on revenues by playing the boys and girls basketball games at the same time on the same night.

With the admission price of games these days, even an additional 100 fans ó 50 fans from each school as a conservative estimate ó for each game would be a nice boost. Many of those 100 fans will also visit the concession stand.

Itís an easy assumption that rivalry games like Waverly-Tioga, Candor-S-VE, Watkins Glen-O-M would be an even bigger draw for both games.

3. A shot clock in Pa.: The chance for my next Christmas wish is about as likely as a snowball in July, but itís time the PIAA institutes a shot clock for boys and girls basketball.

For anyone who crosses the border and watches games in N.Y. and Pa., thereís no need for me to explain. The times have changed, and itís time the PIAA gets with the times.

4. More football games between Valley rivals: I know scheduling can be a nightmare, especially when it entails teams from two different states, but can we see more Valley football rivalry games.

Athens and Waverly have only played on the gridiron once since 2007. It seems like forever since Waverly and Sayre have played.

With Waverly dropping back to Class C, Iím hoping the Waverly-Tioga rivalry will be renewed in 2018.

4b. More Saturday afternoon football: While weíre on the subject of football, how Ďbout a few more Saturday afternoon games, especially when there are multiple Valley teams scheduled to play at home on the same night. Just because you have lights, doesnít mean you have to use them.

5. More Valley rivalries renewed in other sports: Scheduling football can be trickier than other sports because they play the fewest games, and there are certain league or divisional obligations involved, but thereís no reason Valley teams shouldnít be playing in other sports.

Iíve proposed a two-day baseball and softball ďclassicĒ featuring Sayre and Athens playing Waverly and Tioga to the Valley coaches and athletic directors, but it hasnít gained any traction. Can you imagine, Sayre playing at Waverly, and Tioga at Athens on Friday, and the four teams playing a doubleheader at Sayre on Saturday?

Over the last several years, the Athens and Waverly girls soccer teams have been dominant, but have only played once; thatís a shame.

Hats off to the Valley cross country coaches for keeping the Tom Koons Valley Invite alive. Unfortunately, the track & field counterpart seems to have fallen by the wayside.

6. A return to prominence for the Waverly and Sayre wrestling programs: The once-proud Waverly and Sayre wrestling programs have reached rock bottom, but appear to be on the upswing with improving numbers at the varsity and junior high levels, and big numbers in the youth ranks.

Iíve become a wrestling nut in recent years. Covering Athens, Tioga, and Waverly wrestlers at States the last few years has been one of the highlights of the year. It should be even more fun with the addition of SVEC this year.

I say, ďThe more, the merrier.Ē I canít wait to see a Redskins and / or Wolverine grappler back on the mats at States.

7. Some nice spring weather: It's fairly common knowledge for readers of Valley Sports Report that I'm not a big fan of spring sports in our area. Honestly, it's not the sports ó I love baseball, softball and track ó it's the weather and the repeated efforts to start the season in late March or early April that I despise.

I still don't see the harm in starting the baseball season in mid- to late-April and running it into June before starting the playoffs, instead of having to play 18 games in a five-week span (because of all the postponements in early April.)

In Pa, the playoffs already run past graduation, there's no harm in pushing them back a little further. If PIAA can hosts its state championship football games on Dec. 15-16, it can definitely have a state championship baseball game in late June or early July.

Safe travels tonight ... and thanks in advance for anything you can do for the Valley sports fan in 2018.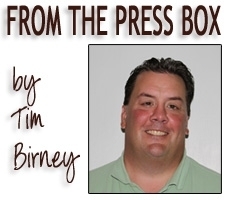 Print Friendly Version
You've asked about helping ...
here's your chance. Click HERE