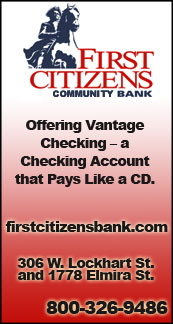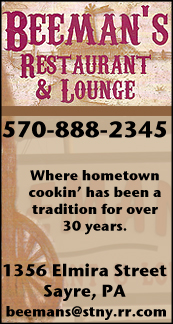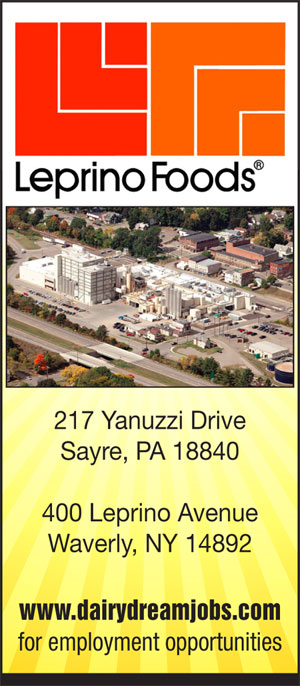 FROM THE PRESS BOX: A BAKER'S DOZEN — THE TOP STORIES OF 2017 (2017-12-31)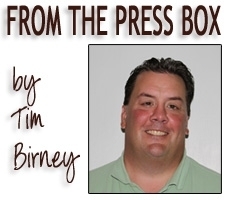 While 2017 may not be fondly remembered by the majority of Americans, Valley sports fans will have plenty of fond memories of 2017 for years to come.

The year marked an end to many outstanding careers, most notably Athens Brian Courtney, Tioga's Parker Hendershot, and Waverly's Shailei Kraft.

It will also be remembered for a number of Section IV, and District 4 championships in an array of sports — football, volleyball, bowling, basketball, golf, track & field, and baseball.

As I've said in the past, lists are like … well, everyone has one.

Here is one person's list — from 13 to 1 — of the "Baker's Dozen — Top Stories of 2017."

13. Tioga's Parker Hendershot and Waverly's Shailei Kraft wrap up prolific diamond careers.
Hendershot not only had a senior season for the ages, his .645 batting average and eight triples both rank 10th all-time in New York State history. He finished off his career with a school-record 165 hits and 20 triples, which ranks sixth all-time in state history.

He had a career batting average was .521 with 154 runs scored, 125 RBI, 45 doubles, 42 stolen bases, and nine home runs. He had a career on-base percentage of .587, and a career slugging percentage of .874 for an OPS of 1.461.

He also posted a 9-4 record on the mound with a 1.98 ERA. He fanned 86 in 59 1/3 innings and allowed just 36 hits.

Kraft hit an astounding .689 on the season with 42 hits in 61 at-bats, including 19 extra-base hits. She had 13 doubles, five triples, 34 RBI and 36 runs scored, and struck out just three times in 68 plate appearances.

During her five-year varsity career, Kraft hit .498 with 137 hits in 275 at-bats, including 39 doubles, 12 triples, and five home runs. She also had 105 RBI, and scored 120 runs.

Kraft is a slick-fielding shortstop with a cannon of an arm. She did not commit an error in 48 chances in 2017.

12. Stein and Bodine enjoy career nights on the hardwoods.
On Feb. 10, Waverly senior Hunter Bodine had a game for the ages and wiped the names of a pair of Wolverine greats out of the record book in the process.

Bodine poured in a school-record 45 points, eclipsing the mark of 43 set by Dave Bennett, and also knocked down not only a school-record, but a Section IV-record 11 3-pointers, including six in one quarter. He topped the old record of seven set by David Sickler, and made 11 of his 16 shots from behind the 3-point arc.

On Dec. 27, Athens senior Gavin Stein poured in 47 points and nine 3-pointers in an 85-73 win at Waverly in the opening round of the Valley Christmas Tournament.

Stein scored just eight points in the first half, but knocked down seven 3-pointers and scored 26 points in the third quarter alone. Stein set a new gym-record at Waverly, and connected on 9 of 13 shots from behind the 3-point arc in the contest, including 7 of 8 in the third quarter.

11. Senior Zach Jayne has monster season on gridiron for Wildcats.
Athens senior Zach Jayne capped a record-breaking career on the gridiron with a record-breaking senior season for the Wildcats.

Jayne rushed for 2,161 yards and 34 TDs — both school records — in 2017. He finished his career with a school-record 4,254 yards and 57 TDs. In seven of his 11 games this season, he ran for at least 205 yards.

10. Sayre golfer Ryan Murrelle finally makes it to States.
After three trips to Regionals, Sayre senior Ryan Murrelle qualified for the PIAA golf championships this fall in his fourth attempt.

Murrelle, who missed opportunities to participate in playoffs for the final berth at States by 1 stroke in both his sophomore and junior seasons, was once again NTL "Player of the Year" and graduates as one of the most accomplished golfers in school history.

9. Waverly girls soccer reaches Section IV, Class B championship again.
In a near sequel to the storyline it wrote in 2016, the Waverly girls advanced to the Section IV, Class B championship against the state's top-ranked Chenango Forks.

In the first go-round, the Lady Wolverines dropped a 1-0 decision to the Lady Blue Devils, who went on to win a state title. This year, Waverly led 1-0, but gave up a goal late, and lost 2-1 in double-overtime.

8. Tioga sophomores John Worthing and Austin Lamb win state medals.
Tioga's John Worthing won his second state medal in as many years, and classmate Austin Lamb won one in his first trip to Albany.

Worthing turned in a dominant season, winning his first 40 matches before losing in the 99-pound state semifinals. He bounced back with a pair of wins to finish third with a 42-1 record.

Lamb finished his season with a 40-8 record, with all eight losses coming against state qualifiers. He also had a number of wins against state qualifiers en route to his sixth-place finish at Albany.

7. Tioga volleyball wins fifth Section IV title in six years.
Tioga wrote another chapter in what is becoming a lengthy novel, winning its third straight Section IV title, and sixth in seven years.

The Lady Tigers finished the season with an 81-game regular-season win streak, and also won their fifth consecutive IAC overall Small School championship.

6. Waverly girls golf continues dominance in Section IV.
The Lady Wolverines posted a 39-0 record this season, running their win streak to 65 matches, and repeated as Section IV champions.

In the second match of the season, Waverly shot a four-player aggregate score of 163 to shatter the previous school record by 14 strokes.

The Lady Wolverines defended their IAC title, beating runner-up Watkins Glen by 77 strokes, then dominated the Section IV Championships with a school-record four-player aggregate of 362 to top runner-up Horseheads by 40 strokes.

Waverly also qualified five players — junior Capria Picco, sophomore Alex Tomasso, freshman GIanna Picco, and 8th-grader Gabby Picco and Sidney Tomasso — for States, up from three the previous year, although two Waverly girls were alternates that year, and one of them played at States.

5. Athens, Sayre win District 4 baseball titles.
The Wildcats rode the arm of senior Cody Jennings to its first District title in 20 years in a 3-2 win over Mifflinburg, while the Redskins battered NTL counterpart 10-0 Cowanesque Valley for their first title since 2010.

Perhaps the neatest thing about the entire story is the two Valley teams won D4 titles in a doubleheader at Penn State's Medlar Field.

The teams are quite different in terms of make-up, but one common thread is both teams are comprised of year-round baseball players, unlike many teams in the area, which consist of athletes who play baseball during baseball season.

On a side note, Waverly and Tioga both qualified for and won a postseason game. The four teams combined for a 70-20 record.

4. Tioga football wins sixth Section IV title in seven years — reach state semifinals again.
One year after a 3-7 campaign — coach Nick Aiello's first-ever losing season, Tioga bounced back to win its sixth Section IV football title in seven years.

Not only did the Tigers win a Section IV title, but they made it 6-for-6 at Regionals and advanced to their sixth state semi-final appearance in seven years.

3. Sayre girls win first-ever District 4 title and notch first-ever state playoff win.
Despite scoring just two points in the first quarter, Sayre rallied for a 38-36 overtime win over East Juniata to win its first-ever District 4 championship.

Eight days later, the Lady Redskins used the same formula, scoring just two points in the first quarter en route to a come-from-behind, 36-31, win over Elk Lake in the opening round of the PIAA Class AA playoffs — Sayre's first-ever state playoff win.

In its "Sweet 16" game, Sayre scored just two points in the first quarter, and despite closing the gap to within three midway through the fourth quarter, dropped a 51-37 decision to Philadelphia's West Catholic.

The Lady Redskins finished the season with a school-record 23 wins.

2. Athens senior Brian Courtney caps off brilliant career with second PIAA title.
While it wasn't as historic as his first, Athens senior Brian Courtney brought home PIAA gold for the second straight year, becoming the school's first-ever two-time champion.

As a junior, Courtney became the first wrestler in state history to knock off three defending state champions en route to a PIAA title. This year's title run was less dramatic as Courtney notched a tech fall and two pins, including a first-period fall in the finals.

Courtney will graduate as the most accomplished grappler in Wildcat / Bulldog history with a 153-6 record, which is an all-time best winning percentage of 96.22 percent.

Courtney also has an incredible 47-2 record in the postseason and in 2017 became just the third NTL wrestler to win four North Section, four District 4, and four Northeast Regional titles.

In his four trips to Hershey, he posted a 16-2 record with both losses coming to the eventual state champ.

In his career, Courtney lost six matches. Five were to wrestlers with a combined seven PIAA gold medals, including two-time Class AAA champ Luke Karam of Bethlehem Catholic, and two-time Class AA champ Max Murin of Central Cambria. (Courtney beat Murin for his gold medal his junior year.)

On a side note, Courtney was not the only accomplished wrestler to bod adieu to the Wildcats in 2017.

Kaidon Winters, who brought home a fifth-place PIAA medal this season, finished his career with a 120-43 record, ranking him 10th all-time on the school's win list, while Gage Cannavino, a state qualifier as a junior, finished at 118-44 — 11th all-time.

Brock Horton never won fewer than 27 matches in his four-year varsity career and leaves the program with a 114-38 record, which is 14th all-time. The four graduate with a combined 505 wins.

1. Athens junior Breana Gambrell piles up more PIAA medals.
Athens junior Breana Gambrell won two more PIAA gold medals to bring her total to four, and also won her second career silver medal, bringing her career medal count to seven.

She also set District 4 records in the long jump, and 100-meter dash en route to States.

It would have been a huge upset if Gambrell had not defended her PIAA long jump title and won her third straight gold medal in the event, especially considering she had set an unofficial state record at the Wyalusing Invite with a leap of 20-feet, 8 1/2-inches.

She didn't disappoint, winning with a leap of 19-10 3/4-inches — nine inches better than the runner-up.

After two years of frustration at Shippensburg, Gambrell broke through in the triple jump with a school-record hop, skip, and jump of 38-feet, 8 3/4-inches — 18 inches better than the runner-up.

In perhaps the most surprising turn of events in the postseason, Gambrell regained her "freshman form" and won a silver medal in the 100-yard dash — just a year after not qualifying for the finals.

On a side note, Breana Gambrell was not alone in Shippensburg. She was joined by classmate Emily Lunger, who qualified for States in four events, sophomore Rachel Hutchison (two events), senior Shanell Baglini (two events), and sophomore Ariana Gambrell (one event).

At States, Lunger won a pair of medals to bring her career total to three, and Baglini, Hutchison, and Ariana Gambrell each won their second career medal.

The aforementioned quintet, along with their teammates, also won the program's first-ever District 4 title.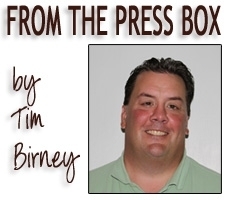 Print Friendly Version
You've asked about helping ...
here's your chance. Click HERE