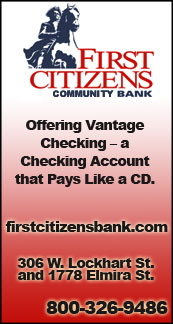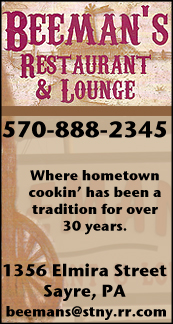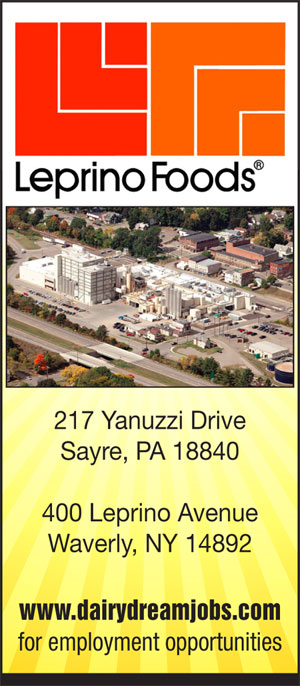 FROM THE PRESS BOX: A BAKER'S DOZEN — THE TOP STORYLINES OF 2017-18 (2018-06-22)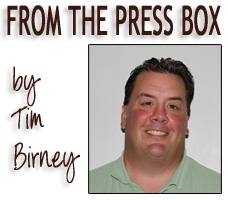 I've talked about storylines in the past and how they normally come in one of four realms: the start of a storyline, the continuation of one, the likely culmination of one, or a storyline totally out of the blue.

The 2017-18 sports year was dominated by win streaks, Section IV / District 4 titles, state medals, and the final chapters of several illustrious careers.

Without any further ado, I give you, from No. 13 to No. 1, the "Baker's Dozen Storylines" of the 2017-18 school year:

13. Careers come to an end, and occasionally they are historic.
Graduation is a recurring storyline, but every year there are different names. Occasionally, the names are ones that will not be forgotten anytime soon.

Athens seniors Breana Gambrell and Emily Lunger, and Waverly senior Elle NIttinger have left an indelible mark — one unlikely to be duplicated anytime soon.

Gambrell has to be considered the best female athlete to ever come out of the Valley. (For her career statistics, read on) She will take track & field prowess to Penn State in the fall, but she was also an all-state defender on the soccer pitch, and an all-NTL performer on the hardwoods.

Lunger finished her career with five PIAA track & field medals, including two silvers and one bronze. She was also a 1,000-point scorer on the hardwood, and finished her soccer career with 78 goals and 52 assists.

Lunger will continue her track & field career at Division I St. Francis in the fall.

NIttinger finished her career with 1,552 points, which is second all-time in school history for the Lady Wolverines. She also scored 56 goals on the soccer pitch, set the school-record in the discus at 116-feet, 7-inches, and finished ninth at the New York State Track & Field Championships.

Nittinger will play basketball and throw the discus at Division II Nyack in the fall.

12. Waverly girls soccer reach Section IV, Class B championship again.
In a near sequel to the storyline it wrote in 2016, the Waverly girls advanced to the Section IV, Class B championship against the state's top-ranked Chenango Forks.

In the first go-round, the Lady Wolverines dropped a 1-0 decision to the Lady Blue Devils, who went on to win a state title. This year, Waverly led 1-0, but gave up a goal late, and lost 2-1 in double-overtime.

There's a good chance these two teams could write a similar chapter in 2018.

11. Sayre senior Ryan Murrelle finally makes it to States.
After three trips to Regionals, Sayre senior Ryan Murrelle qualified for the PIAA golf championships this fall in his fourth attempt.

Murrelle, who missed opportunities to participate in playoffs for the final berth at States by 1 stroke in both his sophomore and junior seasons, was once again NTL "Player of the Year" and graduates as one of the most accomplished golfers in school history.

10. End of an era for Athens wrestling — Burkhart, Bradley close brilliant careers with PIAA medals.
Three-time state qualifier senior Nate Bradley reached the podium as a seventh-place finisher in his final trip to Hershey, while classmate A.J. Burkhart, who won two state medals while at Waverly, including a gold medal as a freshman, earned a fifth-place medal in his second trip to the Giant Center.

Bradley (113-42) and classmate Chris Horton (110-44), who made his first trip to Hershey, both joined the 100-win club this season, and are two of seven Wildcats to accomplish that feat in the last three seasons — joining Brian Courtney (153-6), Kaidon Winters (120-43), Gage Cannavino (118-44), Brock Horton (114-38), and Roger Horton (109-43). Burkhart, who was 186-28 in his career, went 76-15 in his two seasons at Athens.

Junior David Galasso needs 38 wins next year to add an addendum to this storyline, but it appears the next wave of Athens wrestlers could be penning a similar, but separate storyline five or six years down the line.

9. Tioga boys make first trip to Section IV hoop finals in 30 years.
When the season started, few picked Tioga to advance to the Section IV, Class C finals. One person who had an inkling it was possible was second-year Tiger coach Brian Card.

After letting a double-digit lead slip away in the fourth quarter to state-ranked Moravia on Jan. 2, Tioga found itself at 6-3. Nine consecutive wins later, including a victory over the state's top-ranked Class D Newfield, the Tigers found themselves squaring off with Newfield again in a divisional playoff.

Tioga bounced back from its loss to Newfield in the Small School playoff with wins over Notre Dame, and top-seeded Walton in the playoffs, but could not overcome a slow start in the Class C title game in a 58-48 loss to Unadilla Valley. Not all storylines have happy endings.

Could this be one of those one-and-done storylines, or can Card craft a sequel?

8. Tioga volleyball wins fifth Section IV title in six years.
Tioga wrote another chapter in what is becoming a lengthy novel, winning its third straight Section IV title, and sixth in seven years.

Tioga also finished the season with an 81-match regular-season win streak.

The Lady Tigers graduate four dynamic seniors this season, and will be extremely young in 2018. With all the new faces coach Des Ford's team will feature, this storyline will be different next season, regardless of the outcome.

7. Waverly girls golf team runs win streak to 98 — finishes third in first-ever State team tournament.
Some things remain the same, as in Waverly recorded its third straight unbeaten season, qualified five golfers for the individual state tournament, and won another Section IV team championship.

And then there was something new. By virtue of winning the Section IV team title, the Lady Wolverines competed in the first-ever State team tournament, and finished third.

With just one senior in the top five, this is a storyline that will have at least one more chapter.

6. Athens girls win eight District 4 Track & Field gold medals — finish second at States.
A year after winning five gold medals and the program's first-ever District 4 championship, the Lady Wildcats won eight gold medals and repeated as champs.

It was a record-setting two-day performance for the Athens girls as senior Breana Gambrell set a new District 4 record in the long jump, Emily Lunger set school record in the high jump, and the 400-meter relay team set a new school record.

Breana Gambrell won three gold medals to bring her career total to 15 medals, including 14 gold and one bronze, while Lunger won three gold medals to bring her total to 10, including six gold medals, two silver, and two bronze.

Juniors Rachel Hutchison and Ariana Gambrell each won three medals, including a pair of gold medals, to bring their career totals to eight apiece.

At States, the Lady Wildcats collected six medals and finished in second place in the team standings, improving one spot from their third-place finish in 2017.

With Breana Gambrell and Lunger graduating, this year was likely the last chapter in the storyline.

5. Tioga football wins sixth Section IV title in seven years — reach state semifinals again.
One year after a 3-7 campaign — coach Nick Aiello's first-ever losing season, Tioga bounced back to win its sixth Section IV football title in seven years.

Not only did the Tigers win a Section IV title, but they made it 6-for-6 at Regionals and advanced to their sixth state semi-final appearance in seven years.

Was this an unexpected prologue to the epic Tioga football penned from 2011-15, or the start of a new epic Aiello and his charges are about to write?

4. Sayre baseball wins first-ever PIAA playoff games, advance to state semifinals.
Sayre finished the season in uncharted territory, but a mid-season swoon created some temporary doubters.

The Redskins started the season with seven straight wins, but lost five of the next nine games, before righting the ship with five straight wins to advance to the state semifinals.

Senior Nate Sweet pitched a complete game in Sayre's win over Montgomery in the District 4 semifinals, and senior Jordan Rockwell followed with a complete game in the title game for the second year in a row to give the Redskins their fifth District 4 championship in 11 years.

After the Redskins opened the PIAA Class A playoffs with a 5-2 win over Greenwood for the program's first-ever state playoff win, junior Jon Cron delivered a two-run single in the bottom of the seventh inning to give Sayre a 4-3 win over Faith Christian Academy in the quarterfinals.

The historic season came to a screeching halt with an 11-0 loss to Southern Fulton in the state semifinals, but it's still a season that will long be remembered by Valley sports fans.

With Sweet, Rockwell, Sam Wheeler, and Connor Hanafin graduating, a sequel to this story will be difficult to pen for the 2019 Redskins.

3. Tioga wrestling enjoys banner season.
It may not be the best season in Tioga wrestling program history, but it was pretty close.

The Tigers dropped a two-point decision to eventual state champ Mount Sinai in the semifinals of the inaugural New York State Division 2 Duals Championships, then repeated as champs at the Section IV Championships, crowing two champs, and sending six to the New York State Championships, thanks to four wild-card invitations. They finished fourth in the teams standings in Albany.

Despite two-time state place-winner John Worthing's absence due to illness, the Tigers still had three underclass men reach the podium — Brady Worthing (second place), Austin Lamb (fifth place), and Stephen Taylor (sixth place).

Considering they have four former state place-winners returning, and four more grapplers on the verge of qualifying for States, this is a storyline that will be re-visited for the next few years.

2. Valley wrestling fans treated to historic season.
Valley schools sent 12 wrestlers (Tioga six, Athens four, S-VE two) to States this season, topping the previous high of nine, last accomplished in 2009 when Waverly (four), Athens (three), and Tioga (two) combined to hit that mark.

Five of the 11 who competed earned medals, and Tioga's John Worthing would have surely made it 6 of 12.

Granted, it's the first time since 2013 (Athens' Brian Courtney in 2016 and '17, Waverly's A.J. Burkhart in 2015, and Waverly's Ryan Wolcott in 2014) , the Valley has gone without a state champ, but 12 wrestlers at States is impressive.

And, I have a feeling we could see a sequel to this storyline next year, with four of the schools combining to hit or top that mark.

1. Athens senior Breana Gambrell caps brilliant career with four more PIAA medals.
A year after winning two gold medals and one silver medal, Gambrell one-upped herself this spring with two gold medals and two silver medals.

A once-in-a-lifetime talent, Gambrell graduates with 11 PIAA medals, including six gold and four silver. She became just the third athlete to win four gold medals in the same event, setting a state record in the long jump in the process this spring.

She also graduates with District 4 records in the long jump, and 100-meter dash, and the school records in the long jump, triple jump, and the 100. She was also part of the school-record 400-meter relay team, which set that record in a silver-medal performance at States.

Instead of playing basketball during the winter season, she maintained her focus on track & field this winter with the newly-formed indoor track team.

Gambrell added an indoor state gold in the long jump to her collection, as well as a fourth-place medal in the triple jump, and a seventh-place medal in the 60-meter dash.

With Gambrell taking her talents to Penn State in the fall, it's likely she'll be adding more chapters to her legacy, but another storyline like this again in the Valley is highly doubtful.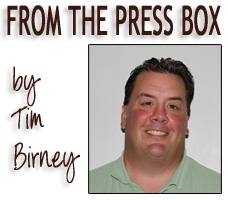 Print Friendly Version
You've asked about helping ...
here's your chance. Click HERE