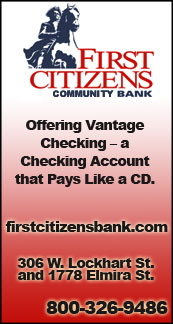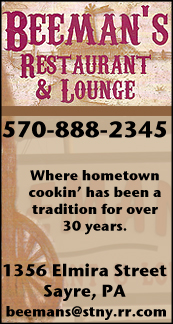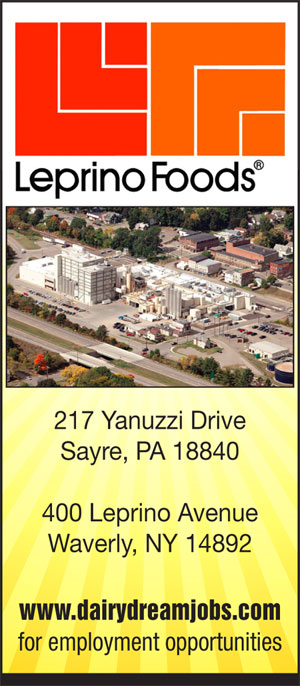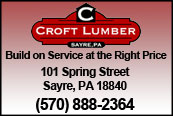 THE FINAL WORD: THOUGHTS ON THE FOOTBALL WEEKEND, AND MUCH, MUCH MORE ... (2018-09-11)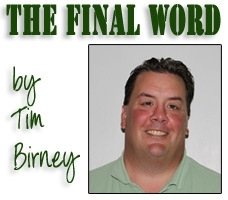 Week 3 of the high school football season is in the books, and there were no major surprises locally.



I would say, however, I was a bit surprised to see the Sayre offense, especially its ground game, struggle for the second consecutive week. Like Towanda, Troy was physical up front and the Redskins were unable to get into any type of offensive flow.

Also for the second straight week, the Redskin defense played well with its back against the wall in the short filed. The Trojans had several scoring opportunities, but the Sayre defense kept the game within reach.

Both losses were against Large School foes, so the only impact is on a possible playoff appearance and subsequent seeding, not the Redskins' division title hopes.

They will need to find some answers this week against Small School rival Montgomery.

——————

I learned two things Friday during Tioga's 28-20 win over SVEC. First, the Tigers have some work to do, but could be pretty good before it's all said and done. Two, the Eagles are dangerous this year, and are going to be very good over the next couple years.

Tioga's ground game is only an eyelash away from being the dominant force it's been in the past, but they have to eliminate the fumbles and penalties.

Freshman Emmett Wood rushed for 182 yards in his second varsity game, and has the look of the next "big thing" at Tioga. Senior John Worthing added 130 yards, and may be the hardest running 140-pounder you will ever see.

SVEC did a nice job containing junior QB Brady Worthing, but he is another weapon for the Tigers, as is junior Mason Booser.

Defensively, the Tigers struggled to stop SVEC sophomore QB James Sutherlin, but I believe that will become a recurring theme for most defenses over the next two-plus season.

Sutherlin is cat-quick, and has a good feel for the option offense. He also have nice touch on his passes. And, he has a dangerous corps of receivers, led by big tight end Nathan Mack, and quick wideout Shawn Watson.

The Tigers did a good job against hard-running senior tailback Christian Haynes, but he will do damage against a lot of teams this season.

The Eagles struggled a bit up front, and had difficulty stopping Tioga's power running game, which does not bode well for them in their divisional games against Newark Valley and Susquehanna Valley later this season.

SVEC may not contend for a playoff spot this year, but mark them down as contenders in 2019 and 2020.

——————

Waverly had its way with an over-matched Thomas A. Edison Saturday afternoon, hitting on big plays on the ground, and through the air.

The Wolverines showed its offensive prowess in Week 1 against Livonia, so the offense is real. Sophomore David Hallett and junior Thomas Price are a dynamic 1-2 punch, and senior Montana Davis is also dangerous.

Senior QB Colby Sindoni, who led the Wolverines in rushing in Week 1, wisely did not have a carry against the Spartans, but did complete two TD passes. He is raw, but still a dangerous dual-threat QB.

The question for this team is its defense. The Wolverine defense under coach Jason Miller and defensive coordinator David Shaw has a history of improving as the season progresses, and it will need to get better quickly with O-M / Watkins Glen coming to town Friday night in a key divisional match-up.

Waverly can clinch a playoff spot with a win Friday night, and will all but ensure itself of the top seed, and a chance to play Newark Valley in the Class C semifinals in Week 9 — and not Susquehanna Valley, which led O-M / WG 49-0 at half Saturday night on its way to a 56-22 win.

——————

Athens bounced back from an ugly loss at North Penn in Week 2 with an "ugly win" over Cowanesque Valley at home Thursday night.

The Wildcats showed a balanced offense with junior Damian Hudson displaying his big-play abilities, and senior QB Kaden Rude connecting with brother Keegan Rude and Aric Westbrook on big plays as well.

The problem was 12 penalties for 110 yards — mostly on the defense, which also allowed 199 yards in total offense to a CV offense that has a couple dangerous athletes.

Athens will face a test in Wyalusing Friday, then hits the "meat grinder" portion of its schedule with a game at Canton, and home games against Wellsboro and Towanda.

——————

The weekend wasn't all about football.

• The Waverly girls soccer team played a pair of games at the New York State Hall of Fame Tournament against quality opponents and came away with a 1-1 record.

The Lady Wolverine defense was once again their strong suit, and that will need to continue as the offense develops.

• The Waverly boys dropped a 6-0 decision to defending Class C champion Lansing Friday, and it could have been much worse if not for the play of freshman keeper Cameron McIsaac, who looks like he'll develop into one of the better goaltenders in the Valley in recent years.

• The Sayre girls earned a good win over Newark Valley Friday, then dropped a hard-fought 2-0 decision to Notre Dame Saturday.

Freshman Roz Haney looks as good as advertised for the Lady Redskins. If their defense comes together — and it looked better against Notre Dame, they could be an intriguing team come postseason.

There are some big games to keep an eye on this week.

• The Athens boys host Galeton Wednesday in a key NTL soccer match, while later that night the Waverly girls travel to Notre Dame for the renewal of and IAC South Large School rivalry.

• The Tioga volleyball team hosts Candor Thursday, and it's the biggest threat to their win streak in quite some time.

• To cap it off, the Athens girls host Sayre Saturday morning. It will be a good measuring stick game to see where the Lady Redskins are at.

——————

The Final Word returns later this week.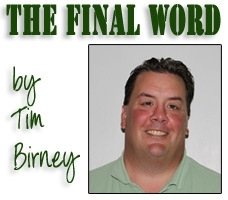 Print Friendly Version
You've asked about helping ...
here's your chance. Click HERE