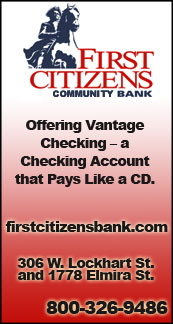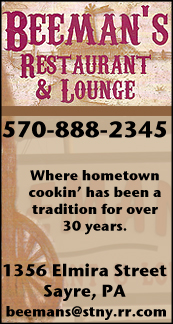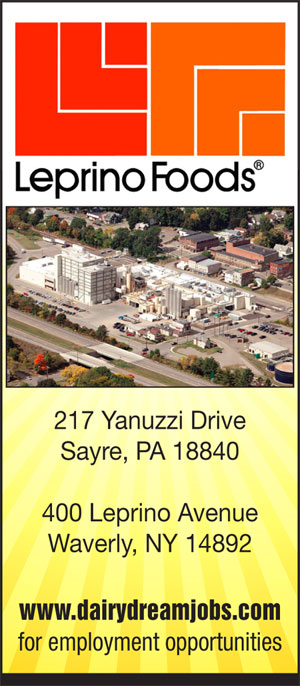 THE FINAL WORD: HISTORIC WEEKEND FOR VALLEY SPORTS ... AND MORE (2018-11-05)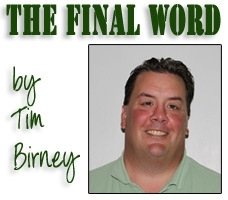 It was a historic weekend with four Valley teams winning Section IV or District 4 titles, and advancing to their respective state playoffs.

Tioga football kicked off the weekend Friday night with a 36-7 win over Greene for its seventh Section IV, Class D title in eight years, which is simply amazing.

The Tigers got off to a slow start thanks to self-inflicted wounds in the first half. Leading 6-0, Tioga was on the march to take a two-score lead, but a botched snap set up a fourth-and-goal at the Greene 11. A Trojan interception at the goal line set up their first scoring drive that gave them a 7-6 lead.

Tioga answered with a quick scoring drive, thanks to a slick 33-yard completion from junior QB Brady Worthing to junior Mason Booser — the Tigers' only completion of the night, to take a 12-7 lead.

On the ensuing kickoff, a hard squib kick hit a Greene defender and the Tigers pounced on it. Moments later, senior Tanner Hollenbeck split the uprights with a 27-yard field goal to make it 15-7.

Tioga blew the game open with three third-quarter TDs, thanks to a potent running game led by freshman Emmett Wood, who ran for 202 yards. Seniors John Worthing and Owen Wanck also topped the 100-yard mark.

In all, Tioga rushed for 514 yards, thanks to a dominant performance from its offensive line, led by seniors Austin Lamb, Alex Bloss, and Stephen Taylor. In the last two Class D title games Tioga has rushed for 1,065 yards.

The Tigers return to action Friday against Section III champ Onondaga at Cicero-North Syracuse High School. Tioga is 6-0 against Section III teams in this run, outscoring them by an average of 49 to 20.3.

———————

The Lady Wildcats got off the snide earlier in the week with their first postseason win under coach Rich Pitts, but appeared destined for a runner-up finish in the District 4, Class AAA soccer playoffs. Instead, St. Bonaventure-bound Rachel Hutchison scored a pair of goals late in the game — the first on a header off a corner kick, and the second on a nice assist from senior Ariana Gambrell, to help Athens to its first District title since 2000.

Athens has ridden its offense and the record-setting Hutchison to a 15-3 record this season, but the defense has allowed just 20 goals this season, with 11 of those coming in three games.

In the second half of a regular-season ending loss to Montrose, Pitts moved Gambrell to the back line, and it definitely strengthened that unit in a 2-1 win over Shikellamy in the semifinals.

Trailing MIfflinburg 1-0 at the half, Pitts moved Gambrell back to the top of the Athens offense, and the move was directly responsible for two goals.

The Lady Wildcats have just four seniors, but all four — Hutchison, Gambrell, Emma Adams, and Brooke Warner — are leaders on the field.

Athens will face Scranton Prep in the opening round of the state playoffs Tuesday night at Towanda. Yes, Towanda.

A tip of the cap to District 4 for putting this game so close to Athens. On more than one occasion, NTL teams have traveled three or more hours in the state playoffs only to have their opposition travel less than 30 minutes. It's nice to see the shoe on the other foot.

——————

The Athens boys got off to a quick start and pressured Selinsgrove throughout the first half, scoring a pair of goals late in the first half, and another in the opening minutes of the second half en route to a 3-0 win and its second District 4 title in three years.

The Wildcats are an athletic bunch with a high soccer IQ. More importantly, they are an incredibly tight-knit group, with many of them having played together for 10 years or more.

Juniors David Scheftic and Doug Vosburg lead a strong defensive unit in front of junior keeper Joel Maslin. Strong may be an understatement, Athens has allowed just four goals in 19 games, and two of those were on penalty kicks.

Juniors Jesse Sumner and Luke Arnold, along with senior Willey Tilley, lead a potent Wildcat offense, which tends to control possession and wear down opposing defenses.

Athens takes on District 2 champion Crestwood Tuesday evening at Lake Lehman. Crestwood enters the contest at 19-1, having allowed just 12 goals all season.

——————

Waverly volleyball capped off the weekend Saturday night with a 3-1 win over Susquehanna Valley in the Section IV, Class C championship match.

The Lady Wolverines ended pool play Thursday with a pair of close losses to the Lady Sabers, but countered their strong play at the net to win the first two sets Saturday night.

In the third set, SV's 6-4 Maeve Donnelly dominated at the net in a Lady Saber win.

Early in the fourth set it was much the same, and when Donnelly rotated out of the game SV led 14-9. She never set foot back on the court again. Junior Adrianah Clinton served up nine straight points, and Waverly closed out the match with its next two servers.

In the first two games, senior Jordan Mente and juniors Paige Lewis and Morgan Adams stood toe-to-toe with Donnelly and a pair of her teammate, who are both about 6-foot tall.

Waverly takes on perennial Section IX power Millbrook in the opening round of the New York State playoffs Thursday night at Corning.

——————

It was not all good news this weekend for Valley teams. Both Waverly football and Tioga volleyball ran head-on into the cold, hard reality of playing teams expected to win state titles.

Tioga volleyball dropped a 3-0 decision to defending Class D state champion Bainbridge-Guilford Saturday afternoon.

The loss doesn't take anything away from a Tioga team that exceeded expectations. Not even the most ardent of Tioga supporters expected the Lady Tigers to reach the finals this season, but they did just that with a one-game playoff win over unbeaten Candor in Class D pool play.

The fact Tioga lost middle hitter junior Bri Stoughton prior to the playoff, made the win even more improbable and impressive.

Earlier this season, when Candor ended Tioga's five-year win streak, I noted it may have signaled a passing of the torch in the IAC. Well, the Lady Tigers aren't ready to pass the torch.

Sure, Candor won the division, and the overall IAC title, but when all the chips were on the table, the Lady Tigers found a way to win. They found a way into their 10th consecutive Section IV title game.

The results in the Class D title match weren't what Tioga was hoping for, but it takes nothing away from a great season.

As for next year, Candor will be very strong again, but Tioga returns a strong nucleus of players, led by Giovanna Rossi and Chloe Bellis, and will see an influx of talent from an unbeaten JV team. It should be a great deal of fun to watch.

——————

Waverly football played juggernaut Susquehanna Valley as tough as any team has for one half Saturday. Unfortunately, there are two halves in a game.

The Wolverines trailed 21-7 at the intermission, but the Sabers unleashed their full fury in the second half in a 62-7 decision.

Waverly reached its goals this season with a division title and a trip to the Class C championship game. And, senior Colby Sindoni stepped in at quarterback after never having played the position and exceeded expectations.

The Wolverines graduate a large group of seniors, but will return a slew of skill-position players, led by Thomas Price, Jalen McCarty, and Scotty Woodring.

Coach Jason Miller and his staff have proven during Miller's tenure that they can coach up young teams. My guess is the Wolverines will be in the running for a Class C title again next year.

——————

Sayre football saw its first season under coach Kevin Gorman come to an end with a 19-7 loss at Muncy in the District 4, Class A semifinals.

The Redskins got a big spark from freshman QB Brayden Horton in the final three games of the regular season — all wins, but the youngster hit a bump in the road against a Muncy team looking for a bit of redemption after losing at Sayre two weeks ago.

Sayre graduates a hand full of seniors, most notably Nate Garrity and Gage Carnrike, but returns a strong junior class, and a plethora of sophomore and freshmen, and possibly a couple 8th-graders that could make an impact next year.

One thing is for sure, Gorman's initial season on the Redskin season was an unmitigated success. Don't be surprised if the Redskins are major players in Class A for the next several years.

——————

Athens also saw its season come to an end in the District 4 playoffs this weekend, dropping a 50-8 decision at Montoursville in the Class AAA quarterfinals.

The Wildcats struggled up front all season, and that was very evident in its losses to Sayre and Montoursville. Senior QB Kaden Rude was forced out of the pocket regularly, but oft times made things happen with his feet.

Rude is one eight seniors, and will likely be the toughest player to replace next year. There's a possibility that longtime coach Jack Young could turn the QB reigns over to a freshman next season.

The Wildcats will return quite a bit of experience next year, and will start to see an influx of young players from a junior high program that's been successful the last few years.

——————

And finally, a tip of the cap to Waverly senior Kennedy Wheeler, who qualified for the New York State Swimming & Diving Championships, and Waverly sophomore Sheridan Talada qualified for the New York State Cross Country Championships.

Swimming and cross country are two sports where God-given talent only takes you so far. Both are also sports that rarely receive the spotlight, but require hundreds and hundreds of hours of dedication to excel.

——————

The Final Word returns later this week.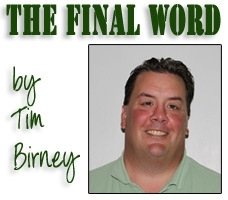 Print Friendly Version
You've asked about helping ...
here's your chance. Click HERE