FROM THE PRESS BOX: A LOOK INTO THE CRYSTAL BALL AT THE 2019-20 BOYS HOOP SEASON
(2019-03-21)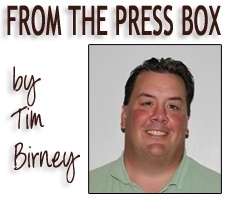 It was a rough winter for boys basketball in the Valley, with just two of the four teams qualifying for the postseason.
Athens and Tioga had winning seasons, but lost their opening games in the postseason.
Waverly appeared on its way to another postseason berth until a crushing injury shelved 6-8 Scotty Woodring, who was in the midst of a historic season, while Sayre had another rough season, punctuated by disciplinary problems just past the midpoint that ended their playoff hopes.
So what does the crystal ball forecast for 2019-20? Well, with the season still eight-plus months away, the crystal ball forecast is still a bit murky, but from what I can see, next year could feature two very good teams, and two teams struggling to get to .500.
Athens Wildcats:
With just one starter graduating from a 14-9 team, and talent galore in the lower levels, the Wildcats are poised to become a powerhouse.
Athens returns dynamic scorer Aaron Lane and 3-point shooter Brady Smith, as well as athletic wingman Benny Gambrell, and Keegan Rude, who could become a force in the low post, so the Wildcats will have an experienced core.
A trio of freshmen in Troy Pritchard, who could also become a force in the low post, Tucker Brown, and J.J. Babcock, and sophomore Aidan Westbrook will infuse even more athleticism into the rotation.
Prediction:
This is a group that will get after it on defense, and shouldn't have much trouble scoring. Wellsboro and North Penn-Mansfield both lose a lot to graduation, so the Wildcats should again contend for a division title. ...
2019-20: 18-4 regular-season.Sayre Redskins:
The Redskins were an athletic bunch, but that didn't translate into basketball success for a team that posted a 7-15 mark.
Sayre returns sharpshooting sophomore Zach Moore, and a pair of big men with potential in Connor Young and Zach Belles. Sophomores Matt Lane and Donnie Abrams, and freshman Brayden Horton should also provide quality minutes.
There will be ample opportunity for a lot of young players to earn varsity time in 2019-20. It will be interesting to see who takes advantage.
Prediction:
When it comes to high school sports, you never know who will and won't play from year to year. That's the case for the Redskins in 2019-20. If they come in at full strength, and can avoid the adversity, an improved record is not out of the realm of possibility, but right now there are a lot of question marks. ...
2019-20: 7-15 regular season.Tioga Tigers:
The Tigers graduate four starters, including Pierce Hendershot and Lucas Klossner, who combined to average about 33 points per game between them, and will be a very young team in 2019-20.
Junior Sam Taylor is the only starter set to return, and sixth-man junior Thomas Cook will also be back. After that, coach Brian Card will need to put together a rotation of players from this year's bench, and JV team.
Tioga was not a tall team by any means this season, and they could be even smaller next season.
Prediction:
Card has directed Tioga to the postseason in each of his first three seasons, but making it four in a row will require his best coaching job yet. ...
2019-20: 6-14 regular-season.Waverly Wolverines:
Waverly opened the season with a 5-2 record, thanks in large part to Woodring, who was averaging 32.7 points and 16.9 rebounds per game. After his injury, Waverly scored just 43.3 points per game (compared to 67 points per game prior to the injury) and went 1-11 to finish the season at 6-13.
The only positive thing that can be said about Woodring's injury is that his young teammates gained a lot of experience this year, and should be more prepared to contribute next year.
If healthy, Woodring will be a force, and make everyone around him better, but he'll need help, and there are a number of players who could provide that help, most notably Jalen McCarty, Peyton Bowen, and Caden Hollywood.
Prediction:
Coach Lou Judson has done a great job with this program, and Woodring's return should mean a return to the postseason. If Woodring is 100 percent, and two or three underclassmen step up as I expect they will, it could be another very good year for the Wolverines. ...
2019-20: 16-4 regular-season.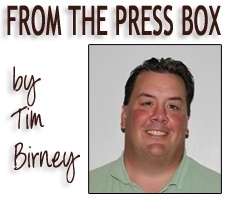 Print Friendly Version