FROM THE PRESS BOX: WRESTLING TOPS 'SUPER 7 STORYLINES OF THE WINTER'
(2019-03-23)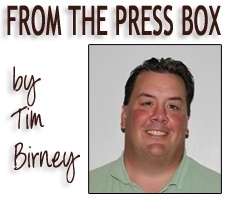 What a winter season - chock full of intriguing storylines.
I've talked about storylines in the past and how they normally come in one of four realms: the start of a storyline, the continuation of one, the likely culmination of one, or a storyline totally out-of-the-blue.
This year, the majority of the "
Super 7 Storylines of the Winter
" are continuing storylines, but there are a couple others mixed in.
With any further ado, I give you, from No. 7 to No. 1, the top storylines of the winter:
Super 7 Storylines of the Winter:
7. Waverly bowling's divisional dominance comes to an end:
A pair of impressive streaks came to an end this season, as the Waverly girls' run of 15 consecutive IAC Large School divisional titles, and the Waverly boys eight-year run at the top of the division ended.
The Lady Wolverines finished six games behind Union Springs / Port Byron, while the boys finished in third place, just two games behind first-place Newark Valley, despite having the highest average in he division.
The Waverly girls graduate three starters, while the boys return in tact in 2019-20. It will be interested if either team can reclaim the top spots in the division, or if this truly the end of the storyline.

6. Knee injury ends potentially historic season for Waverly's Scotty Woodring:
Six-foot, eight-inch junior Scotty Woodring set the Valley basketball scene on fire in the first month of the season.
With the ability to dominate in the paint, knock down mid-range and turn-around jumpers, as well as 3-pointers, Woodring was averaging 32.7 points and 16.9 rebounds per game through seven games before suffering a season-ending knee injury in practice just days after the Valley Christmas Tournament.
If healthy next season, Woodring will look to complete the storyline he started in December.
5. Waverly girls advance to Section IV, Class B semis for sixth straight year:
The Lady Wolverines basketball program has maintained an amazing level of consistency with six consecutive appearance in the Class B semifinals. Unfortunately, they've lost all six semi-final games.
This year, Waverly beat defending state champion Susquehanna Valley in the quarterfinals, but lost to Owego in the semifinals. It's the fifth time in six years, the team that beat Waverly in the semis won the Section IV title. Three times Waverly lost to the eventual state champion.
The Lady Wolverines lose three starters to graduation, so writing another chapter in this storyline could be difficult.

4. Sayre Lady Redskins make another trip to PIAA basketball playoffs:
Due to graduation and injuries, few expected a Sayre program that has won at least 17 games each year coach Eileen Sparduti has been on the sidelines in her latest stint at her alma mater to reach that mark again this season, much less advance to the State playoffs.
Yet, the Lady Redskins won 20 games, won their fourth division title, earned a trip to the District 4, Class AA championship game, and advanced to the PIAA playoffs - their third state berth in Sparduti's current six-year tenure.
Sayre graduates three senior starters, so adding a similar chapter to this storyline in 2019-20 will be a challenge, but the Lady Redskins have proved doubters wrong in recent years.

3B. Athens freshman Taylor Walker accomplishes the unlikely:
In one of the more intriguing storylines of the winter season, Athens freshman Taylor Walker, who played basketball through 8th grade, stepped on a diving board in live competition for the first time on Dec. 12, and just 74 days later earned a berth to the PIAA Diving Championships with a runner-up performance at Districts.
Walker finished second at her first dual meet on Dec. 12, and notched her first win on Jan. 11. She went on to take first place in the next - and last - five duals meets of the season.
Just 11 days after a third-place finish at the NTL Championships, Walker finished second at the District 4 Championships to earn a trip to States, where she finished 23rd.
Any further chapters in this storyline will lack the total out-of-the-blue element this one yields, but I expect we'll see more from Miss Walker.
3. Waverly boys continue dominance in IAC pools:
The Wolverines finished the season with a 30-meet win streak, their third consecutive regular-season IAC title, and a Section IV, Class C title. The only drawback was a scheduling snafu that left the majority of their team unable to swim at the IAC Championship meet, which left them short-handed and unsuccessful in their bid for a three-peat.
Junior Mike Atanasoff qualified for States in two events (the 50 and 100-yard freestyle sprints) and set school records in both events in the preliminaries. He earned a seventh-place medal in the 50 free.
The Wolverines return nearly in tact in 2019-20, so another chapter in the team storyline, as well as Atanasoff's storyline will likely be written.
2B. Another historic season on the mats for Valley wrestlers:
Last year, the Valley teams sent 10 wrestlers (six Tioga, four Athens) to their respective state tournaments. Of the nine that competed (Tioga's John Worthing was forced to withdraw due to illness), five brought home medals, led by Brady Worthing's silver medal.
This year, the Valley sent six wrestlers (four Tioga, two Athens) and all six brought home hardware, led by state champs Brady Worthing and John Worthing.
Don't be surprised if this storyline adds several more chapters in the coming years.
2. Athens duo medal at PIAA wrestling championships:
Senior David Galasso is the last vestige of an era of Wildcat wrestling that produced eight members of the 100-win club. Galasso became the ninth with his final win at States, finishing his career with a 100-41 mark.
Galasso's fourth-place finish at Hershey also bested those of all of his peers, aside from Brian Courtney, who had four top-three finishes, including a pair of state titles.
Freshman Gavin Bradley put together one of the best freshman seasons in program history, posting a 34-12 record and a sixth-place finish in the 106-pound weight class at the PIAA Class AA Championships. He joins Brian Courtney, who finished third in 2014, as the only Athens freshmen to win state medals.
Nine of Bradley's losses came to Pa. and N.Y. state qualifiers, including three to 106-pound state champ Sheldon Seymour of Troy.
While Galasso closes the book on one era of Wildcat grapplers, Bradley could be just the beginning of a new wave of Athens wrestlers ready to write several more chapters in an on-going storyline.
1. Tioga wrestling continues historic run:
If you turned Tioga's season into a Hollywood script, few would believe it.
Tioga won its third consecutive Section IV, Division II championship, won the Section IV Duals to advance to the State Duals for the second year in a row, where it once again reached the semifinals.
A year after qualifying six for States and bringing home three medals, the Tigers sent four to States with all four reaching the podium, led by junior Brady Worthing and senior John Worthing, who won state titles 15 minutes apart.
Their teammates - senior Austin Lamb and Stephen Taylor, who both won medals last year, each earned fourth-place medals. The Tioga foursome also accumulated more team points than any other team to win a team title.
Tioga graduates three state medalists - John Worthing, Lamb, and Taylor - who combined to record 512 career wins, another starter in Zac Warner with 88 career wins, and three other starters, so the betting man might say this storyline reached its apex this season. However, I have a feeling there are several more chapters to be written.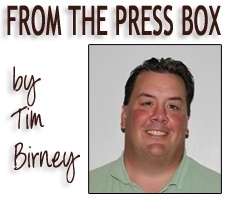 Print Friendly Version