VALLEY SPORTS REPORT: A BAKER'S DOZEN — THE TOP STORIES OF 2018-19 SEASONS
(2019-06-20)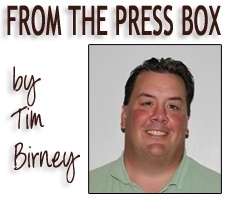 I've talked about storylines in the past and how they normally come in one of four realms: the start of a storyline, the continuation of one, the likely culmination of one, or a storyline totally out of the blue.
The 2018-19 school year was no different, and offered a variety of storylines, including a couple of firsts, an unlikely accomplishment, and one (maybe two) tale(s) of redemption.
Without any further ado, I give you, from No. 13 to No. 1, the
Valley Sports Report
"
Baker's Dozen Storylines of the Year:
"
13. Sayre Lady Redskins make another trip to PIAA basketball playoffs:
Due to graduation and injuries, few expected a Sayre program that has won at least 17 games each year coach Eileen Sparduti has been on the sidelines, in her latest stint at her alma mater, to reach that mark again this season, much less advance to the State playoffs.
Yet, the Lady Redskins won 20 games, won their fourth straight division title, earned a trip to the District 4 Class AA championship game, and advanced to the PIAA playoffs — their third state berth in Sparduti's current six-year tenure.
Sayre graduates three senior starters, so adding a similar chapter to this storyline in 2019-20 will be a challenge, but the Lady Redskins have proved doubters wrong in recent years.

12. Athens freshman Taylor Walker accomplishes the unlikely:
In one of the more intriguing storylines of 2018-19, Athens freshman Taylor Walker, who played basketball through 8th grade, stepped on a diving board in live competition for the first time on Dec. 12, and just 74 days later earned a berth in the PIAA Diving Championships.
Walker finished second at her first dual meet on Dec. 12, and notched her first win on Jan. 11. She went on to take first place in the next — and last — five duals meets of the season.
Just 11 days after a third-place finish at the NTL Championships, Walker finished second at the District 4 Championships to earn a trip to States, where she finished 23rd.
Any further chapters in this storyline will lack the total out-of-the-blue element this one yields, but I expect we'll see more from Miss Walker.
11. Waverly boys continue dominance in IAC pools:
The Wolverines finished the season with a 30-meet win streak, their third consecutive regular-season IAC title, and a Section IV, Class C title. The only drawback was a scheduling snafu that left the majority of their team unable to swim at the IAC Championship meet, which resulted in them being short-handed and unsuccessful in their bid for a three-peat.
Junior Mike Atanasoff qualified for States in two events (the 50 and 100-yard freestyle sprints) and set school records in both events in the preliminaries. He earned a seventh-place medal at States in the 50 free.
The Wolverines return nearly in tact in 2019-20, so another chapter in the team storyline, as well as Atanasoff's storyline will likely be written.
10. Tioga baseball wins third Section IV baseball title in five years:
After missing out on the IAC playoffs, which included a pair of Class C teams, Tioga made a successful run through the Section IV, Class C playoffs to win its third title in five years.
The Tigers graduate several key seniors, including "Player of the Year" Pierce Hendershot, who is the last vestige of the 2015 and '16 title tams, but have a wealth of talent returning.
There are likely more chapters to be written in the Tioga baseball story, but this storyline has run its course.

9. Athens duo medals at PIAA wrestling championships:
Senior David Galasso is the last vestige of an era of Wildcat wrestling that produced eight members of the 100-win club. Galasso became the ninth with his final win at States, finishing his career with a 100-41 mark.
Galasso's fourth-place finish at Hershey also bested those of all of his peers, aside from Brian Courtney, who had four top-three finishes, including a pair of state titles.
Freshman Gavin Bradley put together one of the best freshman seasons in program history, posting a 34-12 record and a sixth-place finish in the 106-pound weight class at the PIAA Class AA Championships. He joins Brian Courtney, who finished third in 2014, as the only Athens freshmen to win state medals.
Nine of Bradley's losses came to Pa. and N.Y. state qualifiers, including three to 106-pound state champ Sheldon Seymour of Troy.
While Galasso closes the book on one era of Wildcat grapplers, Bradley could be just the beginning of a new wave of Athens wrestlers ready to write several more chapters in an on-going storyline.
8. Tioga football wins seventh Section IV title in eight years:
Under coach Nick Aiello, Tioga has established itself as a Class D state powerhouse. The Tigers have won seven of the last eight Section IV, Class D titles.
Tioga is also 7-0 in the Regional championship game, but are 1-6 in the state semifinals. The one win came en route to a state title in 2015.
The Tigers graduate 10 seniors, including six two-way starters. Tioga will have some holes to fill if it's to add another chapter to this amazing storyline.
7. Waverly softball wins first-ever Section IV title:
Once in a while a storyline pops up and ends before you even realize it's there.
The Lady Wolverines dropped a pair of extra-inning decisions to Susquehanna Valley in the Class B semifinals in each of the last two years, only to vanquish the Lady Sabers this year in the championship game to earn the program's first-ever Section title.
"Player of the Year" Wendi Hammond pitched a gem and belted a home run in a 3-1 win over SV in the title game to avenge the season-ending losses in her sophomore and junior seasons.
This storyline may or may not be over, depending on whether you view it as Waverly vs. Susquehanna Valley, or Hammond earning her redemption.
6. Waverly volleyball wins first-ever Section IV title:
Kesha Sinsabaugh took over a Waverly volleyball program mired in mediocrity in 2011, and immediately turned them into a playoff program.
The Lady Wolverines lost the Section IV, Class C title match to Susquehanna Valley in 2012. Six years later, Sinsabaugh's charges avenged that loss and won the program's first-ever Section IV title — beating SV in the finals.
Waverly graduates a few key seniors, so it will be interesting to see if this is a storyline out of the blue, or if the Lady Wolverines can add to this year's storyline in 2019.

5. Athens girls get over the hump for first District 4 title since 2000:
Rich Pitts took over the Athens girls program prior to the 2016 season with the intent of getting the perennial NTL power over the hump in the District 4 playoffs. Athens was 31-5-2 in Pitts' first two seasons, but both ended in the opening round of the playoffs.
Pitts beefed up the non-league slate in 2018, back-loading his schedule, and it paid dividends. After a 13-3 regular season, the Lady Wildcats knocked off Shikellamy and Mifflinburg to win its first District 4 title since 2000.
Athens graduates four starters, but two of them combined for 65 goals. There is talent returning, but is there enough to write another chapter in this storyline?
4. Hutchison earns redemption, and PIAA gold medal:
You couldn't have scripted Rachel Hutchison's final season-and-a-half of her track career any better.
Midway through her junior season, Hutchison gave the 300-meter hurdles a try, and almost immediately broke the school record. She also qualified for the PIAA Championships with one of the fastest times in the state.
At States, Hutchison clipped the first hurdle and fell. She got up to finish fifth in her heat, but missed out on the finals. This year, Hutchison was unbeatable in the event until she finished second in the preliminaries at States. In the finals, Hutchison ran a school-record time to win PIAA gold.
Hutchison's two-chapter storyline has come to a close, and we may never see another one like it.
3. Athens boys notch first win in State soccer playoffs:
The Wildcats got over the hump in 2016 and won the program's first-ever District 4 title. After a loss in the 2017 title game, they returned this year to win the Class AAA title again.
The Wildcats took the next step this year, winning their first-ever state playoff game to advance to the state quarterfinals.
With nearly everyone returning in 2019, another chapter in this storyline will certainly be written.

2. Waverly girls golf runs win streak to 118 — Tomasso qualifies for States for sixth time:
The Waverly girls golf team finished off its fourth consecutive unbeaten season, and ran its win streak to 118 matches. After the regular season, senior Alex Tomasso qualified for States for the sixth consecutive year in leading the Lady Wolverines to their fourth straight Section IV title.
Waverly's success has been built on the backs of five cousins — Alex and Sidney Tomasso, and Capria, Gianna and Gabby Picco. With Alex Tomasso joining Capria Picco as a Waverly alum, the streak falls on the shoulders of the three remaining.
This storyline has spanned four-plus spring seasons, and — one way or another — is not over.
1. Tioga wrestling continues historic run:
If you turned Tioga's season into a Hollywood script, few would believe it.
Tioga won its third consecutive Section IV, Division II championship, won the Section IV Duals to advance to the State Duals for the second year in a row, where it once again reached the semifinals.
A year after qualifying six for States and bringing home three medals, the Tigers sent four to States with all four reaching the podium, led by junior Brady Worthing and senior John Worthing, who won state titles 15 minutes apart.
Their teammates - senior Austin Lamb and Stephen Taylor, who both won medals last year, each earned fourth-place medals. The Tioga foursome also accumulated more team points than any other team to win a team title.
Tioga graduates three state medalists - John Worthing, Lamb, and Taylor - who combined to record 524 career wins, another starter in Zac Warner with 88 career wins, and three other starters, so the betting man might say this storyline reached its apex this season. However, I have a feeling there are several more chapters to be written.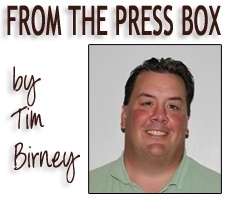 Print Friendly Version