FROM THE PRESS BOX: VALLEY SPORTS REPORT MARKS 10TH ANNIVERSARY
(2019-08-10)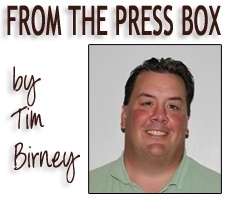 Today marks the 10th anniversary of the launch of Valley Sports Report, and what a ride it's been.
I've been blessed to cover tremendously talented teams, and individuals, including many Division I athletes here in our "little Valley."
Individually, Athens grad Breana Gambrell won six gold medals, and her older brother Jarred won three at the PIAA Track & Field Championships to lead a large number of state champs on both sides of the border.
On the wrestling mats, Tioga grad Derak Heyman and Athens grad Brian Courtney each won two state titles during historic careers, and Athens' David White, and Waverly's A.J. Burkhart and Ryan Wolcott each won one. In February, Tioga's Brady and John Worthing won state titles 15 minutes apart in one of the more memorable moments in the last decade.
I've also had the privilege of working with some excellent coaches who have racked up numerous sectional / district titles like Tioga's Nick Aiello, Des Ford, Bob Seymour, and Kris Harrington, Waverly's Jason Miller and Dave Mastrantuono, and Athens' Jake Lezak and Ben Gambrell.
The high level of talent and excellent coaching has resulted in Section IV and District 4 titles too numerous to mention, and even a state football title for Tioga in 2015, and a state wrestling title for Tioga in 2019.
All this has made my job a bit easier, and resulted in rabid fan bases in the four Valley school districts, which has led to consistent, and ever-increasing, viewership numbers for the site.
For me, this site is mainly about the student-athletes and the fans, the majority of whom view the site multiple times per day, so I offer a huge "thank you" to both.
I must also give a shout-out to my advertising partners, whose combined support has allowed Valley Sports Report to continue its growth.
A big thanks goes out to Jim Lister (and Kevin Horn before him) at Williams Auto Group, Greg Joseph at Valley Bowling Center, the Baird boys (Paul, John and Peter) at John H. Murray & Sons, and Tom King and Tom Marchese of Tom's Hardware for their support of VSR since Day 1.
I'd also like to thank our other major advertisers: Tioga Downs, Austin's Excavating & Paving, Gannon Associates Insurance, First Citizens Community Bank, Coaches Pizza, Tioga State Bank, Sutryk & Son, Inc, Croft Lumber, Owen Insurance, Camco Manufacturing, Beeman's Restaurant & Lounge, PS Bank, Elderwood, Foote's Tire & Auto Service, B's Tavern, All-State Insurance Agent Aaron Lounsbury, and Ted Clark's Busy Market.
Much thanks also to Kinsley Chiropractic, Ad Graphics Printing, Big Foote's Sporting Goods, Reagan Steele Jewelers, Thomas Cremation & Funeral Services, Waverly Liquor & Wine, At Your Door Mobile Dog Grooming, Valley Eye Care Associates, The Club at Shepard Hills, Tioga Downs Golf Club, Leprino Foods, Guthrie Federal Credit Union, Grand Victorian Inn, WJ Graphics & Sporting Goods, and Iron Kettle Farms.
One thing I can't stress enough is the importance of doing business locally. We are very fortunate to have the options we have in the Valley, and spending your money in the Valley is the best way to ensure we maintain our quality of life.
I also need to thank a small group of photographers whose work with the camera bring more quality photos to the pages of Valley Sports Report than I could have ever managed by myself. My thanks goes out to Chela Bubniak, Shannon McCarty, Cristina Rossi, Theresa Pipher, Christina Kreykenbohm, Lori Vascoe, Karen Hayford, Amanda Bailey, Heather Burgess, and Matt Patton.
Most importantly, however, I need to thank my family.
First and foremost, I have to thank my parents Liz and Jim Birney. My father passed away two years ago, and not a day goes by that I don't think about him and the life lessons I learned through his actions.
While I wouldn't have been able to get VSR off the ground without my parents, my wife Nikki has been a major reason for the site's growth — and, of course, the launch of a second site Tioga County Sports Report, which will mark its first anniversary next week.
She is not only my muse, my harshest critic, and biggest fan, but she is my sounding board, and my voice of reason. She pushes me to be better in every facet of life, and does not allow my hectic schedule to effect our life together.
And then there are the kids. Andrew and his wife Jessica, whose daughter Natalie celebrates her third birthday next week, and son Nathan will be 1 in December ... Alex and his wife Rebecca ... Emily, now a sophomore at SUNY Potsdam ... James, who begins the next phase of his life at the University of San Francisco this fall, Cassie, a junior, and Patrick, a freshman. They are the reason I do what I do, and they all have great things ahead of them.
Again, thanks to everyone I've mentioned and just as importantly, those I forgot to mention, who deserve it.
As Valley Sports Report heads into its 11th year of sports coverage, I am amazed at the support it has received, and I look forward to seeing what the future holds.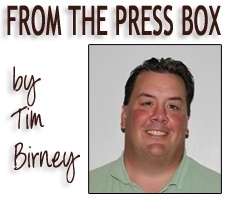 Print Friendly Version