FROM THE PRESS BOX: BUCKLE UP! YEAR 11 FOR VALLEY SPORTS REPORT COULD BE OFF THE CHARTS
(2019-08-12)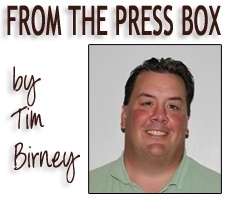 The 11th year of Valley Sports Report's high school sports coverage begins today, and if the first 10 years are any indication of what to expect, it's going to be off the charts.
Fall sports preseason camps open today, and there will be some interesting storylines to follow.
Nick Aiello's Tioga football team will be seeking its third straight Section IV, Class D championship, and its eighth in the last nine years, while Jason MIller's Waverly Wolverines have moved back up to Class B for one year and will likely have an 8th-grader starting at quarterback.
In his second year at the helm, Sayre football's Kevin Gorman will look to improve upon the Redskins' 6-5 record in 2018, while longtime coach Jack Young will have a young squad in Athens looking to improve on a 4-6 season.
On the soccer pitch, Jake Lezak's Athens boys team returns nearly in tact as it seeks to repeat as District 4 champs, and go deeper into the PIAA playoffs a year after winning the program's first-ever state playoff game.
Second-year Waverly coach Eric Ryck and rookie Sayre coach Greg Hughey are both at the helm of re-building programs, as both teams look to improve on one-win seasons in 2018.
Tioga will face its third season without a varsity program, but will have a modified team this season with an eye on the future.
On the girls side, Athens graduated a batch of talented seniors, including Division I talent Rachel Hutchison, but returns a slew of talented athletes, and remains the favorite in the NTL. Rich Pitts' Lady Wildcats will look to repeat as District 4 champs after winning their first title since 2000.
Tara Hogan's Waverly team has made three straight trips to the Section IV, Class B finals but came up just short against powerhouse Chenango Forks each time. Senior Melina Ortiz, who will play Division I soccer at Siena next fall, returns for her fifth varsity season.
Tracy Mennig's Sayre squad is coming off an 11-9 season, and returns sophomore Rozlyn Haney, who scored a school-record 39 goals in her first varsity season.
Jim Walsh's Tioga girls return in tact and will look to improve on a 1-14 mark in 2018.
On the volleyball hardwoods, Des Ford's Tioga Lady Tigers surprised a few observers by advancing to the Section IV finals last year, where it fell to eventual state champ B-G. This year, they return nearly in tact and will make a run at their sixth Section IV title in eight years.
Meanwhile, Kesha Sinsabaugh's Waverly team looks to repeat after winning the program's first-ever Section IV title in 2018.
After leading the Athens volleyball team to the postseason for the first time in more than a decade, second-year coach Heather Hanson will look for a return to District 4 playoffs and an improvement on a 9-9 record in 2018.
First-year coach Tiffany Glielmi takes over a Sayre program that won just three matches last year.
On the links, district-qualifiers senior Gavin Blair and sophomore Kannon VanDuzer return for Sayre under new coach Jamie VanDuzer, while Athens returns a big roster, but no one who consistently broke 100 last year returns for first-year coach Lenny Pientka.
The Waverly girls swim team, under longtime coach Amy Steck, graduated its top two swimmers, but returns a slew of talented youngsters, and should compete for another IAC title.
Tioga field hockey won just one match in 2018, but rookie coach Jo Ellen Riggs returns a host of youngsters looking to improve on last season.
The Waverly girls cross country team returns its top four runners from a second-place effort at the Section IV, Class C Championships, while the Wolverine boys return their top seven from a fourth-place team.
The Tioga boys return big numbers, and have a chance to be much-improved, while the Lady Tigers will once again be low on numbers.
The Athens boys return four of their top five runners from 2018, while Sayre has three of its top four back. The Lady Wildcats return a large group of young runners, and the Lady Redskins have their top runner in Kayla Hughey returning.
—————
There will be just as many storylines in the winter and spring, but here are a few just to whet your appetite.
Once winter rolls around, we'll see if Tioga wrestling can maintain its dominance in Section IV, and if senior Brady Worthing can become the second two-time state champion in school history.
Eyes will also be on Athens wrestling to see if sophomore Gavin Bradley can build on his historic freshman season, and return to the podium at the PIAA Championships at Hershey. The Wildcats also have a great deal of talent around Bradley that will make them fun to watch.
On the hardwoods, Waverly senior Scott Woodring was on his way to a historic season before a knee injury sidelined him after just seven games. Woodring will be a must-see this winter.
The Athens girls hoop team returns nearly in tact. They should be improved.
Waverly swimmer Mike Atanasoff will look to make a return trip to States, and a couple of his teammates, namely senior diver Gage Streeter and sophomore Kaden Wheeler, could join him.
Next spring, Waverly senior pole vaulter Isaac Chandler, who cleared 16-feet over the summer, will continue his quest for a state title, while classmate Cora Smith will look to maintain her climb up the ranks in the long-distance hierarchy with a return trip to States.
Chandler and Smith likely won't be alone at States as a number of their teammates return seeking another trip to States.
The Sayre baseball team will get re-enforcements from its freshmen class, namely pitcher Lucas Horton, as it seeks its third consecutive District 4 title.
Athens junior Benny Gambrell will look to return to States and become the fourth member of his family to earn a PIAA medal.
Senior Sam Taylor, who qualified for the New York State Golf Championships as an 8th-grader, freshman and sophomore, will look to finish off a brilliant career with his fourth trip to States.
The Waverly girls golf team will look to win its fifth consecutive Section IV Championship, and add to its 118-match win streak — the longest in New York State.
The Tioga softball team, which returns everyone and will add to its roster from a good JV team, will look to improve on its Section IV, Class C semi-final appearance, and challenge Edison for IAC supremacy.
Athens softball, with ace pitcher Megan Bennett back for her final season, will also look to improve on a quarter-final appearance in the District 4 Class AAA playoffs.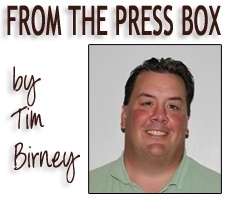 Print Friendly Version