FROM THE PRESS BOX: THE CRYSTAL BALL, WEEK 1 PICKS
(2019-08-23)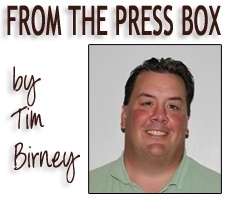 It's hard to believe, but the Pa. portion of the 2019 high school football season kicks off tonight.
I pulled the crystal ball out of storage, dusted it off, and it quickly came into focus. Today, I'll take a look at what it shows for Athens and Sayre.
Athens Wildcats:
The Wildcats could be an interesting and entertaining team.
They are big and experienced up front, and have playmakers on offense in seniors Damian Hudson and Keegan Rude, who will miss the first game, and sophomore Shayne Reid, but will start a freshman quarterback in Mason Lister.
I have no doubt Lister will be a good one, but there will definitely be a learning curve in year one.
Defensively, junior defensive tackle Ian Wright and junior defensive end Ben Pernaselli could be among the best players in the NTL, and the Wildcats are very athletic in the secondary.
Coach Jack Young's concern is with his team's inexperience at linebacker, which is really the heart of any defense. Again, the group he has in those spots is athletic, and junior Tanner Dildine — the only returning starter — is a good one.
Prediction:
The NTL may not be what it use to be on the gridiron, but Wellsboro, Canton, Troy, Towanda, and North Penn are still tough outs in the Large School Division. … If the Wildcats can run the ball consistently and keep the onus of making plays to win games off Lister, they have a chance for a winning season. …
Record: 5-5
in regular season.

Sayre Redskins:
The Redskins should be a very fun team to watch this season, and could feature a great deal of offensive fire power.
Sophomore Brayden Horton stepped in at QB midway through the 2018 season, and helped the Redskins to a postseason appearance. This preseason, he's battled with his cousin Lucas Horton for the starting spot. Regardless of who ultimately wins the battle, the Sayre offense is in good hands for the next few years. Like Lister at Athens, however, both will have growing pains.
Senior Isaiah Firestine returns in the backfield and could get some help from sophomores Jake Bennett and David Northrup. The strength of the offense could be in its receiving corps which features seniors Ethan Miller, Zach Watkins, Corbin Brown, and Pat Casterline.
The offensive and defensive lines return experience and size in Zach Belles, Jordan Goodrich, Jared Giggee and Nick Polzella. The Redskins also return three starters in the secondary, but will be a little be depending on a pair of youngsters in the linebacker corps, which could cause problems early in the season against better teams.
Prediction:
The Redskins play six games on the road this season, including games at Towanda, Canton, and Muncy. The NTL Small School title will likely come down to Sayre's final road game of the season at Muncy. … Sayre appears to have pretty good depth everywhere, but on the line. If they can stay healthy up front, the Redskins could win the divisional title and make some noise in the postseason. …
Record:
7-3
in regular season and Small School title.
——————
After a hectic summer, it's time for some high school football.
Since New York State football doesn't kickoff until Sept. 6, the first two weeks will feature just Athens and Sayre.
I will once again be joined by "The Mick" in picking games this season. I soundly thrashed him last season, posting a 45-8 record to his 35-18 mark. His job as guest prognosticator is definitely on the line this season.
FRIDAY
Athens (4-7 in 2018) vs. Hanover (3-8 in 2018), 7 p.m.:
Both teams are coming off down seasons, and are looking to turn things around.
The Wildcats are young, but very athletic, and should be solid in the trenches. The Hawkeyes graduated seven starters, including three of their top two-way players.
Athens beat Hanover, 38-6, last year at Alumni Stadium, and was able to run the ball effectively, and throw when needed. The Wildcats will surely look to use the same formula tonight.
Prediction: I expect the Wildcat offense to be efficient tonight, and senior Damian Hudson or sophomore Shayne Reid to make a big play or two, but don't be surprised if its the Athens defense and / or special teams that sets the stage for a blowout. …
ATHENS 40, HANOVER 13. …
"The Mick's Pick:"
ATHENS 18, HANOVER 12.

SATURDAY
Bucktail (2-7 in 2018) at Sayre (6-5), 1 p.m. @ Lockhart Street Bowl:
The Redskins opened the 2018 regular season with a 36-0 win over Bucktail, then closed with five wins in their final six games, while the Bucks had two three-game losing streaks following wins over CMVT and CV.
Bucktail has just 19 players on its roster this season, but only two seniors. The Bucks also have a new coaching staff in place.
With the majority of the offense returning, and a year's experience under their belts in coach Kevin Gorman (and assistant coach Niq Sinsabaugh's) spread offense, the Redskins will have the ability to put points up quickly. (Conversely, when they're not clicking there can be a lot of three-and-outs, which puts a great deal of pressure on the defense.)
The Sayre defense was it's saving grace at times last year. While all-state linebacker Nate Garrity is gone, a lot of the same faces return.
The Bucks were outscored an average of 33 to 12.7 in 2018.
Prediction
: I believe the Redskins have too much firepower and depth for the Bucks. Don't be surprised if Firestine rips off a long run or two, and either (or both) of Hortons (Brayden and Lucas) connect on a couple big pass plays. …
SAYRE 40, BUCKTAIL 6. …
"The Mick's Pick:"
SAYRE 28, BUCKTAIL 15.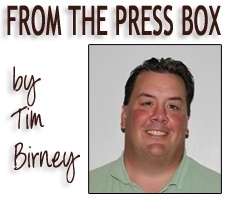 Print Friendly Version