THE FINAL WORD: THOUGHTS ON THE FIRST WEEKEND OF FOOTBALL
(2019-08-25)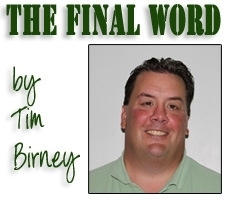 Thanks to the PIAA season starting two weeks before New York State's, and a shortage of officials in the NTL chapter, I was able to watch both the Athens and Sayre football teams this weekend.
Friday night, I watched a young Athens team that has a lot of work to do, but could be dangerous by the end of the season.
Saturday afternoon, I watched an ultra-athletic Sayre team shake off a slow start and then completely obliterate Bucktail Area.
——————
Wildcat head coach Jack Young expected his offensive line to be a driving force for his team this season, but Friday night it spent much of the game on its heels against a physical Hanover Area defense.
Athens did put together a pair of sustained drives, thanks to its running game with a few passes mixed in, so the line did flash its potential, but it needs to much better, especially against its divisional foes.
Freshman Mason Lister, aside from one bad throw and a couple mix-ups on handoffs, did a nice job running the Wildcat offense. He showed nice touch on his intermediate throws and good arm strength. His job should get a little easier Friday with the return of 6-3 senior wideout Keegan Rude.
Senior Damian Hudson flashed his big-play potential with leaping TD catch, and a dazzling punt return for a score. He is a threat to find paydirt from anywhere on the field anytime he touches the ball.
Of course, you can point to the three turnovers in the first eight minutes of the game that resulted in a 15-0 deficit, and say if Athens doesn't do a better job of taking care of the football, it's going to be a long season.
Those turnovers also put a strain on the Wildcat defense, forcing it to defend the short field, which is never easy.
Athens did a poor job of tackling early in the game, but that definitely improved as the game went on.
Like the offensive line, the Athens defensive front also spent a good part of the game on its heels against Hanover's power run game.
There were some bright spots, junior defensive end Ben Pernaselli made several big plays, Connor Sindoni played well in the middle of the defense, and freshman J.J. Babcock did a nice job in the secondary in his first varsity start. Sophomore Shayne Reid made several stops against the Hanover run game, and sophomore Troy Pritchard made his presence felt at defensive end in his first varsity action.
Coach Jack Young said the Wildcats played a like a young team, especially in the second half, and he could not have been any more on point in his assessment. This is a young, but very athletic team; if they improve up front and mature quickly they will be dangerous, but that's a lot to ask.
——————
The Redskins got off to a bit of a slow start on both sides of the ball, but quickly righted the ship and turned a 6-0 deficit into a 67-6 win — the second biggest point differential in the storied history of Sayre football.
Sayre got exactly what it expected out of senior tailback Isaiah Firestine (126 yards and two TDs), senior wideouts Corbin Brown (five catches for 52 yards) and Ethan Miller (four catches for 53 yards and two TDs), and sophomore QB Brayden Horton (12 of 22 passing for 147 yards and four TDs, and 58 yards and one TD on the ground.)
Firestine ran hard, but with very good patience, waiting for his blockers and finding the running lanes, while Horton showed good accuracy, nice touch, and a strong arm, as well as the ability to take off and be a threat running the ball.
Miller showed the ability to go up and get the ball, as well as picking up yardage after the catch, while Brown showed great hands, including a one-handed grab in traffic, and was exceptional in open space, making several tacklers miss after turning up field.
And there were a lot of other players who flashed promise, namely freshman Lucas Horton, who threw a TD pass, caught a TD pass, and broke loose on a 49-yard TD run. He could turn into another dangerous weapon for his cousin in the passing game.
Freshman David Northrup and sophomore Jake Bennett both showed promise in limited carries in the second half, and both played very well at linebacker in their first varsity starts, while freshman Zack Garrity made a couple of big plays on special teams in his first varsity action.
Firestine, junior Zach Belles, senior Jared Giggee, and junior Jordan Goodrich were driving forces on the Redskin defense all game long, shutting down the Bucktail ground game after the possession.
I know the cynics out there are going to chime in with "it's only Bucktail," and there is some truth to that, but I'm willing to wager the Bucks will win a couple games this season, and the Redskins will score a lot of points.
It will get tougher for Sayre, starting with this Friday at Towanda, but this is a team to watch this season.
——————
The
Final Word
returns Sunday.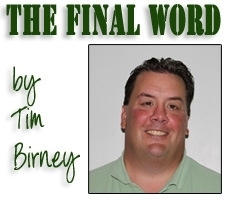 Print Friendly Version