FROM THE PRESS BOX: WEEK 2 PICKS
(2019-08-29)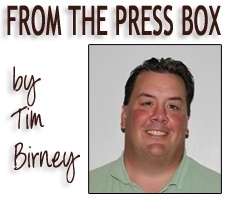 Week 2 of the football season is upon us, and once again we have just two games on the docket, with gridiron action North of the Border still a week away.
This week's slate has Athens at home for the first time, hosting North Penn, while Sayre is on the road for the first time, squaring off against Towanda.
"The Mick" challenged my prognosticating supremacy in 2018. Now, "Country Bob and Little Red" have challenged us, so we'll have a little tag-team competition in 2019 between "Team VSR" and the "Team Evil."
2019 RECORD: Birney 1-1, "The Mick" 1-1.
North Penn (0-1, 0-0 NTL Large) at Athens (0-1,0-0), 7 p.m. @ Alumni Stadium:
The Wildcats are coming off a 31-21 loss at Hanover, while the Panthers were thumped 49-17 by powerhouse Montoursville in a game that was 42-0 in the second quarter.
Last year, North Penn dropped the season-opener 51-6 at Montoursville, and bounced back to beat Athens 42-0 in Week 2 on its way to an unbeaten run to an NTL Large School Division title.
The Panthers graduated 19 seniors, so it's difficult to believe they'll duplicate last season's success, but Tom Dickinson has done a great job with that program, and it has proved its resiliency in the past.
Prediction: The Wildcats will be without a pair of starters tonight, but will have 6-4 wideout / defensive back Keegan Rude back. Athens needs to be much better in the trenches tonight to have a chance to win. …
NORTH PENN 20, ATHENS 14.The Mick's Pick:
Athens 18, North Penn 16. …
Country Bob's pick:
North Penn 34, Athens 6. …
Little Red's pick:
North Penn 34 Athens 13.
Sayre (1-0) at Towanda (0-1), 7 p.m.:
The Redskins are coming off a 57-6 shellacking of Bucktail Area in Week 1, while the Black Knights dropped a 40-6 decision to Canton.
Sayre was impressive offensively, especially sophomore QB Brayden Horton's ability to spread the ball around in the passing game — throwing TDs to three different receivers. Sayre amassed 497 yards in total offense, including 318 yards on the ground.
The Black Knights allowed three Canton backs to run for at least 88 yards, and yielded 168 yards through the air — allowing 426 yards of total offense in all.
Prediction:
Towanda senior QB Tanner Kunkle is a good one, and can burn you in one way or another at anytime, he just doesn't get much help. … If Sayre can run the ball with the same effectiveness tonight that Canton did against Towanda in Week 1, it's going to be a long night for the Black Knight fans. …
SAYRE 40, TOWANDA 13.The Mick's Pick:
Sayre 28, Towanda 12. …
Country Bob's pick:
Sayre 42, Towanda 12. …
Little Red's pick:
Sayre 42, Towanda 13.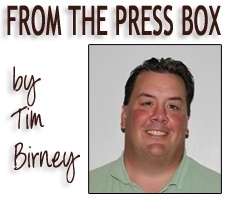 Print Friendly Version