THE FINAL WORD: WEEK 4 PICKS, PART I — THOUGHTS ON THE WEEK'S ACTION
(2019-09-12)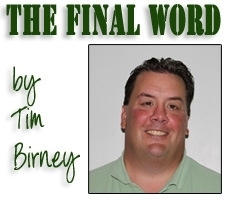 It's hard to believe, but Week 4 of the Pa. football season kicks off tonight in a rare Thursday night game at Athens.
I'm off to a rough start this season after another .500 week in Week 3, and The Mick has pulled into a tie. On the "tag-team" front, Team VSR trails Team Evil by 6 points.
WEEK 3 RECORD:
Birney 2-2, The Mick 3-1.
2019 RECORD:
Birney 5-3, The Mick 5-3.
TEAM VSR:
8-4 record and 68 points;
TEAM EVIL:
9-3 and 74 points.
Today, we will make our picks for the Athens-Wyalusing game. The remainder of the picks will be made Friday morning.
Wyalusing (1-2 overall, 0-1 NTL Large) at Athens (1-2, 0-1), 7 p.m. @ Alumni Stadium:
The Wildcats are coming off a 55-21 win at Cowanesque Valley, while the Rams were thumped by Canton, 44-15.
Wyalusing has an athletic QB in Shane Fuhrey, but the spread offense has not clicked since a season-opening 34-6 home win over Montrose. The Ram defense has allowed 94 points in the last two games.
The Athens offense clicked into high gear last week against a weak CV defense, but has been inconsistent otherwise. The Wildcat defense has been susceptible against the pass.
Prediction:
This is a battle of two teams struggling to find their identities, and play consistent football. Athens has athletes all over the field, and should make enough plays to notch their second win of the season. …
ATHENS 33, WYALUSING 22.The Mick's Pick:
Athens 28, Wyalusing 18. …
Country Bob:
Wyalusing 28, Athens 12. …
Little Red:
Athens 34, Wyalusing 12.
——————
The Sayre boys soccer team earned its first win of the season on Monday, then was forced to postpone Wednesday game against Wellsboro due to a lack of healthy bodies.
The Redskins are vastly improved over last year. They play much harder, and with more of a sense of purpose.
After an injury-filled sophomore season, junior Cody VanBenthuysen is becoming the offensive power we expected him to be after his freshman season. He's also getting help up front from sophomore Mason Hughey and freshman Brayden Post.
Hopefully, the Redskins, who played five games in 10 days, can get healthy for their Saturday home game against Williamson.
——————
Waverly girls soccer coach Tara Hogan had plenty to figure out in the preseason, and wasn't sure where many of her girls would be playing. And, she's still shifting players around.
One player who appears to have found a permanent spot is 8th-grader Lea VanAllen who has netted five goals in games against Newark Valley and O-M.
If she can become a consistent scorer for the Lady Wolverines, that answers one of their big questions from the preseason.
It appears Notre Dame will once again be a factor in the IAC South Large School title chase. Still young, the Lady Crusaders blanked a solid SVEC, 7-0, on Monday.
——————
With an injury to sophomore Rachel Feeko, who could miss the remainder of the season, the Tioga girls soccer roster is down to 11.
In each of the last two games, playing without a sub has taken a toll. In both games, Tioga trailed O-M and SVEC 1-0 in the second half, only to give up goals to make the final outcome look much more lopsided than it actually was.
The Sayre girls are facing a similar numbers crunch. On days when the volleyball and soccer teams both play, the Lady Redskins only have 11 players. When they play on different days, they have 13.
The big difference is Sayre has nowhere to turn for more players this season since junior high players cannot play varsity players in Pa.
——————
The Candor volleyball team ran its regular-season win streak over Tioga to three Wednesday night with a sweep on its home floor.
The two teams will square off in Tioga on Oct. 7, but could also see each other Saturday at the Tioga Tournament.
——————
First-year Tioga field hockey coach Jodi Riggs notched her first varsity win Tuesday with a 4-2 win over Owego.
After a pair of lopsided losses — to a pair of powerhouse programs in Marathon and Maine-Endwell — the Lady Tigers responded with a strong performance against Owego, with junior Olivia Ayres finding the cage three times in the win.
With Riggs' energy, and a strong youth program in place, don't be surprised if the Tioga program is much improved down the line, but it may take a few years.
——————
The Final Word
returns Monday.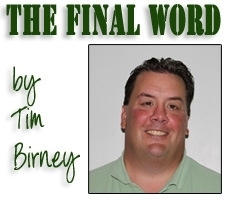 Print Friendly Version