FROM THE PRESS BOX: WEEK 5 PICKS — JUST ONE HOME GAME FOR VALLEY TEAMS
(2019-09-20)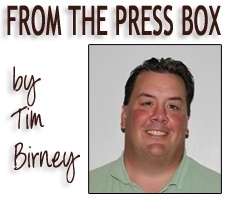 Week 5 of the high school football season features three road games, and two divisional match-ups.
Athens hosts unbeaten divisional power Canton, while Waverly travels to divisional rival Maine-Endwell. Meanwhile, Sayre travels to Wyalusing, and Tioga has the lengthiest road trip of the night to Bainbridge-Guilford.
Both "The Mick" and I got back on track in Week 4 and are tied up in our annual pigskin prognostication challenge.
As for our tag-team battle, Team Evil is off to an early lead.
WEEK 4 RECORD:
Birney 3-1, The Mick 3-1. —
2019 RECORD:
Birney 8-4, The Mick 8-4.
TEAM VSR:
14-8 record and 115 points;
TEAM EVIL:
17-5 and 139 points.
Canton (4-0 overall, 2-0 NTL Large) at Athens (1-3, 0-2), 7 p.m. @ Alumni Stadium:
The Wildcats are coming off a 36-29 home loss to Wyalusing in Week 4, while the Warriors rolled over Bucktail, 52-14.
It's hard to say if Canton is as good as its 4-0 record indicates, since three of its wins come against teams (Towanda, Montgomery, and Bucktail) with a combined 0-11 record. One thing is for sure, the Warriors steamrolled Wyalusing, 44-15, and Wyalusing beat Athens in a wild 36-29 decision.
Big plays were the Athens defense's downfall in Week 4, and Canton QB Uriah Bailie may be the best offensive player in the NTL. He has thrown for 176 yards per game, and has six TD passes, while also running for 542 yards and seven TDs.
Prediction: Canton's weapons may be more dangerous than Wyalusing's, which could spell bad news for the Wildcats' beleaguered pass defense. Don't be surprised if the Athens offense has some success, but I don't believe they'll be able to keep up with the Warriors output. …
CANTON 38, ATHENS 14.
The Mick's Pick:
Canton 55, Athens 6. …
Country Bob:
Canton 52, Athens 7 …
Little Red:
Canton 42, Athens 0
Sayre (3-1) at Wyalusing (2-2), 7 p.m. @ Peterson Field:
The Redskins are coming off a 35-17 win over Montgomery in Week 4, while the Rams rallied to top Athens, 36-29.
Wyalusing has given up 41 points per game over the last three weeks, while Sayre's defense has allowed 29 points per game in the last three games.
Athens ran the ball with success against the Wyalusing defense, and Sayre found its run game in the second half of its win over Montgomery.
Prediction:
Both teams like to throw the ball, and both teams have some dangerous weapons, but Sayre appears to have more. Don't be surprised if the Sayre run game is the difference. …
SAYRE 28, WYALUSING 22.The Mick's Pick:
Sayre 36, Wyalusing 12. … Country Bob: Sayre 34, Wyalusing 12. …
Little Red:
Sayre 32, Wyalusing 15.
Waverly (2-0 overall, 1-0 Div. II) at Maine-Endwell (1-1, 1-0), 7 p.m.:
The Wolverines are coming off a 41-6 win over Johnson City, while the Spartans thumped Chenango Valley, 42-24.
Waverly is off to a nice start, but both its wins come against 0-2 teams, while M-E dropped its season-opener to Section III Class A power Carthage, thanks to running back Fambo Azah's 182 yards and five TDs on 15 carries. (He also returned a kick 80 yards for a score.)
The Spartans have a devastating ground attack, averaging more than 400 yards per game. Waverly's defense has been good against the run, but it will be tested like never before tonight.
Prediction:
This is by far Waverly's biggest test of the season until it faces Chenango Forks in Week 8, and it will be tested on both sides of the ball. The fact the game is at M-E could also be a factor for a young Wolverine team. …
MAINE-ENDWELL 33, WAVERLY 6.The Mick's Pick:
M-E 28, Waverly 7. …
Country Bob:
ME- 27, Waverly 6 …
Little Red:
M-E 38, Waverly13.
Tioga (2-0) at Bainbridge-Guilford (0-2), 7 p.m.:
The Tigers are coming off a 24-20 home win over Newark Valley, while the Bears were throttled by O-M / Watkins Glen, 44-12.
Tioga is as battle-tested as it could be in two weeks as it heads out for its first road game at B-G, which lost to Moravia at home in Week 1.
Prediction:
B-G is big, but Tioga appears to have a decided quickness advantage, which should free up Emmett Wood and Brady Worthing for big nights. …
TIOGA 45, B-G 6.The Mick's Pick:
Tioga 44, B-G 0 …
Country Bob:
Tioga 35, B-G 6 …
Little Red:
Tioga 34, B-G 0.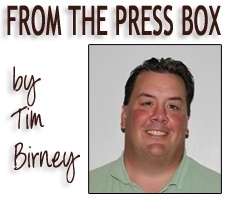 Print Friendly Version