THE FINAL WORD: THE ODDEST QUARTER EVER? — THOUGHTS ON FOOTBALL WEEKEND ... AND MORE
(2019-09-24)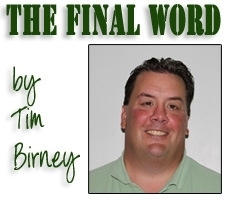 I've seen some odd quarters of football, but the first quarter of Tioga's game at B-G Friday night may have been the strangest I've seen in my 30 years on the sidelines.
Time of possession: B-G 11 minutes and 50 seconds, Tioga 10 seconds. Offensive plays: B-G 22, Tioga 2. Total Yards: B-G: 85, Tioga 14. Score: Tioga 21, B-G 0.
The game started innocently enough with B-G ripping off a few short runs to move the ball to the Tioga 29. After a big hit by senior Dom Wood forced the Bobcats into a second-and-11, they elected to pass — and as so often happens when a predominantly run team elects to pass, something bad happened — and sophomore Emmett Wood stepped in front of the pass, and raced 74 yards for a score.
It was more of the same on B-G's second possession. A pair of first downs moved the ball to the Tioga 49. On fourth-and-6, B-G decided not to punt and went for it. Under heavy pressure, the B-G QB tossed the ball downfield and senior Brady Worthing settled under it, and returned it 72 yards for a score.
B-G was forced into a three-and-out punt on its next possession, and Dom Wood blocked it and recovered it at the B-G 14. Two plays later, Worthing completed his second pass in a row — an 8-yard TD pass to senior Mason Booser on the final play of the first quarter.
The rest was business as usual. Tioga's defense shut down the B-G run game, allowing just three first downs the remainder of the game, and the Tiger ground game racked up 237 yards over the final three quarters.
Perhaps the most impressive aspect of the game was the play of Tioga's second units, which played most of the second half.
Sophomore Isaac Peterson and Gavin Godfrey, and 8th-grader Ethan Perry were impressive carrying the ball. Perry looks like he could become a game-changer with his speed and elusiveness.
Defensively, the Tigers' second unit held B-G to 20 yards of total offense and one first down in the second half.
———————
Sayre turned in an impressive outing Friday night, jumping out to a 27-0 lead less than one minute into the second quarter on its way to a 41-20 win at Wyalusing.
The Redskins were able to run he ball and throw the ball, shut down the dangerous Wyalusing passing game, and came up with a big blocked punt by Donovan Wynn that set up a 3-yard scoring drive.
The Sayre offense oozes athleticism with a group of speedy wide receivers. It's actually an embarrassment of riches with seniors Ethan Miller, Corbin Brown, and Zach Watkins, and freshman Lucas Horton, who has only scratched the surface of his potential. All four have game-breaking ability.
Isaiah Firestine is a workhorse type running back, and Pat Casterline could become a big factor at fullback when Sayre shifts to its "Jumbo" package.
The key for the Redskins will be its defense. If Sayre's defense can make enough plays during the course of a game, its offense is potent and diverse enough to score a lot of points.
——————
Waverly may have lost 47-27 at Maine-Endwell Friday night, but there is a lot of good to take from it.
The Wolverines rushed for more than 200 yards, and 8th-grader Joey Tomasso threw for 157 yards.
Junior David Hallett rushed for 100 hard-earned yards and three TDs, and junior Austin Kimble ripped off a long TD run, and could become a bigger factor in the ground game moving forward.
Tomasso completed 17 of 28 pass attempts. He appears to be unflappable with a very high football IQ. He is very accurate with his throws, and gets rid of the ball quickly as evidence by the fact that he hasn't been sacked in three games.
The Spartans took away his favorite receiver in senior Jalen McCarty, who had just two catches, but he was able to find Aidan Westbrook six times for 86 yards. Westbrook is big and athletic, and as he continues to improve and learn the game, he will become quite a weapon for Tomasso.
On the flip side, the Wolverines defense gave up 405 rushing yards, but M-E will do that to just about everybody. The Spartans rushed for more than 450 yards in a season-opening loss to Carthage, the preseason favorite to win a Section III, Class A title.
The good thing is Waverly won't see another ground game like M-E's until it faces Chenango Forks in Week 8, then it will be all about bringing down 6-4, 255-pound fullback Luke Scott
———————
Another week, another tough loss for Athens, but again a lot of reason for optimism.
Freshman QB Mason Lister threw for 268 yards and three TDs. All three were perfectly-thrown deep balls — a 26-yard strike to sophomore Shayne Reid, a 56-yard connection with senior Keegan Rude, and a 74-yard bomb to sophomore J.J. Babcock.
There's no doubt Lister has the arm. As he seasons, with the talent he'll have around him, there's plenty to be excited about.
The running game is in good hands as well. Reid is fast and powerful, with good balance and good vision, while freshman Caleb Nichols looks like he could develop into the prototypical back in coach Jack Young's system, capable of 30 carries a game if needed.
Keegan Rude is a dynamic receiver with good size, good hands and good speed, but he's a senior. Sophomore J.J. Babcock, who also has good size and speed, appears to be his heir apparent.
Toss in junior tight end Ben Pernaselli and sophomore fullback Troy Jennings and the Wildcats have a great deal of skill-position talent.
The two areas of concern are the offensive line and the defense.
As for the defense, it features a large number of athletic freshmen and sophomores and as they gain experience, they will only get better.
The offensive line is the biggest area of concern. Considered a strength prior to the season, it has had trouble protecting the QB, and consistently providing room for the backs to run.
——————
The Tioga girls soccer team, and the Sayre boys soccer teams have already surpassed their win totals from last year.
Tioga won 5-2 at Newfield Wednesday for its second win of the season, after just one win in 2018, and two in 2017.
The Lady Tigers have a solid core of experienced players, but only have 11 girls on the roster after losing one player to injury.
First-year sophomore Gabby Foley has settled in nicely at keeper, while juniors Cassie Birney and Madison Howey have anchored the defense.
Senior Mackenzie Macumber, junior Destini Sweet, and sophomore Abby Foley have continued to improve in the midfield and up front.
As evidenced by their 11-1 loss at Waverly, the Lady Tigers not going to challenge the IAC elite, but even against teams like O-M and SVEC, they were in games well into the second half, before running out of steam.
Tioga has a good chance to win two or three more games this season.
Much like Tioga, the Sayre boys aren't ready to challenge the NTL elite yet, but are dangerous against the majority of the league.
Junior Cody VanBenthuysen and sophomore Mason Hughey have proven the ability to put the ball in the net, and freshman Brayden Post keeps things moving offensively.
The return of senior Cam Wheeler at goalkeeper will also help the Redskins, allowing coach Greg Hughey to move Trevor Campbell, who did a solid job in net, into the field.
Sayre has a good chance to win at least two more games this season.
——————
The Final Word
returns later this week.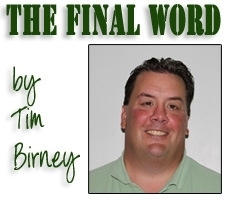 Print Friendly Version