FROM THE PRESS BOX: WEEK 6 PICKS — ALL FOUR VALLEY TEAMS ON THE ROAD
(2019-09-27)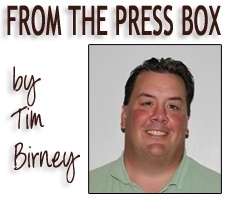 Week 6 of the high school football season features four road games for the Valley teams, with Waverly, Athens and Sayre facing divisional opponents.
All four pickers were 4-0 last week, and Team VSR was able to trim two points off its deficit, but Team Evil still leads by 22 points.
WEEK 5 RECORD:
Birney 4-0, The Mick 4-0. —
2019 RECORD:
Birney 12-4, The Mick 12-4.
TEAM VSR:
22-8 record and 184 points;
TEAM EVIL:
25-5 and 206 points.
FRIDAY
Waverly (2-1 overall, 1-1 Div. II) at Chenango Valley, 7 p.m.:
The Wolverines are coming off a 47-27 loss to Maine-Endwell, while the Warriors thumped Ithaca, 42-7.
Chenango Valley has been a thorn in Jason Miller's side over the years, but the Wolverines have won two of their last three meetings, including a 48-26 win in the Section IV, Class B championship game.
Both teams are 2-0 against teams other than Maine-Endwell, and were impressive offensively in those wins.
Prediction:
This game appears to be a toss up. In those games, I'll take the team with a little more experience, and the home-field advantage. …
CHENANGO VALLEY 28, WAVERLY 21.The Mick's Pick:
Waverly 24, CV 21. …
Country Bob:
Waverly 21, CV 20. …
Little Red:
CV 27, Waverly 18,
Athens (1-4 overall, 0-3 NTL Large) at Wellsboro (4-1, 1-1) 7 p.m.:
The Wildcats are coming off a 27-19 loss to division-leading Canton, while the Green Hornets notched a non-league 48-14 win over Hughesville.
Wellsboro's Aiden Hauser is the best offensive player in the NTL, capable of a big play every time he touches the ball, and Athens has been susceptible to the big play at times.
The Wildcats' offense played its best game last week against a pretty good defense in Canton.
Prediction:
This game may turn into a shootout. Unfortunately, I don't think the Wildcats have quite enough seasoning to hang with Wellsboro. … WELLSBORO 45, ATHENS 20.
The Mick's Pick:
Wellsboro 48, Athens 7. …
Country Bob:
Wellsboro 52, Athens 14. …
Little Red:
Wellsboro 28, Athens 13.
Tioga (3-0) at Unatego / Franklin (0-3), 7 p.m.:
The Tigers are coming off a 43-0 shellacking of Bainbridge-Guilford, while Unatego / Franklin dropped a 43-18 decision at Harpursville / Afton.
Tioga's offense never really found a rhythm last week, partially because it never had to. I expect more of what we're accustom to this week from the Tigers.
Defensively, Tioga was stout after a couple of early adjustments, putting the clamps on B-G's run game.
Prediction:
I think you can expect some offensive fireworks from the Tigers this week. Brady Worthing may not throw three TD passes again this week, but don't be surprised if he and wideout Mason Booser provide a couple of big plays. …
TIOGA 49, UNATEGO 6.The Mick's Pick:
Tioga 44, Unatego 7 …
Country Bob:
Tioga 48, Unatego 6. …
Little Red:
Tioga 44, Unatego 6.
SATURDAY
Sayre (4-1 overall, 2-0 NTL Small) at CMVT (2-3, 1-2), 1 p.m.:
The Redskins are coming off a 41-20 win at Wyalusing, while the Rams were shellacked 56-14 at Montgomery.
Sayre is riding high after a big win at Wyalusing, and will look to keep its offensive momentum moving forward. The Rams are allowing 26 points per game this season, but gave up 56 to Montgomery last week.
The Redskin defense was much better last week against a Wyalusing team that likes to pass. CMVT likes to keep the ball on the ground. Sayre's run defense has been a little spotty this season.
Prediction:
Sayre's offense is much more explosive and diverse than Montgomery, which could make it a long day for the CMVT defense. …
SAYRE 55, CMVT 12. The Mick's Pick:
Sayre 55, CMVT 0. …
Country Bob:
Sayre 56, CMVT 6. …
Little Red:
Sayre 47, CMVT 0.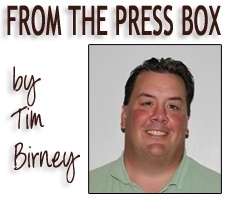 Print Friendly Version