FROM THE PRESS BOX: WEEK 7 PICKS — INTERESTING MATCH-UPS ON DOCKET
(2019-10-04)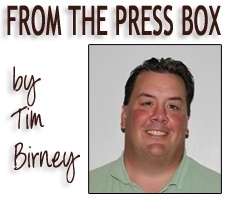 Week 7 of the high school football season brings us three games with postseason implications, two home games, and one game with a pair of longtime league rivals playing for pride.
Waverly hosts Owego in a must-win game tonight, while Sayre needs a win at Canton to stay in the hunt for the top seed in the District 4, Class A playoffs, and Tioga opens divisional play at home against Groton.
Meanwhile, Athens travels to Towanda in a game that features two teams with a combined one win.
Week 6 was another perfect one for me, and I take a one-game lead over "The Mick."
WEEK 5 RECORD:
Birney 4-0, The Mick 3-1. —
2019 RECORD:
Birney 16-4, The Mick 15-5.
In the tag-team match, both teams went 7-1, but Team VSR was able to trim three points of Team Evil's lead.
TEAM VSR:
29-9 record and 246 points;
TEAM EVIL:
32-6 and 265 points.
All four games in Week 7 are Friday night contests.

Owego (3-1 overall, 2-1 Div. II) at Waverly (2-2, 1-2), 7 p.m. @ Memorial Stadium:
The Wolverines are coming off a 34-26 loss at Chenango Valley, while the Indians thumped Oneonta, 33-7.
Waverly is in a must-win situation tonight. Only four teams qualify for the Section IV, Class B playoffs, and Waverly currently sits in fifth place. Chenango Forks sits atop the division standings at 4-0, with Chenango Valley, Maine-Endwell, and Owego tied for second at 2-1.
The Wolverines have featured a solid offense this year, able to move the ball through the air, as well as on the ground, but the Indians have a stout defense, led by all-state nose guard Gio Fabi, who makes it difficult to run between the tackles.
Owego's offense has been primarily run-oriented, averaging nearly 5 yards per carry. Fabi leads the team with 233 yards and four TDs, but four other backs have at least eight carries, including QB Nick Waslyn, who has run for seven TDs.
Prediction:
When these two teams meet, it's always a war, and nearly always a defensive battle. I expect another hard-hitting defensive battle. … Owego 20, Waverly 14.
The Mick's Pick:
Owego 33, Waverly 14. …
Country Bob:
Owego 34, Waverly 20. …
Little Red:
Owego 28, Waverly 21.

Sayre (5-1) at Canton (6-0), 7 p.m. @ Miller Moyer Field:
The Warriors are coming off a 27-13 win over Muncy Friday, while the Redskins steamrolled CMVT, 42-0 Saturday.
With Canton in the NTL Large School Division, this is a non-divisional game, but it's important nonetheless in the power points ranking that determine the District 4, Class A playoff seedings. Canton is currently first, Sayre second, and South Williamsport (4-2) third.
A win would put the Redskins in the running for the top seed, while a loss would put them neck-and-neck with South Williamsport in the chase for the second seed.
Both teams have high-powered offenses, with athletes capable of scoring from anywhere on the field, and a shootout is a definite possibility.
Prediction:
After a red-hot start, the unbeaten Warriors have looked human in its wins over Athens and Muncy the last two weeks, while the Redskins have been impressive in back-to-back lopsided wins over Wyalusing and CMVT. … Towanda's Tanner Kunkle ran wild on Sayre's defense in Week 2, and Canton's Uriah Bailie is even more dangerous, plus he has a 6-7 wideout in Ben Knapp downfield. …
CANTON 34, SAYRE 24.The Mick's Pick:
Sayre 28, Canton 24. …
Country Bob:
Sayre 35, Canton 24. …
Little Red:
Canton 28, Sayre 20.
Groton (1-3, 0-1 Div. VI) at Tioga (4-0, 0-0), 7 p.m. @ Haggerty Field (Homecoming):
The state's top-ranked Class D Tigers are coming off a 57-26 win at Unatego, and return home for Homecoming to face the Indians, who dropped a 31-6 decision to divisional foe Greene.
The Tigers have scored 100 points in the last two weeks in wins over Bainbridge-Guilford and Unatego. Their run game is explosive with sophomore Emmett Wood and senior QB Brady Worthing, who has also been effective throwing the ball the last two weeks.
Defensively, Tioga swarms to the ball, and has had a knack for forcing turnovers this season, as well as making big plays in special teams.
Prediction:
The Tiger offense shifted into high gear two weeks ago, and I don't expect any different this week against a Groton team that has given up 30 points per game. … TIOGA 52, GROTON 6.
The Mick's Pick:
Tioga 44, Groton 0. …
Country Bob:
Tioga 42, Groton 6. …
Little Red:
Tioga 44, Groton 6.
Athens (1-5, 0-4 NTL Large) at Towanda (0-6, 0-3), 7 p.m. @ Endless Mountains Sports Complex:
The Wildcats are coming off a 57-13 loss at Wellsboro in Week 6, while the Black Knights were thumped 63-26 at Tunkhannock.
It wasn't too long ago that this game had major implications in the NTL title hunt.
The Towanda defense has been susceptible to the pass this season, and the Wildcats, for the most part, have thrown the ball well with freshman QB Mason Lister and senior wideout Keegan Rude a dangerous combination.
The Athens defense has been susceptible to the big play at times this season, and senior QB Tanner Kunkle is more-than-capable of producing big plays.
Prediction:
Offense hasn't been the problem for the Wildcats this season, and I expect it to have its best game yet tonight. The big question is: Can the Athens defense contain Black Knight QB Tanner Kunkle? …
ATHENS 37, TOWANDA 26.
The Mick's Pick:
Towanda 38, Athens 30. …
Country Bob:
Towanda 35, Athens 34. …
Little Red:
Towanda 34, Athens 13.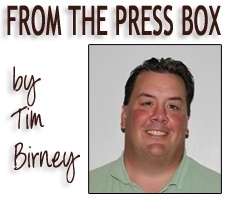 Print Friendly Version