ON TAP TODAY: TIOGA, SAYRE ON ROAD FOR KEY DIVISIONAL GAMES ON 'FOOTBALL FRIDAY'— ATHENS LONE HOME GAME
(2019-10-11)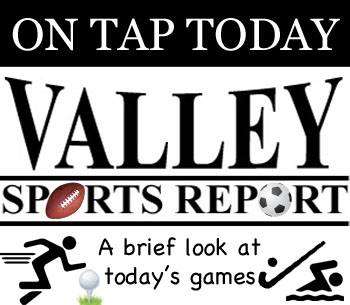 Valley Sports Report
THE VALLEY — Athens is the only home game on a full "Footbal Fridayl" schedule, and Tioga and Sayre play on the road in key match-ups with division title implications.
In other action, the Tioga girls wrap up regular-season action on the soccer pitch, and runners from Waverly, Athens, and Tioga will be in action at the annual Bob Greene (Newark Valley) Cross Country Invitational.
FOOTBALL
Tioga (5-0 overall, 1-0 Div. VI) at Greene (3-2, 1-0), 7 p.m.:
The Tigers are coming off a 55-14 win over Groton, while the Trojans thumped Delhi, 35-15.
For all intents and purposes, tonight's game is for the Division VI title, and Aiello said his team will have its hands full.
"We're going to be looking at a Greene team that's pretty athletic, and on their home turf," said Aiello.
Common opponents:
Tioga edged Walton, 23-20, while the Warriors thumped Greene, 38-14. … Tioga rolled over Groton 55-14, while Greene manhandled the Indians, 31-6.
Last meeting:
Tioga rolled over Greene 41-14 last season in Week 8. A week after Greene upset Sidney 24-23 in the Class D semis, the Tigers thumped the Trojans, 36-7, in the Class D finals.
The Greene offense has been revitalized in its last three games with the return of senior QB Nate Erickson, who has thrown for 772 yards and six TDs, and run for 179 yards and five TDs.
"Greene runs the spread, out of shotgun the majority of time," said Aiello. "Everything runs through Erickson, which gives him the potential to score on every single play.
"It's definitely going to be a faster game when you're facing the likes of (Nate) Erickson, and their tight end Noah Kennedy (14 receptions, 439 yards, and you TDs), and Tristan Austin (265 yards and two TDs on two carries, and nine receptions for 87 yards and one TD).
"The thing I noticed is the way their coaches are calling plays right now, it seems they are real comfortable in their scheme, which they've run now for the last three years.
"We're going to have our hands full Friday night," added Aiello. "Containing (Erickson) is a job in itself, and he has some good athletes around him."
Greene's 35-15 win over Delhi last week caught Aiello's attention, considering Walton needed a fourth-quarter comeback to edge Delhi, 38-35.
"I don't think Delhi was ready for what (Nate) Erickson can do, because he hasn't played a whole lot this season," said Aiello. "It was his third game back (from injury), and you can see he's getting more comfortable."
Tioga is averaging 40.4 points per game, with sophomore tailback Emmett Wood accounting for 667 rushing yards and 11 TDs on 72 carries (9.3 yards per carry) to go along with one catch for a 60-yard TD, and senior QB Brady Worthing, who has rushed for 298 yards and two TDs (9.8 yards per carry).
The Tioga passing game has picked up steam the last three weeks, with Worthing completing 16 of 30 passes for 255 yards, and seven TDs. Senior Mason Booser leads Tioga with seven catches for 116 yards and two TDs.
"(Greene) runs a 3-3 stack," said Aiello. "They blitz a lot, and run a lot of twists and stunts. For the most part, they are bringing at least one guy every play, if not two.
"It will be a big week of preparing for that, because if you're not ready for this twists and stunts it can be a long night," he added.

Sayre (5-2 overall, 3-0 NTL Small) at Cowanesque Valley (2-5, 2-1), 7 p.m.:
The Redskins are coming off a disappointing 30-6 loss at Canton, while the Indians thumped Bucktail, 35-6.
With a win, Sayre sets up a game at Muncy in Week 9 for the NTL Small School title, but Sayre coach Kevin Gorman doesn't want his team looking ahead.
"I think (CV) is a better team than their record implies," he said. "I hope our guys don't go there thinking they will roll over for us. And, I'm hoping I don't have a team thinking about that Muncy game next week.
"We're excited for a chance to come out and right the ship," added Gorman. "I told the guys 'one week at a time,' our focus is making the playoffs — that's our main objective."
Common opponents:
Sayre rolled over Bucktail, 67-6. … The Redskins blanked CMVT, 42-0, while CV topped the Rams, 20-8. … Troy holds wins over both teams, beating Sayre 36-14, and CV 50-16.
Last meeting:
Sayre rolled to a 47-13 win at the Lockhart Street Bowl last year in Week 8.
Cowanesque Valley QB Seth Huyler has completed 48 percent (72 of 151) of his pass attempts this season for 866 yards and eight TDs, with just one interception. He has a trio of receivers in senior Kole Hurler (36 receptions, 471 yards, and three TDs), senior Owen Fitzwater (18-250-2), and sophomore Tanyan Brown (15-154-3) with at least 15 catches.
Huyler also leads CV's ground game with 381 yards and two TDs, and sophomore Elliott Good has 359 yards and two TDs.
"They are similar to us, with the spread offense and no-huddle," said Sayre coach Kevin Gorman. "They use an H-back, fullback more than we do.
"They like to throw the ball, and their QB (Seth Huyler) has a good arm," noted Gorman. "They like to get the ball to (Kole Hurler).
"If you allow (Huyler) to sit in the pocket, he can pick you apart," added Gorman. "And, they have some guys who can hurt you if let them get into open spaces, that's definitely concerning."
The similarities in the offense will help the Redskins prepare.
"We can use our offense to mimic what we're going to see."
The Redskins offense is incredibly balanced, averaging 189.3 yards per game on the ground, and 176.8 yards through the air.
Senior Isaiah Firestine leads Sayre's ground game with 555 yards and seven TDs on 92 carries (6 yards per carry), and sophomore Brayden Horton has 253 yards and seven TDs on 45 carries.
Horton has completed 52 percent (63 of 122) of his passes for 1,029 yards and 14 TDs, with seven interceptions. Horton has a trio of receivers with at least 12 catches in senior Corbin Brown (18-302-4), senior Ethan Miller (17-275-5), and senior Zach Watkins (12-224-2).
The CV defense allows 35.4 points per game this season, but has allowed 46.6 points per game in its losses.
"I think they'll bring a little bit of everything at us defensively," said Gorman. "I'm sure we'll see some four-down (linemen) and some three-down, and I think we'll see some man(-to-man coverage).
"They'll switch things up, so we're going to have to make sure we're seeing that, and knowing what plays to call, and where to go with the ball," he added.
Waverly (2-3 overall, 1-3 Div. II) at Oneonta (1-4, 1-4), 7 p.m.:
The Wolverines are coming off a 7-3 home loss to Owego, while the Yellowjackets were throttled, 48-0, by Norwich.
Common opponents:
Both teams are 1-2 against common opponents. … Waverly beat Johnson City 41-6, while Oneonta edged JC, 28-26. … Chenango Valley topped Waverly, 34-26, and routed Oneonta, 59-14. … Owego edged Waverly, 7-3, and rolled over Oneonta, 36-7.
Last meeting:
Waverly routed Oneonta, 63-18, in Week 2 of the 2015 season.
Oneonta is pass-happy offense, but has been outscored by an average of 44.8 to 11.2 this season.
"They have a very good quarterback in Graham Wooden, he threw for 280 yards on Owego," said Waverly coach Jason Miller.
"They chuck it around, and he runs with it," noted Miller. "They have some very good athletes in the spread."
Miller said the Yellowjackets offense will test his defense.
"They do a lot of different things that we haven't seen," said Miller.
"We're going to have to concentrate on two things — our pass rush and pass coverage.
"We're going to have to be multiple in the secondary," he added. "We're going to have to stop the run, and put them in situations where we can anticipate the pass, and try to get to him."
Waverly is averaging 24 points per game on the strength of a balanced offense — 162.6 yards per game through the air, and 136.8 per game on the ground.
Eighth-grade QB Joey Tomasso has completed 53 percent (62 of 117) of his passes for 792 yards and seven TDs, while being picked off five times. He has three receivers with at least 12 receptions in senior Jalen McCarty (24 reception, 339 yards, and 4 TDs), senior Ethan Stotler (15-187-2), and junior Aidan Westbrook (12-202-1).
Junior David Hallett has been the workhorse in the run game with 351 yards and four TDs on 81 carries, but junior Austin Kimble has 158 yards and two TDs on 24 carries.
"(Oneonta) plays a 4-3, and are all man coverage," said Miller. "They have zero coverage with no free safeties, and everybody locked down.
"We have to find our best match-ups," added Miller. "They don't blitz a lot, but when they do, it's from the secondary."
Miller is also encouraged by the progress of his team's run game.
"After watching film last week, I thought we ran the ball much more effectively than I perceived on Friday," said Miller. "We did something different things that we hadn't done this year, as far as blocking schemes with X-blocking and such … we just need to continue to grow there, and add a wrinkle or two."

Midd-West (2-5) at Athens (1-6), 7 p.m. @ Alumni Stadium:
The Wildcats are coming off a 33-21 loss at Towanda, while Midd-West is coming off a 29-7 loss to Nativity BVM of Pottsville.
Common opponents:
None.
Last meeting:
Athens edged Midd-West, 24-19, in Week 8 of last season.
MIdd-West is averaging 20.7 points per game, with a balanced off that's averaging about 270 yards per game, against an Athens defense that allows 34.6 points per game.
"(Midd-West) runs a multiple-pro offense, and they are under center most of time," said Athens coach Jack Young. "They do a little bit of everything on offense, but they usually have a tight end, which is my kind of football.
"They want to run the ball, but they are fairly balanced," he noted. "They're big up front … they were big and physical last year.
"They have a big, tall quarterback (Oakley Bennett), and they have a big, burly fullback — he's someone we'll have to deal with, and they have a bunch of athletes," added Young. "Their tailback has some quickness, and they have some decent athletes outside catching the ball."
Midd-West allows 29.3 points per game, while the Athens offense averages 24.4 points per game.
"They have been mostly a four-man front, but last week they showed a five-man front against Nativity," said Young.
"They are big up front, and no matter what their front is, it looks like they're going to try to bring pressure on us," he added. "Hopefully, we can take advantage of some match-ups on the outside."
GIRLS SOCCER
NEB (3-11-1) at Tioga (4-9), 4 p.m.:
The Lady Tigers saw their playoff hopes dashed with an 8-6 loss at Watkins Glen Wednesday, while the Lady Panthers dropped a 1-0 decision to North Penn-Mansfield.
Waverly (12-1) at Newfield (1-12), 5 p.m.:
Newfield has forfeited to Waverly.
VOLLEYBALL
Waverly (8-4) at Newfield (2-11), 5 p.m. JV start:
The Lady Wolverines dropped a 3-2 thriller to Newark Valley Tuesday in a battle for first place in the IAC South Large School Division, while the Lady Trojans topped Watkins Glen, 3-1.
Tioga (8-4) at O-M (4-8), 5 p.m. JV start:
The Lady Tigers are coming off a 3-0 loss to Candor on Monday, while the Lady Indians were swept by Candor on Wednesday.

CROSS COUNTRY
Waverly, Athens, Tioga at Newark Valley Invitational, 4 p.m.:
In one of the last tune-ups prior to the postseason, Waverly's Collin Wright and Nate Ackley, and Athens's T.J. Toscano will look to crack the Top 10 or better in the rugged field.
Waverly's Sheridan Talada and Elizabeth Fritzen will compete for the top spots in the girls field, while Athens freshman Emma Bronson will look for a top 10 finish.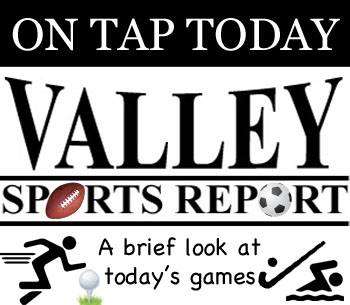 Print Friendly Version