FROM THE PRESS BOX: WEEK 8 PICKS — TIOGA, SAYRE PLAY KEY DIVISIONAL ROAD GAMES — ATHENS LONE HOME GAME
(2019-10-11)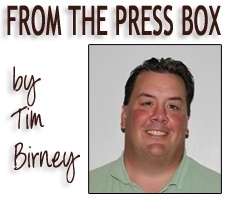 It's Week 8 of the high school football season, and we're getting down to the nitty gritty in terms of division titles and playoff seeds.
Tioga and Sayre play key divisional road games tonight. Tioga has a chance to virtually lock up the Section IV, Division VI title, while a Sayre win will set up a monster game at Muncy in Week 9.
Meanwhile, Waverly, out of playoff competition, has its sights set on a winning record in 2019. Athens is simply playing for pride.
Both "The Mick" and I had a single misfire last week, and I maintain a 1-game lead.
WEEK 7 RECORD:
Birney 3-1, The Mick 3-1. —
2019 RECORD:
Birney 19-5, The Mick 18-6.
In the tag-team match, Team Evil went 7-1 to increase its lead over Team VSR, which went 6-2.
TEAM VSR:
29-9 record and 302 points;
TEAM EVIL:
32-6 and 323 points.
All four games in Week 8 are Friday night contests.
Tioga (5-0 overall, 1-0 Div. VI) at Greene (3-2, 1-0), 7 p.m.:
The Tigers are coming off a 55-14 win over Groton, while the Trojans thumped Delhi 35-15.
If Tioga fans are taking Greene lightly based on the fact that Tioga beat Walton in the season-opener, and Greene dropped a 38-14 decision to the Warriors in Week 2, keep in mind that the Trojans' all-everything senior QB Nate Erickson missed the first two games.
Erickson has thrown for an average of 257 yards per game, and has run for 60 more. The Trojans also have weapons in the supporting cast.
Prediction:
We've seen this in the past, Tioga faces an athletic stud at QB, and puts the defensive clamps on him, while the Tiger offense overpowers the opposing defense. I think you might see that to a lesser extent tonight. Tioga appears to be a more physical team than Greene, so I think they'll have success in the run game, which could lead to some big plays in the passing game if needed. The Trojans should make a game of it, but …
TIOGA 38, GREENE 26.The Mick's Pick:
Tioga 46, Greene 12. …
Country Bob:
Tioga 34, Greene 6. …
Little Red:
Tioga 42, Greene 7.
Sayre (5-2 overall, 3-0 NTL Small) at Cowanesque Valley (2-5, 2-1), 7 p.m.:
The Redskins are coming off a disappointing 30-6 loss at Canton, while the Indians thumped Bucktail, 35-6.
Cowanesque Valley QB Seth Huyler is a player, and he has a few weapons with him, but defensively the Indians have not been able to stop good teams.
Prediction:
Sayre is looking to erase the memory of its dud at Canton last week, so don't be surprised to see an inspired effort from the Redskins tonight. I have to believe the Redskin offense will be able to do whatever it wants. …
SAYRE 53, COWANESQUE VALLEY 13.The Mick's Pick:
Sayre 42, CV 14. …
Country Bob:
Sayre 55, CV 6. …
Little Red:
Sayre 47, CV 0.
Waverly (2-3 overall, 1-3 Div. II) at Oneonta (1-4, 1-4), 7 p.m.:
The Wolverines are coming off a 7-3 home loss to Owego, while the Yellowjackets were throttled, 48-0, by Norwich.
Waverly has lost three in a row, but was in each game into the second half against Maine-Endwell, Chenango Valley, and Owego.
Oneonta's lone win was a 28-26 win over winless Johnson City, Waverly beat JC by 35. Otherwise, the Yellowjackets have been outscored by average of 49-7 in their four losses.
Prediction:
Aside from a pair of big plays against M-E and Chenango Valley's option offense, the Waverly defense has been very good. Oneonta likes to put the ball in the air, and that's something Waverly is familiar with. … The Wolverines averaged nearly 30 points per game in their first four games. …
WAVERLY 42, ONEONTA 13.The Mick's Pick:
Waverly 28, Oneonta 7. …
Country Bob:
Oneonta 34, Waverly 18. …
Little Red:
Waverly 21, Oneonta 7.
Midd-West (2-5) at Athens (1-6), 7 p.m. @ Alumni Stadium:
The Wildcats are coming off a 33-21 loss at Towanda, while Midd-West is coming off a 29-7 loss to Nativity BVM of Pottsville.
Athens is in the midst of its worst season a 2-8 mark in 2000, and is in need of a confidence-building win. Enter Midd-West.
The Mustangs' two wins are against Marian Catholic and Shenandoah Valley — teams with a combined 0-14 record. They lost 29-7 last week to Nativity BVM Of Pottsville, which lost the prior week 14-3 at Montgomery.
Prediction:
The Wildcats have weapons, whether its freshman QB Mason Lister and his receivers senior Keegan Rude and sophomore J.J. Babcock, or the running game of sophomore Shayne Reid and freshman Caleb Nichols. This could be the week they get to show what they can do. …
ATHENS 28, MIDD-WEST 20.The Mick's Pick:
Athens 28, Midd-West 12. …
Country Bob:
Midd-West 21, Athens 18. …
Little Red:
Midd-West 21, Athens 7.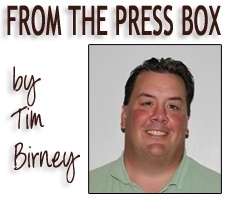 Print Friendly Version