THE FINAL WORD: THOUGHTS ON FOOTBALL WEEKEND ... AND SOME SOCCER
(2019-10-15)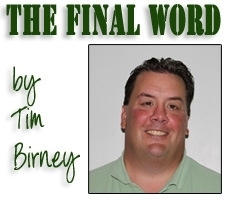 Tioga and Sayre picked up big wins Friday to put them on the doorstep of a division title, while Waverly kept its slim playoff hopes alive, and Athens nearly completed a monumental comeback.
Tioga has won seven of the last eight Section IV, Class D titles. Accordingly, the Tigers have won division titles in each of those years. Friday's game at Greene appeared to be one of the biggest tests they would face in any of their division title runs.
The second play of the game may have been the most pivotal play in the entire game. Greene's standout QB Nate Erickson kept the ball and was hit by a host of Tioga tacklers. He stayed on the ground for a couple minutes, but eventually walked off the field under his own power.
His younger brother, 8th-grader Drew Erickson, replaced him and led the Trojans down field for an early 6-0 lead. He had little success the remainder of the half, and by the time Nate Ericsson returned, Tioga had put together three lengthy drives and led 20-6.
Somewhat surprisingly, Erickson returned for Greene's final possession of the first half, but only managed one first down before the Trojans punted and pinned the Tigers inside their own 1.
Tioga drove 88 yards in less than two minutes, only to miss a field goal in the closing seconds of the half.
Tioga sophomore Emmett Wood ripped off a long scoring run on the second play of the second half to extend the lead to 27-6. At that point, Greene, and especially Nate Erickson put it together.
Erickson engineered a pair of scoring drives, and the Greene defense had two stops in a row as the Trojans closed the gap to 27-20 in the final minute
The fourth quarter was all Tioga as it scored three TDs in 2 1/2 minutes to pull away for a 48-20 win.
The Tigers amassed 501 rushing yards, led by Wood, who had 338 yards and five TDs on 35 carries. He ripped off several long runs, but more impressively, he finished off some bruising runs by punishing would-be tacklers.
Senior QB Brady Worthing was a dual-threat Friday night, especially in the first half. He completed enough passes in the first two quarters to loosen up the Trojan defense, and the Tigers obviously took advantage.
A win Saturday at Moravia clinches the Division VI title. Looking ahead to the postseason, Tioga will face the second seed from Division V, which will likely be Delhi, while Division V champ Walton will likely face Greene.
I'm on record now as saying we'll see a Tioga-Greene rematch in the Class D title game.
——————
Sayre's offense was in high gear Friday night at Cowanesque Valley.
Sophomore QB Brayden Horton completed eight passes for 225 yards and three TDs to three different receivers. Sophomore wide receiver Lucas Horton had a breakout game with three receptions for 140 yards and one TD.
The Redskins also showed great balance in the offense with 221 rushing yards, led by senior tailback Isaiah Firestine, who had 106 yards and three TDs.
This Friday's game at Muncy is a huge game for the Redskins. Not only can they lock up the NTL Small School title, but they can virtually clinch the second seed, and ensure themselves of a home game in the upcoming District 4, Class A playoffs.
With Canton's loss to Wellsboro Friday, Sayre still has a shot at the top seed and two home games if it beats Muncy and Athens, and Canton, which has North Penn (4-4) and Troy (7-1) remaining on its schedule, loses one of its final two games.
——————
Waverly's defense continues to be rock solid, holding Oneonta to seven points until the final minute of the game in a 28-14 win.
Junior Caden Wheeler had a big game on both sides of the ball with 69 yards on nine carries, and a pair of interceptions. He could have had another interception in the end zone, but chose to knock it down on fourth down.
Eighth-grade QB Joey Tomasso notched his first rushing TD — a 17-yard scramble in the first half, and also threw two more TD passes. He continues to spread the ball around with junior Aidan Westbrook and senior Ethan Stotler hauling in four catches apiece, and senior Jalen McCarty and junior David Hallett grabbing three receptions apiece.
With its win over Oneonta, Waverly kept its playoff hopes alive, but they remain slim. Even if the Wolverines win their remaining games (one of those is Chenango Forks), they are not guaranteed of a playoff spot.
——————
Athens played a poor first half, and dug itself a 27-6 hole at the intermission.
The Wildcats trailed 34-13 entering the fourth quarter, but freshman QB Mason Lister and senior wideout Keegan Rude took over.
Lister completed TD passes of 29 and 47 yards to Rude, then scored on a 2-yard TD run to trim the lead to 34-32 with 57 seconds remaining, but the Wildcats came up empty on the two-point conversion.
Lister set career highs with 278 yards and four TDs, despite taking a beating in the pocket, and Rude had a monster game with nine receptions for 167 yards and four TDs.
Sophomore running back Shayne Reid also had a big game with 129 rushing yards on 23 carries.
The Wildcats will be hard-pressed to win another game this season, but with Lister, Reid, freshman Caleb Nichols, sophomore J.J. Babcock, sophomore Troy Jennings, and junior Ben Pernaselli there are plenty of skill-position players to build around.
I hate to be negative, and I feel like I'm beating a dead horse, but this team has to improve in the trenches if it's going to make any real strides forward.
——————
The Tioga girls wrapped up their 2019 season Friday with a 2-2 OT draw against Northeast Bradford.
A tip of the cap to the 10 Tioga girls who played 100 minutes of soccer Friday in their third game of the week — all with just 10 players.
The Lady Tigers finished the season with a 4-9-1 record, matching the win total for the last three years combined. It's the best season for the program since 2014 (5-8).
Tioga loses three seniors, including one of their top scorers in Mackenzie Macumber, but should have enough re-enforcements from the modified ranks to avoid having to play a season with just 11 or 12 players, or playing with 10.
Tioga has a strong junior class, so improving on this year's win total is not out of the question next season.
——————
Speaking of low numbers, the Sayre girls soccer team finished its game Monday with just seven players on the field.
The Lady Redskins started the season with just 13 players — 11 when the volleyball team was playing on the same day, but due to injuries have been playing short-handed for much of the last three weeks.
It's quite a shame because Tracy Mennig has built a good program at Sayre.
Numbers are low at most school these days, but the girls numbers at Sayre are dangerously low. So much so, that there's been talk of co-ops with crosstown rival Athens for soccer, basketball, and swimming. Nothing has come from those talks yet, but if this continues, don't be surprised to see it happen.
——————
The Athens boys and girls soccer teams both extended their dominance in the NTL, with the girls winning their eight consecutive league title Monday with a 1-0 win over Wellsboro, while the boys won their sixth straight Thursday with a 2-1 win at Wellsboro Tuesday.
Rich Pitts took over an NTL power four years ago, and has turned it into a District 4 power.
The Lady Wildcats have a number of talented players, but junior Emma Roe and senior Abby Sindoni are the major catalysts in their success.
Jake Lezak has built the boys program into a perennial District 4 power, guiding the Wildcats to two district titles in the last three years, and to the PIAA, Class AAA quarterfinals last year.
This year's team, which features an incredible senior class, led by Luke Arnold, Jesse Sumner, David Scheftic and Aaron Lane, is probably the best team he's ever had.
——————
Two years ago, the Waverly boys soccer program was limited to a modified program.
Coach Eric Ryck built the program from 'ground zero.' Last year, they won one game in a 1-11 season. This year, the Wolverines are 2-9-1 and close out the season this afternoon at SVEC.
Ryck built good numbers on the varsity roster, and has good numbers in the modified ranks, which should be able to replace Waverly's three seniors.
Ryck has done a tremendous job, and the Waverly boys soccer program is now on solid ground.
——————
The Final Word
will return later this week.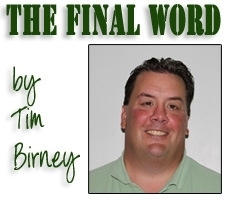 Print Friendly Version