ON TAP TODAY: "FOOTBALL FRIDAY" FEATURES TWO HOME GAMES, SAYRE PLAYING FOR DIVISION TITLE ON THE ROAD
(2019-10-18)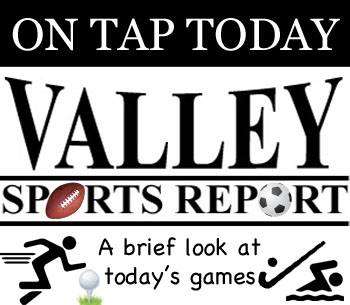 Valley Sports Report
THE VALLEY — "Football Friday" has Sayre playing for a division title at Muncy, Waverly playing to keep its slim playoff hopes alive on Homecoming Night, and Athens hosting the NTL Large School leaders.
In other action, the Sayre boys and girls soccer team will play a doubleheader at the Lockhart Street Bowl, and Tioga hosts Tioga County rival on the volleyball hardwoods.
FOOTBALL
Sayre (6-2 overall, 4-0 NTL Small) at Muncy (5-3, 4-0), 7 p.m.:
The Redskins are coming off a 55-28 win over Cowanesque Valley, while the Indians rolled to a 54-28 win over CMVT.
With a win, Sayre will win the NTL Small School title, and lock up the second seed in the upcoming District 4, Class A playoffs.
"After the Canton game, I told the guys every week is a big week in regards to Districts," said Sayre coach Kevin Gorman.
"The guys know it's a big game. I'm excited for it, and I know the guys are excited about it.
"The bigger goal is getting back to the District 4 title goal, but it's always good to win your division," he added.
Gorman says the Indians are a team on the rise.
"Muncy has come a long way from the first few games of the season. They are young and extremely well-coached
"Muncy has been a thorn in our side for years, but I think if we go down there and do what we know we can do, it's going to be a pretty good ball game," he said.
Common opponents:
Both teams are 5-1 against common opponents.
Sayre steamrolled Bucktail 67-6, while Muncy blanked the Bucktail 28-0. … Sayre rallied for a 38-34 win over Towanda, while Muncy topped the Black Knights, 24-14. … Sayre thumped Cowanesque 55-28, while Muncy beat CV, 42-20. … Sayre beat Montgomery 35-7, and Muncy rolled to a 27-7 win over the Red Raiders. … Sayre blanked CMVT, 42-0, while Muncy beat down the Rams, 54-28.
Canton thumped Sayre, 30-6, and beat Muncy, 27-13.
Last meeting:
Sayre beat Muncy 28-14 last year in Week 9, but dropped a 19-7 decision two weeks later in the District 4, Class A semifinals.
Muncy averages 25.8 points per game, while Sayre allows 20.4 points per game.
Gorman says the Indians will throw a lot of different offensive looks at the Redskin defense.
"They run a bunch of different things at you," he said. "They run an I-formation and come downhill at you, they'll run out of the shotgun, and they've done something new this year where they'll run a Wing-T set.
"We really haven't seen a true Wing-T with two wings," noted Gorman. "CMVT had one, so it's something we'll have to prepare for. It's something a little different, but nothing crazy."
The Redskins average 27.3 points per game, while Muncy allows 21.4 points per game
"(Muncy) runs a couple different looks, but they stay in the 4-3 for the most part," said Gorman. "They'll play some man and some cover-3.
"Last year, they played cover-2 against us in the playoff game and had some success, so I wouldn't be surprised to see that again.
"It's always different week-to-week for us in our preparation," noted Gorman. "We always wonder if teams will tweak their defense to cover all the receivers we have.
"I'm thinking we'll see multiple looks from them on defense," he added.
Norwich (2-4 overall, 2-3 Div. II) at Waverly (3-3, 2-3), 7 p.m. @ Memorial Stadium:
The Wolverines are coming off a 28-14 win at Oneonta in Week 6, while the Purple Tornados dropped a 35-28 decision to Maine-Endwell.
It's Homecoming weekend at Waverly, but Miller is not among the many coaches who see Homecoming as a distraction.
"I like Homecoming," he said. "I think it's what high school football is all about. There's a lot going on, but they're kids and this is a week to celebrate the seniors.
"We're very fortunate in Waverly to have such hoopla surrounding the game. I think it's awful if you're in a situation where your Homecoming game doesn't mean much.
"I get very excited about it," noted Miller. "There are obvious distractions, but there are 24 hours in a day … practice is for two hours, and we'd better be focused. Our job as coaches is to keep them focused, and make sure they work.
"For me, it goes back to the issue of being relevant," added Miller. "If there's a lot of excitement about Homecoming, there's a lot excitement about your program."
Powerhouse Chenango Forks, ranked second in Class B in New York state, sits atop the Division II standings at 6-0, while Maine-Endwell is 4-1, and Chenango Valley and Owego are both 3-2. Waverly and Norwich are 2-3. The top four qualify for the upcoming Class B playoffs.
"Class B is brutal," said Miller.
"Mathematically, we're not out of it," he noted. "Our chances are slim … you say a heartbeat, but it's a faint heartbeat, you'd need a stethoscope to hear it.
"The reality is this a big game for us. It's Homecoming.
"People like to say 'you control your own destiny if you win,' but there are factors we can't control," added Miller." If we do anything other than focus on this game, we're doing ourselves a disservice.
Miller says Norwich may be the best 2-4 in Class B in New York state.
"Norwich is in the same boat, they have to win.
"They are a team that lost to Maine-Endwell by a touchdown, lost to (Chenango) Forks by a touchdown, and blew a game against Owego," said Miller. "They may be the best 2-4 team in all of the state in Class B.
"They lost to Indian River, a really good Class A school out of Section III … they have lost to some really good teams, and played them right to the wire.
"We have our hands full," added Miller. "It's a tough situation because t(Norwich) is in a desperate situation to win, and that makes it all the tougher."
Common opponents:
Both teams are 2-2 against common opponents.
Waverly thumped Johnson City, 41-6, and Norwich beat the Wildcats 49-21. … Waverly bottled up Oneonta in a 28-14 win, while he Purple Tornado blanked the Yellow Jackets, 48-0.
Waverly lost to Owego, 7-3, while Norwich dropped a 20-13 decision to Owego. … Waverly dropped a 47-27 decision to Maine-Endwell, and Norwich lost 35-28 to the Spartans.
Last meeting: Norwich topped Waverly, 28-6, in Week 2 of the 2017 season.

Norwich averages 31 points per game this season, while Waverly allows 21.7 points per game.
Miller says the Purple Tornado offense runs through junior QB Griffin Mills, who leads Norwich with 671 rushing yards and 10 TDs, and has thrown 813 yards and eight TDs, with just three interceptions..
"Griffin Mills at quarterback is one of the fastest kids in Section IV, throws the ball pretty well, and does a great job keeping his eyes downfield," said Miller. "I think his receivers are some of the best receivers I've seen in the section at re-routing when he gets out of the pocket — adjusting and either coming back to the ball, or taking off downfield. That makes them very dangerous.
"When you have a kid like Mills at quarterback, who can really run, it puts a lot of pressure on your defense," he noted. "You may have to put one more guy in the box than you should just to make sure he doesn't run the football."
Waverly averages 28 points per game, while Norwich allows 26.7 points per game.
"They run a 4-3 with a lot of cover-2, and a little man-to-man," said Miller. "The coverage is a little different for us, no one has played cover-2 against us this year. They do a good job of getting to their zones.
They have a very physical four-man front,which likes to pressure you.
"They are a tough match-up for us, it's going to take a great week of preparation to get ready," added Miller.
Troy (7-1, 4-1 NTL Large) at Athens (1-7, 0-5), 7 p.m. @ Alumni Stadium:
The Wildcats dropped a 34-32 decision to Midd-West in Week 8, while the Trojans thumped Montgomery, 46-3.
Young says the Trojans are a lot like the Wildcats' last opponent, Midd-West — big and physical.
"Troy is the biggest and most physical team up front in the NTL," he said. "Midd-West was big up front, and had two big linebackers… in a lot of ways we're going to see a lot of similarities with Troy.
Troy has averaged 43.3 points per game, while Athens allows 34.5 points.
"Our challenge is going to be on defense," said Young. "With a little bit of mishmash defense, and guys playing different positions.
"For the most part, Troy runs double tight ends, and they will either be in a one-back set or a two-back set.
"(Troy) is playing foot-to-foot, and they're going to come right at us," he noted. "We have to figure out a way to hang in there, try to be patient, be a good tackling team, and try to stay in good situations.
"We're going to have to try to create piles, and challenge ourselves physically to match that physicality in the middle," added Young.
The Wildcats average 25.4 points per game, while Troy allows 19.9 points per game.
"No matter how you look at it, defensively, Troy likes to use their big guys to control the line-of-scrimmage," said Young.
"They will be in a four-man front for the most part. They're like everybody else, they will show multiple different looks depending on what we do.
"It's not going to be a secret. They will look to lock up on us man-to-man, so we're going to have to take advantage of some match-ups.
"Plain and simple, offense is about being simple and seeing where you can hang your hat," added Young. "If they're going to take an extra guy out of the box, we have to run the ball. If they take a chance and try to lock up man-to-man on our guys outside, we have to find match-ups"
BOYS SOCCER
North Penn-Liberty (3-11) at Sayre (3-12-1), 5 p.m.:
The Redskins are coming off an 8-1 non-league loss to Benton Monday, while the Mountaineers dropped a 4-3 decision to Galeton.
In their first meeting, NP-Liberty rolled to a 9-1 win at home.
GIRLS SOCCER
Williamson (7-8-1) at Sayre (1-15), 7 p.m.:
The short-handed Lady Redskins, who started the game with nine players and finished the game with seven, dropped a 17-0 decision at Wyalusing, while the Lady Warriors blanked NEB, 4-0, Saturday.
VOLLEYBALL
S-VE (5-10) at Tioga (9-5), 5 p.m. JV start:
The Tigers are coming off a five-set loss to Waverly Wednesday, while the Lady Panthers dropped a 3-1 decision to Newark Valley.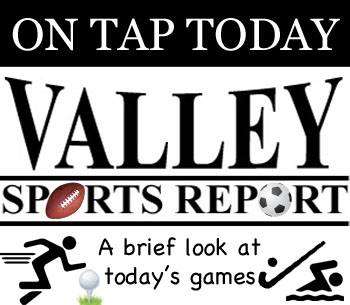 Print Friendly Version