FROM THE PRESS BOX: WEEK 9 PICKS — TWO VALLEY TEAMS VIE FOR DIVISION TITLES
(2019-10-18)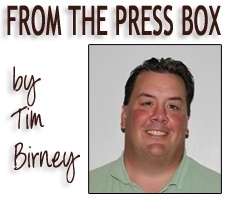 Week 9 of the high school football season is upon us and features Sayre and Tioga playing for division titles, Waverly fighting to keep its slim playoff hopes alive, and Athens hosting the NTL Large School Division leaders.
Sayre travels to Muncy with the winner bringing home the NTL Small School title, while Tioga travels to Moravia Saturday afternoon looking to secure its ninth divisional title in coach Nick Aiello's 10th year on the sidelines.
Last week, I wrote Waverly was out of playoff contention. While technically untrue, the Wolverines would have to beat Norwich tonight, and unbeaten Chenango Forks next week to secure a playoff spot.
For the second straight week, "The Mick" and I had a single miscalculation.
WEEK 8 RECORD:
Birney 3-1, The Mick 3-1. —
2019 RECORD:
Birney 22–6, The Mick 21–7.
In the tag-team match, Team Evil went 7-1 for second straight week to increase its lead over Team VSR, which went 6-2, to a nearly insurmountable 42 points. Team VSR needs the 25-point bonus for hitting a final score on the nose.
TEAM VSR:
35-11 record and 352 points;
TEAM EVIL:
39-7 and 394 points.

FRIDAY
Sayre (6-2 overall, 4-0 NTL Small) at Muncy (5-3, 4-0), 7 p.m.:
The Redskins are coming off a 55-28 win over Cowanesque Valley, while the Indians rolled to a 54-28 win over CMVT.
In years past, Muncy has been a place where Sayre's football dreams have gone to die. Last year, in coach Kevin Gorman's first year on the sidelines, Sayre knocked off Muncy 28-14 at the Lockhart Street Bowl in Week 9, only to drop a 19-7 decision at Muncy two weeks later in the District 4 semifinals.
These two teams appear pretty evenly-matched. Sayre has an explosive offense, while Muncy's ground game has continued to improve throughout the season, and is averaging 227 yards per game.
Both defenses give up roughly 20 points per game, but Sayre's has forced nearly twice as many turnovers.
Prediction:
This game will come down to the battle up front. Aside from big Zach Belles, Sayre will have its full compliment of linemen. Sayre needs to be able to establish its run game, and force Muncy to throw. …
Prediction: SAYRE 28, MUNCY 20.
The Mick:
Muncy 18, Sayre 12. …
Country Bob:
Muncy 28, Sayre 13. …
Little Red:
Sayre 21, Athens 20.
Norwich (2-4 overall, 2-3 Div. II) at Waverly (3-3, 2-3), 7 p.m. @ Memorial Stadium:
The Wolverines are coming off a 28-14 win at Oneonta in Week 6, while the Purple Tornados dropped a 35-28 decision to Maine-Endwell.
There should be a huge crowd at Memorial Stadium tonight for Homecoming, and the Wolverines will look to keeps its slim postseason hopes alive and send the home crowd home on a happy note.
However, Norwich junior QB Griffin Mills will have something to say about that. Mills averages 112 rushing yards and 136 passing yards per game. He's run for 10 TDs and thrown for eight more.
Prediction:
Waverly has had some problems against athletic quarterbacks this season, and Mills fits that bill. Norwich played Maine-Endwell and Chenango Forks to within seven points, and, as Waverly coach Jason Miller said earlier this week, may be the best 2-4 football team in Class B in the state. …
NORWICH 28, WAVERLY 24.
The Mick:
Norwich 28, Waverly 7. …
Country Bob
: Waverly 21, Norwich 17. …
Little Red:
Norwich 27, Waverly 13.
Troy (7-1, 4-1 NTL Large) at Athens (1-7, 0-5), 7 p.m. @ Alumni Stadium:
The Wildcats dropped a 34-32 decision to Midd-West in Week 8, while the Trojans thumped Montgomery, 46-3.
Athens struggled early last week with Midd-West's size and physicality, and Troy is just as big and physical, if not more so.
Troy is going to line up and try to run the ball down Athens' throats. The question is, is the Wildcat defense up to the challenge.
Prediction:
The Wildcats played a tremendous second half last week, and will need four quarters of that tonight to keep it close, and possibly pull off a huge upset. I just don't see Athens holding up in the trenches against this Trojan team. …
TROY 48, ATHENS 14.The Mick:
Troy 55, Athens 0. …
Country Bob:
Troy 42, Athens 7. …
Little Red:
Toy 49, Athens 7.
SATURDAY
Tioga (6-0 overall, 2-0 in Div. VI) at Moravia (2-4, 1-1), 1:30 p.m.: The Tigers are coming off a 48-20 win over Greene, while the Blue Devils edged Groton, 27-26, at home.
Tioga captures the division with a win Saturday afternoon, while Moravia would still need to beat Greene next week to win the division title.
The Tigers have a major advantage up front, and should be able to move the ball at will, while Moravia QB Gavin Stayton, who is a tremendous athlete, could be running for his life for the majority of the game.
Prediction:
Don't be surprised if this game is over before halftime. …
TIOGA 62, MORAVIA 6.The Mick:
Tioga 54, Moravia 0. …
Country Bob:
Tioga 60, Moravia 6. …
Little Red:
Tioga 48, Moravia 0.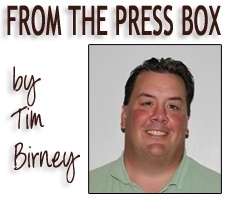 Print Friendly Version