THE FINAL WORD: AN UP-AND-DOWN WEEKEND FOR VALLEY FOOTBALL ... AND SOME SOCCER
(2019-10-22)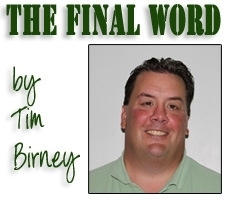 It was an up-and-down weekend for the Valley football teams with Tioga and Sayre turning in good performances, and Waverly and Athens registering on the not-so-good scale.
Tioga fell behind 7-0 quickly, but Emmett Wood made sure the deficit was short-lived with an explosive return of the ensuing kickoff for a TD — his second kick return for a score this season.
By half, the Tigers reeled off 35 more unanswered points, with its offensive line opening up big holes for the ground. Wood was the main beneficiary, carrying the ball just five times for 135 yards and three TDs.
As if they needed it, Tioga also found a new weapon in sophomore Cobe Whitmore, who is healthy after a summer leg injury. Once, senior Mason Booser is heathy, senior QB Brady Worthing will have a pair of deep threats in the passing game.
At outside linebacker, Whitmore also showed an aptitude for getting to the quarterback, with one sack and a couple of hurries.
The Tigers host Deposit-Hancock in the regular-season finale. The following weekend, in the Class D semifinals, Tioga will likely square off with Delhi, which needs a win over winless B-G Friday night to clinch the second playoff spot in Division V.
Looking ahead to Delhi — 5-2 on the season, their losses came to Walton (38-35) and Greene (35-15) in Weeks 4 and 5, respectively. The Bulldogs bounced back with a 56-50 win over Deposit-Hancock. Yes, 56-50 — that's 56-50.
I'm very curious to see how Tioga handles Deposit-Hancock this week.
——————
Give Sayre head coach Kevin Gorman and his staff some credit. Muncy has been a house of horror for the Redskins in recent years, but they've won both times Gorman has made the trip there as coach.
However, two weeks after they won at Muncy last year, Muncy returned the favor at the Lockhart Street Bowl in the semifinals of the District 4, Class A playoffs. The Redskins will likely have a chance to avenge that loss this year in the semifinals.
On Friday, Gorman and offensive coordinator Niq Sinsabaugh avoided the temptation to throw, and pounded the ball on the ground with workhorse tailback Isaiah Firestine in a 21-17 win.
Considering 11 of Muncy's points were set up by Sayre turnovers in their own end of the field, the Redskins played well defensively.
Looking ahead to the postseason, Muncy holds a slim lead over South Williamsport for third seed in Class A. South would likely leap-frog the Indians with a win over Class AAA Loyalsock, but that would be a major upset.
Redskin fans should keep their eyes on Score Stream (an app that updates high school scores throughout the game) Friday night.
——————
It was a tough night for Waverly at its Homecoming game.
Watching the way Norwich dominated solid Waverly units in the trenches, I find it hard to believe they've lost four games. Of course, when you look at who the Purple Lions have lost to this season — Section III, Class A Indian River (6-1), ranked 22nd in the state, Chenango Forks (7-0), ranked second in Class B, Maine-Endwell (4-3), ranked 11th in Class B, and Owego (4-3), honorable mention Class B — you get a better idea of just how tough Class B is in Section IV.
Aside from two jet sweeps by junior Caden Wheeler that covered 80 yards, the Wolverines managed just 11 yards on the ground. Junior tailback David Hallett was met in the backfield by multiple would-be Norwich tacklers on several occasions.
Eighth-grade QB Joey Tomasso had the worst night of his young career, completing a season-low 41 percent (16 of 39) of his passes for 164 yards and one TD. A lot of his throws were high, but that's what happens when you have pressure in your face, and can't step into your throw.
A banged-up Wolverine squad faces an even bigger challenge this week at home against powerhouse Chenango Forks.
——————
In all bad seasons, there is a rock bottom. Was Athens' 62-7 loss to Troy Friday rock bottom?
I think so. I don't think Athens will beat Sayre of Waverly in its final two games, but neither team is anywhere near as big and physical as Troy.
The Wildcats are banged up, but at this point of the season, most teams are. The injuries have forced Athens coach Jack Young to dip into his depth, which was a concern entering the season. The results have obviously not been good, but in the long run the playing time some of the young kids have been getting will be beneficial for them and the team as well.
——————
The Waverly girls soccer team was denied its third consecutive overall IAC Large School Championship Saturday night with a 1-0 overtime loss to Dryden.
The Lady Wolverines entered the game with a six-game winning streak over Dryden, including a 1-0 win in the IAC title game last year, a 5-0 win in the Section IV playoffs last year, and a 2-1 season-opening win this year.
Waverly is seeking its fourth straight trip to the Section IV, Class B finals. If they get past 10th seed Norwich or 7th-seed Newark Valley, the Lady Wolverines will have their hands full with third-seed Oneonta, again providing they get there.
——————
Athens soccer will be on display Saturday afternoon at Loyalsock High School with the girls and boys playing a District 4, Class AAA semi-final doubleheader.
The soccer twinbill will be well worth the 90-minute drive for any Valley sports fan. Both teams move the ball well, and are exciting to watch.
I like the Athens boys' chances against Jersey Shore and in the finals, but nothing is a given in soccer. Just because the Wildcats made the state quarterfinals last year and have nearly everybody back, doesn't mean they're a lock to win the District 4 title this year.
The top-seeded Lady Wildcats will have their hands full in its playoff opener against Mifflinburg, which lost 2-1 to Montoursville early in the season, and tied them 1-1 a month later. Athens dropped a 6-0 decision to Montoursville in the opening weekend of the season.
——————
The Final Word
returns later this week.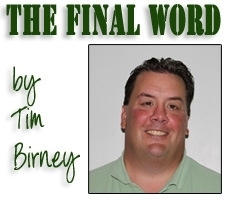 Print Friendly Version