FROM THE PRESS BOX: 'RUSTY RAIL' HIGHLIGHTS WEEK 10 PICKS
(2019-10-25)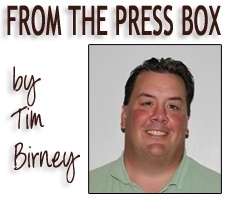 Week 10 of the high school football season brings us the Rusty Rail rivalry game at the Lockhart Street Bowl, and home games for Waverly and Tioga.
Sayre is seeking back-to-back wins over Athens for the first time in more than 30 years in a final tune-up before the District 4 playoffs kick off next weekend, while Tioga also plays one final game before the Section IV playoffs begin.
Waverly and Athens are both looking to pull off upsets before facing off against each other next Saturday.
I enjoyed a perfect weekend of prognostication in Week 9 to stretch my lead over the "The Mick" to two games.
WEEK 9 RECORD:
Birney 4-0, The Mick 3-1. —
2019 RECORD:
Birney 26–6, The Mick 24–8.
Team Evil is cruising along with a 34-point lead over Team VSR:
TEAM VSR:
42-12 record and 413 points;
TEAM EVIL:
45-9 and 447 points.
——————
Athens (1-8) at Sayre (7-2), 7 p.m. @ Lockhart Street Bowl:
The Redskins are coming off an NTL Small School Division-clinching 21-18 win at Muncy, while the Wildcats were shellacked 62-7 by Large School-leading Troy.
Athens saw its 17-game win streak in the Rusty Rail game come to an end last year, and Sayre is primed to make it two in a row.
The Redskins are virtually assured of the second seed and a home game in the upcoming District 4, Class A playoffs. They could slide into the top spot with a win over Class AAA Athens, if current top seed Canton falls in the Old Shoe game against Troy.
Prediction:
Sayre may not dominate Athens in the trenches like Troy did, but they have a wealth of offensive weapons, and the Wildcats have not been very good defensively this season. … Don't be surprised if Athens has some success offensively. …
SAYRE 37, ATHENS 21.The Mick:
Athens 28, Sayre 24. …
Country Bob:
Sayre 35, Athens 24. …
Little Red:
Sayre 41, Athens 6.
Chenango Forks (7-0) at Waverly (3-4), 7 p.m. @ Memorial Stadium:
The Wolverines are coming off a 40-20 home loss to Norwich, while the state-ranked Blue Devils, tanked No. 2 in Class B, rolled to a 41-12 win over Union-Endicott.
Waverly struggled in the trenches against Norwich, and Chenango Forks is bigger and more physical. On top of that, 260-pound fullback Luke Scott has some serious speed.
Prediction:
The Wolverines have taken a few beatings over the years from Forks (who hasn't), but more often than not, they make it much closer than people expect. That said …
CHENANGO
FORKS 36, WAVERLY 6.
The Mick:
Forks 45, Waverly 14. …
Country Bob:
Forks 41, Waverly 0. …
Little Red:
Forks 35, Waverly 6.

Deposit-Hancock (2-5) at Tioga (7-0), 7 p.m. @ Haggerty Field:
The Tigers are coming off a division-clinching 42-7 win over Moravia, while the Lumberjacks dropped a 44-12 decision to Walton.
Tioga has been dominant since back-to-back close wins over Walton and Newark Valley to start the season, while D-H has given up 45 points per game in three games against playoff teams.
Prediction:
Sophomore Emmett Wood and the Tioga offense has averaged 49 points per game over the last five contests, despite the fact the first team has barely played in the second half of four of them. … Deposit-Hancock has shown the ability to put points on the board, but has trouble stopping anyone. …
TIOGA 55, DEPOSIT-HANCOCK 12.The Mick:
Tioga 48, D-H 7. …
Country Bob:
Tioga 34, D-H 12. …
Little Red:
Tioga 52, D-H 6.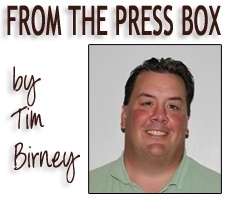 Print Friendly Version