THE FINAL WORD: THOUGHTS ON FOOTBALL WEEKEND, PLAYOFF SOCCER
(2019-10-29)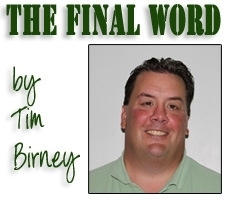 The 20th edition of the Athens-Sayre "Rusty Rail" rivalry game is not one that will be included in a time capsule as a "how-to-video" for future generations, but it was an entertaining game nonetheless.
Neither team played particularly well on offense, and I'm not exactly sure if that was due to the other team's defense, poor execution, or a combination of the two.
The Wildcats has scoring drives of 10 and 12 yards in the first half, taking advantage of a pair of Sayre turnovers, to take a 14-0 lead.
Sayre workhorse Isaiah Firestine had some success on the ground in the first half, but penalty flags derailed any type of drive the Redskins attempted to mount.
The Redskins put together a 68-yard scoring drive late in the first half to trim the deficit to 14-6 at the half.
What was supposed to be a squib kick to open the second half, turned into an onside kick, and a good one at that. The Redskins recovered and drove 43 yards to cut the Athens lead to 14-13.
For the next 16 minutes, Athens won the field-position battle, and freshman punter Caleb Nichols twice pinned the Redskins deep in their own territory.
With 3:55 remaining, Athens lined up to punt from its own 40. It appeared the Redskins would have to mount a long drive to win the game, but a high snap set Sayre up at the Athens 30. Two plays later, Firestine bounced off a pile at the line-of-scrimmage and raced 21 yards for the go-ahead score.
Give credit to Sayre for making plays to win the game, but also know they were very fortunate to earn the victory.
As for the Wildcats, I've seen teams take a loss like they did in Week 9 at home against Troy, not even show up in Week 10. Give Athens a ton of credit for showing up, and playing 48 minutes with a lot of heart.
I've said this before, and have received some backlash for it, but this Athens group will win football games in the next few years, and challenge for a division title.
As for Sayre, I expect a much better outing from them Friday night against Muncy in the District 4, Class A semifinals.
——————
Waverly finished the Section IV portion of its schedule with a 3-5 record after its 27-7 loss to Chenango Forks Friday night.
Their record may not seem like much, but their division may be the toughest in the state. Chenango Forks is ranked second in the state, and outscored their opponents by more than 25 points per game. Only Maine-Endwell (7-6) and Norwich (28-21) played Forks tougher than Waverly.
In its losses to Maine-Endwell, Chenango Valley, and Owego, the Wolverines were either tied or within a score late in the third quarter.
Waverly graduates a solid group of seniors, but returns a wealth of talent next year. Eighth-grade QB Joey Tomasso will continue to develop, and he'll have tailback David Hallett, and receivers Aidan Westbrook, Caden Wheeler, and Gaven Anthony returning.
The Wolverines also drop back to Class C, but they'll be joined by Chenango Forks, Chenango Valley, and Oneonta, to go along with Susquehanna Valley, Newark Valley, and Windsor. Getting out of Class C in Section IV will be every bit the challenge Class B is now.
——————
Tioga finished off an 8-0 regular season, the third perfect mark prior to the postseason under coach Nick Aiello, with its 47-32 win over Deposit-Hancock. (The Tigers were 5-0 in the flood-ravaged 2011 season, and 7-0 in 2013.)
Aiello said his team was using the Deposit-Hancock game as a measuring stick, with D-H having played Delhi and Walton in the two weeks prior to visiting Haggerty Field.
D-H lost a 56-50 shootout at home to Delhi, then was thumped at home 44-14 by Walton. Tioga led D-H 34-6 in the third quarter when it went to its bench on defense. I'll let you take what you want from those numbers in terms of being a measuring stick.
The Tigers are a dominant offensive football team that has become much more diverse since its 23-20 win over Walton in Week 1. Sophomore Emmett Wood is averaging more than 10 yards per carry, and senior Brady Worthing is a dangerous dual-threat QB, with senior Mason Booser and sophomore Cobe Whitmore both game-changing weapons on the outside.
The Tioga defense has had a few issues against the pass, but has made enough plays to give its offense chances to pull away in games.
——————
The Waverly girls slipped past Newark Valley 1-0 on Friday to advance to a Section IV, Class B soccer semi-final match-up against Oneonta tonight at Memorial Stadium.
The Lady Wolverines are not as deep as they have been in recent years, and are also battling a bit of an injury bug, leaving just one or two players on the bench, and neither of them is completely healthy.
They have a very strong core in seniors Melina Ortiz, Cora Smith, and Sadie VanAllen, juniors Gabby Picco and Tessa Petlock, freshman Kennedy Westbrook, and 8th-grader Lea VanAllen, but they are surrounded by young and / or less experienced players.
Junior Kaitlyn Clark has become a top-notch goal keeper, and sophomore defender Bella Romano has improved by leaps-and-bounds this season.
Waverly will need to play one of its best games this year to get past Oneonta, and into its fourth consecutive Class B title game.
——————
The Athens girls are one win away from defending their District 4, Class AAA title.
Senior Abby Sindoni had an incredible individual effort to put the Lady Wildcats up 1-0 Saturday, then delivered a perfectly-placed cross to the foot of sophomore Hannah Walker, who re-directed it into the net for a 2-0 lead over Mifflinburg.
Quite simply, Athens had the two best players on the field in Sindoni and junior Emma Roe.
Senior keeper Madisyn Joslyn also had one of her best games in net for the Lady Wildcats, and the defense in front of her played well, too.
Athens will square off with Shikellamy Wednesday evening. The Lady Braves twice played Mifflinburg to a tie this season.
——————
The Athens boys are just one win defending their District 4, Class AAA title, too.
The Wildcats scored about three minutes into overtime for a 1-0 win over Jersey Shore. They dominated the game, with several shots sailing high or wide, or clanking off the posts and crossbar.
Jersey Shore keeper Logan Bailey also saved the day for the Bulldogs on a few occasions with diving saves.
The beauty, and danger, of soccer is that in a game like Saturday's one mistake can beat you. Thankfully, junior keeper Asher Ellis was up to the challenge on a direct kick late in the game, pushing a shot header toward the upper-90 over the crossbar to preserve the scoreless tie.
The Wildcats are a joy to watch, with crisp passing, and an incredible athleticism. They can score in a number of ways, and defend with speed and physicality when needed.
Athens will have its hands full Wednesday night against top-seed Selinsgrove, which beat Jersey Shore 4-0 and 8-0 this season.
——————
The Final Word
returns later this week.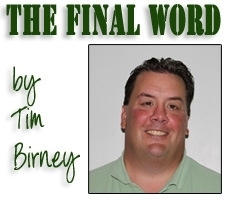 Print Friendly Version