FROM THE PRESS BOX: WEEK 11 PICKS — WILL SAYRE, TIOGA BOTH ADVANCE TO TITLE GAMES?
(2019-11-01)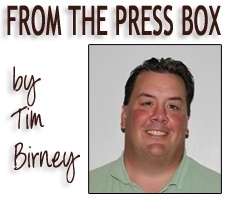 Week 11 of the high school football brings us a pair of postseason games, and a regular-season finale between a pair of Valley rivals.
Sayre opens the weekend by hosting Muncy Friday night in a District 4, Class semi-final match-up, and Tioga takes on Delhi Saturday afternoon in a battle of state-ranked teams in the Section IV, Class D semifinals.
Waverly travels to Athens Saturday night for the first meeting of the Valley rivals since 2012.
Week 10 was another perfect week for yours truly, while "The Mick" narrowly missed on his upset pick in the "Rusty Rail" game.

WEEK 10 RECORD:
Birney 3-0, The Mick 2-1. — 2
019 RECORD:
Birney 29–6, The Mick 26–9.
In the tag-team match, Team Evil increased its lead with a perfect record.
TEAM VSR:
47-13 record and 448 points;
TEAM EVIL:
51-9 and 497 points.
FRIDAY
District 4 Playoffs
Class A Semifinals
Muncy (6-4) at Sayre (8-2), 7 p.m. @ Lockhart Street Bowl:
The Redskins are coming off a 21-14 home win over Athens in the regular-season finale, while the Indians topped Hughesville, 52-35.
Two weeks ago, Sayre pulled out a 21-17 win at Muncy, but the Redskins won last year in Week 9, only to lose to the Indians in the District 4 semis.
In their first meeting, Sayre put together a pair of long drives, and scored on a long run by senior Isaiah Firestine, while Muncy took advantage of a pair of Redskin miscues in their own territory to score 11 of its 17 points.
The Redskins rushed for 175 yards on 27 carries in the win, and threw just 15 times for 80 yards. Meanwhile Muncy passed for 161 yards, and also ran for 161.
Prediction:
It appears all the ingredients for a great game are in place. The Redskins need to avoid the slow starts that have plagued them the last two years, and the turnovers that have allowed their opponents to work in the short field on numerous occasions this season. … Don't be surprised if Sayre feeds the ball to Firestine tonight in an attempt to loosen up the Muncy pass defense. …
SAYRE 27, MUNCY 22.The Mick:
Muncy 21, Sayre 20. …
Country Bob:
Muncy 21, Sayre 13. …
Little Red:
Sayre 28, Muncy 21.
SATURDAY
Section IV Playoffs
Class D Semifinals
Tioga (8-0) vs. Delhi (6-2), 3 p.m. @ Johnson City High School:
The Tigers, ranked No. 1 in Class D in New York State, is coming off a 47-32 win over Deposit-Hancock, while the Bulldogs, ranked 12th, topped Bainbridge-Guilford, 41-21.
Tioga led Deposit-Hancock 34-6 midway through the third quarter before turning to its second-team defense. Delhi outlasted D-H, 56-50, in a shootout in Week 6.
The Tigers are averaging more than 300 yards per game on the ground, but have also averaged more than 90 yards per game through the air over its last four games.
Delhi has shown a quick-strike capability through the air this year, and has also run the ball effectively at times.
Prediction:
Delhi's defense has struggled against good teams this season, so don't be surprised if the Tigers rack up some impressive offensive numbers. The Tioga defense will only need a few stops, and that shouldn't be a problem. …
TIOGA 62, DELHI 30.The Mick:
Tioga 54, Delhi 28. …
Country Bob:
Tioga 47, Delhi 12. …
Little Red:
Tioga 52, Delhi 40.
Waverly (3-5) at Athens (1-9), 7 p.m. @ Alumni Stadium:
The Wolverines are coming off a 27-7 loss to powerhouse Chenango Forks, while the Wildcats dropped a 21-14 decision to arch-rival Sayre in the "Rusty Rail" game.
Waverly has struggled to run the ball in recent losses, but its offensive line should match up better against the Athens defense. Any run game the Wolverines can generate should loosen up the Wildcat pass defense.
Conversely, the Athens run game will benefit from the return of senior speedster Damian Hudson, to go along with sophomore Shayne Reid, but the Wolverine run defense has been pretty solid all season.
The key to the game could be how well Waverly's defense contains the Wildcat connection of freshman QB Mason Lister to senior wideout Keegan Rude.
Prediction:
Waverly afforded itself much better against its toughest competition this season than did Athens. I think the Wolverines are a little better up front, but both teams have a number of dangerous athletes on the perimeter. …
WAVERLY 28, ATHENS 17.The Mick:
Waverly 32, Athens 13. …
Country Bob:
Waverly 28, Athens 7. …
Little Red:
Waverly 28, Athens 7.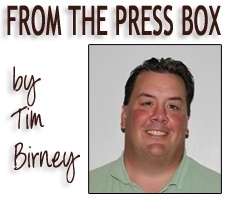 Print Friendly Version