THE FINAL WORD: THOUGHTS ON THE POSTSEASON ... AND A VALLEY RIVALRY RENEWED
(2019-11-06)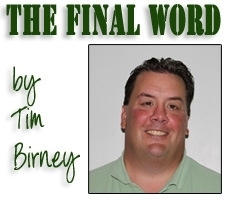 Tioga overcame a terrible offensive start Saturday, and rolled to a 41-20 win over Delhi to advance to their eighth Section IV, Class D football title game in nine years, while Sayre dropped a heart-breaker at home to Muncy in the District 4, Class A playoffs.
Waverly blanked Athens, 7-0, in the first renewal of their rivalry since 2012, and the Valley's three postseason soccer teams each saw their seasons come to an end.
Lost in the struggles of the offense Saturday was just how well the Tiger defense played. Delhi entered the semifinals averaging 36 points per game, but managed just 6 points through three quarters against Tioga's first-team defense despite starting possessions on the Tioga 30 and 32, and its own 40, 47, and 42 in the first half.
Delhi scored on a four-play, 30-yard drive on its first possession, and then moved the ball from its 40 to the Tioga 23 on its second before turning it over on downs.
Late in the half, Delhi took over at the Tioga 32, but the Tiger defense stopped them at the 8 on downs, and Tioga took a 14-6 lead into the half.
In the second half, Delhi's first three possessions resulted in seven yards of offense, and ended with two punts and an interception. The Bulldogs have five three-and-out possessions in the game.
By the time the Bulldogs got the ball for the fourth time in the second half, they trailed 35-6 entering the fourth quarter.
The Tioga offense, which turned the ball over three times in the first half, roared to life in the second half, with sophomore Emmett Wood scoring four of his six TDs. Wood finished the game with a career-high 273 yards, and now has 1,617 yards and 29 TDs on the season.
Wood also contributed a key 64-yard punt return in the first half to set up the go-ahead score, and a 66-yard interception return to set up the back-breaking TD that made it 35-6 late in the third quarter.
Wood is a special talent, and has shown an uncanny ability to find the end zone, regardless of whether it's offense, defense, or special teams. He is fast, sees the field, and is not afraid to lower his shoulder for extra yardage.
The 2016 season aside, Tioga faces its toughest in the Section IV playoffs since knocking Walton from the Class D throne with a 19-18 win, thanks to a 26-yard field goal by Carter Jackson, in the 2011 championship game, when it takes on Walton for the Class D title Friday night at Johnson CIty.
——————
If you look at the Sayre-Muncy game Friday night, it boils down to two things: Muncy made more plays, and fewer mistakes on its way to a 26-20 win.
The Indians' offense consistently converted on third down, and also had a couple of fourth-down conversions to keep drives alive, which in turn kept the ball away from the Sayre offense.
The turning point in the game came midway through the third quarter. Sayre opened the second half with a long drive, but it ended in disaster when Muncy freshman Branson Eyer stepped in front of a pass at the goal line and returned it 30 yards.
Eyer then engineered a 70-yard drive to give Muncy the lead. Sayre was able to answer, thanks to a 41-yard TD run by senior tailback Isaiah Firestine to tie the game at 20-20.
However, the Indians also had an answer, driving 70 yards on 14 plays, including two third-down and two fourth-down conversions, for the game-winning score. The Redskins were also flagged for a personal foul on the drive that put Muncy in a second-and-1 situation, instead of third-and-10, in the red zone.
Sayre, in coach Kevin Gorman's two years on the sidelines, has posted a 14-8 record — the best two-year span since 1980-81.
The Redskins graduate eight seniors, most of them two-way starters, their top three receivers, and their best all-around player in Isaiah Firestine.
However, they return a wealth of athletes, led by QB Brayden Horton, and two-way starters Lucas Horton and Jake Bennett, as well as the majority of their offensive line.
Defending their Small School title will be tougher in 2020 with South Williamsport re-joining the NTL, but they should be in position for a third straight winning season, which would mark the first time that's happened since 1979-81.
——————
For a game that meant nothing in the standings, the Waverly-Athens game Saturday night was a hard-hitting, intense, and entertaining game.
There's been a lot of talk about the "bench-clearing brawl," but it's been wildly overblown. While some of the Athens bench did run onto the field, most acted as peacemakers pulling their teammates away from the fracas.
It all lasted less than two minutes, and the final 7 minutes of the game was played without incident.
I was very impressed with the play of Waverly's Dave Hallett, Caden Truscik, Ethan Stotler, and Caden Wheeler on defense, and the running of Shayne Reid and Damian Hudson for Athens, a lot of it behind big offensive lineman Ian Wright, who has improved immensely as the season has progressed.
Looking ahead, Waverly will have some holes to plug on its offensive line, but will return QB Joey Tomasso, running backs Austin Kimble, and Hallett, and receivers Aidan Westbrook, Gaven Anthony, and Wheeler.
The Wolverines also drop to Class C in 2020, but that's no guarantee of success. Powerhouse Chenango Forks, as well as Chenango Valley, and Oneonta will also drop to C next year, where they'll join defending state champ and currently unbeaten Susquehanna Valley, Newark Valley, and Windsor.
As for Athens, it will return a slew of talented athletes, led by Reid, Ben Pernaselli, Mason Lister, Caleb Nichols, J.J. Babcock, and Wright.
The age-old question mark for the Wildcats still lingers, however, can they put together an offensive line that makes everything click" They'll have a few starters back up front, and should be much-improved.
——————
The Athens boys soccer team saw the likely end of an historic run last Tuesday with a loss to Selinsgrove in the District 4, Class AAA title game.
This group of seniors, led by Luke Arnold, Jesse Sumner, Aaron Lane, David Scheftic, Doug Vosburg, Alex Row, and Joel Maslin, led the Wildcats to two District 4 titles — the first two in program history, two runner-up finishes, the program's first-ever state playoff win, and four NTL titles.
Coach Jake Lezak has done an amazing job building this program, and I'm positive the Wildcats will contend for another league title in 2020, but it would be quite a feat if he can guide them back to a fifth consecutive District 4 title game.
——————
Likewise, the Athens girls soccer team, now the two-time defending District 4, Class AAA champions, saw its season end last night with a 1-0 loss to Berwick in the opening round of the state playoffs.
Like the boys, this group of seniors won two District 4 titles and four league titles, and like the boys, the Lady Wildcats will graduate a large number of key seniors.
The one difference is, the Athens girls will return three of their best players in Emma Roe, Hannah Blackman, and Hannah Walker.
Coach Rich Pitts has done a masterful job in taking the Lady Wildcats to the next level, but he will be hard-pressed to make it three in a row in 2020.
That said, I won't bet against Pitts or Lezak.
——————
The Waverly girls also saw their season end last week, one win shy of their fourth straight trip to the Section IV, Class B championship game, with a heart-breaking 3-2 loss to Oneonta.
In the last four years, you could probably count on two or three fingers the number of goals the Lady Wolverines gave up that were gifts — own goals or defensive mistakes that allowed an opponent to shoot into an open net.
In the loss to Oneonta, Waverly allowed two such goals, nullifying a very good performance against a good Yellowjacket team.
Senior Melina Ortiz, who will playing at Division I Siena College next fall, capped her career with a 50-plus yard direct kick for a goal that tied the game at 1-1.
Ortiz, Cora Smith and Sadie VanAllen will be huge losses for the Lady Wolverines, but they return quite a bit of talent.
Coach Tara Hogan will face the same problem, lack of depth, next year unless she gets more re-enforcements from the modified team who can deliver the same type of performances that 8th-graders Lea VanAllen and Paige Robinson, freshman Alyvia Daddona, and sophomore Bella Romano delivered this season.
———————
On the volleyball front, sixth-seed Waverly pulled off the upset of third-seed Lansing Tuesday night to advance to Thursday's Class C semifinals at Windsor.
The win was the 100th career victory for coach Kesha Sinsabaugh, who is in her final season at Waverly.
I've said it before, but I'll say it again: Sinsabaugh has done a tremendous job with the Waverly program. She took over a program mired in mediocrity, and almost immediately turned it into a Section IV contender.
She coached Waverly to its first-ever Section IV title last year. The Lady Wolverines' hopes of a repeat still has breath after Tuesday win.
Sinsabaugh's successor will have big shoes to fill.
———————
Tioga also won Tuesday, and advanced to the Class D semifinals for the 11th consecutive year. In the last 10 years, the Lady Tigers have won six Section IV titles, and have been runner-up four times.
The Lady Tigers will be hard-pressed to make it to the semifinals for the 11th consecutive year, with unbeaten Candor and defending state champion Bainbridge-Guilford seeded ahead of them, but few pundits gave them much chance last year in a similar scenario.
If Tioga is on its game, it can play with anyone.
——————
The Final Word
returns next week.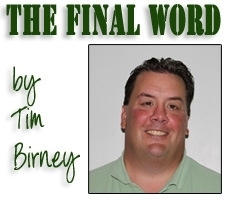 Print Friendly Version