FROM THE PRESS BOX: WEEK 12 PICK — CAN TIOGA FINISH OFF THE THREE-PEAT?
(2019-11-08)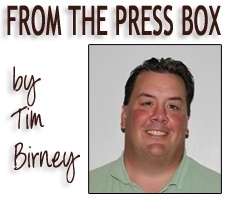 Week 12 of the high school football season brings us perhaps the most intriguing match-up of the season — Walton versus Tioga for the Section IV, Class D Championship tonight at Johnson City High School.
The history surrounding these two programs is impressive. It's actually the history of Small School football in Section IV.
Walton won seven Section IV title (four in Class C and three in Class D) and two state titles (one in Class C and one in Class D) from the time of the inception of the state playoffs in 1993 until 2010.
Tioga knocked Walton off the perch in 2011 with a 19-18 win in the Class D title game, and has won seven of the last eight Section IV title, including a state title run in 2015.
The two storied rivals met in Week 1 of this season. A young Tioga team edged a senior-laden Walton team, 23-20, but the Warriors dominated play at times in the contest.
The Warriors ran 69 plays on offense to Tioga's 32, and won the time-of-possession battle by a 2-to-1 margin. They amassed 399 yards in total offense, including 322 on the ground, while holding Tioga to 194 total yards — all on the ground.
The difference was Tioga's defense forcing three turnovers, including a pair of interceptions by senior Mason Booser, and an 87-yard kick return for a score by sophomore Emmett Wood.
Prediction: Tioga had five players on defense starting their first varsity game against Walton in Week 1, so you would expect a better performance tonight. … The Tigers only ran for 194 yards in the first meeting, but they did average slightly more than 6 1/2-yard per carry.
This is Tioga's biggest test since beating Walton in the 2011 Class D title game. The closest game its had in the last six championship games was a 63-42 win over Sidney in 2017. I expect it to be much closer tonight.
Walton has 12 seniors on its roster, and has had Tioga in its sights since losing a 35-0 decision in last year's semifinals. I think the Warriors may have to wait a few more years. …
TIOGA 26, WALTON 16.The Mick's Pick:
Walton 24, Tioga 21. …
Country Bob:
Tioga 34, Walton 21. …
Little Red:
Tioga 28, Walton 14.
——————
WEEK 11 RECORD:
Birney 2-1, The Mick 3-0. —
2019 RECORD:
Birney 31-7, The Mick 29-9.
Congrats to Team Evil for its win in the tag-team challenge.
Team Evil
56-10,
Team VSR
: 52-14.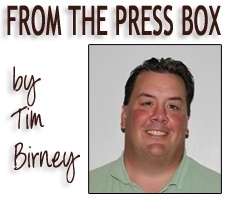 Print Friendly Version