THE FINAL WORD: TIOGA'S LATEST CLASS D TITLE WIN IS A CLASSIC ... MORE ON THE POSTSEASON
(2019-11-14)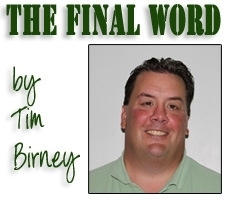 Tioga's eighth Section IV, Class D title in nine years was the toughest one to win since its first.
In 2011, Walton was at the top of the heap in Class D, having won Section IV three titles in four years, and a state title in 2007.
Tioga wrestled away supremacy in Class D that day in 2011 on the toe of big two-way lineman Carter Jackson, who booted the game-winning field goal in a 19-18 win.
In Nick Aiello's 10 years on the Tioga sidelines, the Tigers are 22-2 in the Section IV playoffs. The losses coming to Delhi in Aiello's first trip to the postseason, and to Groton in 2016 — Aiello's only losing season.
Heading into Friday's game against Walton, Tioga had outscored its opponents by an average of 29 points in the Class D finals since 2011. The closes game was a 63-42 win over Sidney in 2017.
As a matter of fact, the only playoff game decided by less than 21 points in that stretch was a 26-21 win over Unatego in the 2012 semifinals.
Heading into Friday night's clash, most everyone predicted this would be Tioga's toughest test since the 2011 title game. And, they were right.
While most pundits expected a close game, I doubt any could have predicted the two teams to combine for 80 points and more than 750 yards in total offense, especially in the frigid conditions and on a field covered with snow.
Tioga torched the Walton defense with big plays, while the Warriors created a slow burn against the Tiger defense.
For every long TD run by Tioga's Brady Worthing or Emmett Wood, the Warriors would counter with a sustained march of 4- of 5-yard runs.
Tioga had a 28-16 lead with 1:57 remaining in the first half after a 41-yard TD run by Worthing, and would get the ball to start the second half. A defensive stop before the half, with the way Tioga had moved the ball on offense, would likely have meant a three-score lead early in the third quarter.
However, Walton fashioned a 58-yard scoring drive, with Nick Lamoreaux scampering in from 8 yards out with 1.9 seconds remaining before half. The Warriors' third consecutive two-point conversion trimmed the deficit to 28-24.
Tioga increased its lead to 36-24 midway through the third quarter. One defensive stop would have likely put the game away, but Walton scored, and then took advantage of a Tioga turnover to score again and tie the game at 36-36. After both Walton scores, however, Tioga stuffed their conversion attempts.
With its perch atop Class D on the line, Tioga drove 49 yards for the winning score, with Worthing masterfully slicing through the Walton defense on a 24-yard TD run with 4 1/2 minutes left in the game. He added the conversion for good measure to make it 44-36.
The Tioga defense came up with its best series of the night when it needed it most, and forced Walton into a turnover on downs with 2:38 remaining. Hard-earned first-down runs by Worthing and Wood sealed the victory.
While Wood is the engine that makes Tioga run, Worthing is the heart-and-soul of the Tigers.
Wood runs with a fury that belies his desire to win, while Worthing makes it look effortless. The differing styles have similar results on opposing defenses.
Tioga's run atop the Class D ranks in Section IV faced its biggest test Friday, but an even bigger test may lie ahead in 2020. With New York State adjusting its cut-off numbers, Class D will welcome three new teams in Harpursville / Afton, Sidney, and Tioga nemesis Newark Valley, which snuck in below the cut-off by two students.
Before Aiello and his coaching staff have to worry about defending their Section IV title, however, they will gear up for Section III champ Frankfort-Schuyler in the state quarterfinals Friday evening, and then likely defending state champ Clymer / Sherman / Panama in the semifinals next week.
——————
The Waverly trio of seniors Sheridan Talada and Elizabeth Fritzen, and junior Collin Wright will make the trek to Plattsburgh this weekend for the New York State Cross Country Championships after earning that right at last weekend's Section IV State Qualifier.
For Wright, it will be his third trip to States. He finished 55th as freshman, and 57th as sophomore, even though his time was 13 seconds faster than the previous year.
For Talada, it's the culmination of a tremendous career. She finished 78th at States last year in her first attempt. I would wager she finishes much higher this year.
For Fritzen, qualifying for States is a bit of redemption. She has been dogged by ailments in each of the last two years, but put it together this year, and will now perform on the State's biggest stage.
A tip of the cap to all three.
———————
The Waverly volleyball season came to an end Saturday in a loss to state-ranked Windsor, ending the coaching career of Kesha Sinsabaugh, and the high school playing days of Paige Lewis, Chloe Croft, Morgan Adams, and Adrianah Clinton.
Sinsabaugh took over a team that went 4-11 in 2010. Two years later, the Lady Wolverines were in the Class C finals.
Last year, Sinsabaugh and the Lady Wolverines broke through for the program's first-ever Section IV title. Waverly returned to the finals this year, despite being the sixth seed.
Sinsabaugh leaves the program with 100 career wins, and a job well done.
Croft collected her 1,000th career assist during the Class C semifinals, and Lewis, Morgan, and Clinton will graduate with the distinction of playing on Waverly's first-ever Section IV volleyball and softball championship teams.
——————
On a final note, the Waverly girls finished sixth at the Section IV, Class B Swimming & Diving Championships Saturday at Watkins Glen.
Sophomores Lourden Benjamin, Willow Sharpsteen, and Delaney Vascoe, junior Maggie Whitley, and freshman Sophia Desisti paced Waverly's efforts.
The Lady Wolverines are a young team, and will return nearly en tact in 2020. The future is bright for coach Amy Steck and her charges.
——————
The Final Word
will return next week.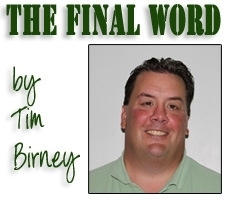 Print Friendly Version