FROM THE PRESS BOX: WEEK 13 PICK — CAN TIOGA MAKE IT 8 IN A ROW IN STATE QUARTERFINALS; THOUGHTS ON SECTION IV REALIGNMENT
(2019-11-15)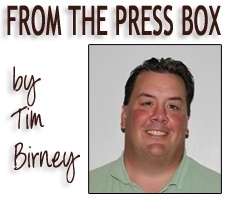 For the eighth time in nine years, Tioga will take on the Section III champ — this time Frankfort-Schuyler — with a chance to advance to the New York State Class D semifinals.
The Tigers are 7-0 in their Class D quarter-final appearances, and have outscored the Section III representatives by an average of 50 to 15 in those meetings.
Tioga is 10-0 and ranked No. 1 in the state, while Frankfort-Schuyler is 8-2 and ranked 12th.
This game appears to be a match-up of Tioga's high-powered offense, which averages 42.1 points and 380.2 yards per game, including 336.9 yards per game on the ground, and a Frankfurt-Schuyler defense that allows 16.7 points and just 155 yards per game on the ground.
The Maroon Knights allowed 43 points in a 43-38 loss to Beaver River in Week 6. Otherwise, they've allowed just 13.7 points per game.
While Tioga has plenty of experience in the New York State playoffs, this is Frankfort-Schuyler's first-ever appearance. The Maroon Knights' last Section III title was in 1982 — 11 years before the inception of the state playoffs.
Last year, Tioga rolled to a 56-6 win over Onondaga.
Prediction: The closest game Tioga has had in this round was a 55-34 win over Westmoreland in 2011. Three times they've won by 30 or more points.
The Section III teams in past years haven't been able to match up with Tioga's physicality. This Frankfort-Schuyler team appears to be a little better up front than the others, but I'm still not sure they can handle the Tigers for 48 minutes.
The weather is suppose to be much better this week than last, so don't be surprised to see Tioga put the ball in the air, with Frankfort-Schuyler loading the box to stop the run.
Bottom line, if Tioga can run the football, they win the game going away. My bet is it's business as usual for the Tiger ground game. …
TIOGA 54, FRANKFORT-SCHUYLER 12.The Mick:
Tioga 48, F-S 12. …
Country Bob:
Tioga 34, F-S 21. …
Little Red:
Tioga 42, F-S 21.
——————
New York State's new classification cut-off numbers has created quite a shake-up in the Section IV football ranks.
Waverly will drop to Class C, along with Chenango Forks, Chenango Valley, Norwich, and Oneonta, leaving Class B with just three teams — Maine-Endwell, Owego, and Johnson City.
While Class B has been gutted, Class C will b headlined a pair of returning Section IV champs and potential state champions in Chenango Forks and Susquehanna Valley.
It will be interesting to see how Section IV splits the 11 teams into two divisions. There's little chance they'll do it geographically, which would put Forks, Susquehanna Valley, and Chenango Valley in the same division, so it will likely be done to try to make the divisions equal.
Class D will also see its ranks swell with the addition of Newark Valley, Harpursville / Afton, and Sidney. There are also rumors that Lansing, now that it would return to Class D, may return to 11-man football.
Both Harpursville / Afton and Sidney have been in Class D in recent years, but this will be Newark Valley's first experience in Class D.
Like Class C, it will be interesting to see how D is split into divisions. With 12 or 13 teams to work with, will it be two or three divisions. Could Tioga and Newark Valley end up in the same division?
Tioga has run roughshod over Class D in the last decade. I think you can expect the Tioga-Newark Valley rivalry to reach new heights in the coming years.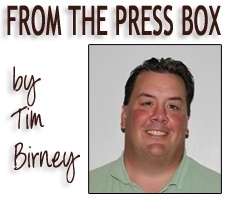 Print Friendly Version