FROM THE PRESS BOX: CAN TIOGA RISE TO CHALLENGE AGAINST CSP, RETURN TO THE DOME?
(2019-11-22)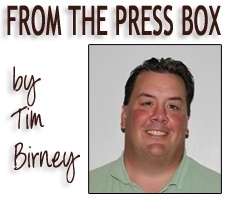 Unlike last year, when few Section IV football fans knew what to expect from the combined forced of Clymer / Sherman / Panama, the Wolfpack is a known commodity this time around as they face Tioga in a rematch tonight in the New York State Class D semifinals.
The Wolfpack has an explosive offense, but also features a stingy defense that allows just 8.6 points per game, and posted five shutouts. More than half of their points were allowed in two games — a 24-8 loss to Franklinville / Ellicottville, and a 35-24 win over Cleveland Hill.
Aside from its loss, which it avenged with a 22-0 win in the Section VI championship game, the closest game CSP had this season was its 11-point win over Cleveland Hill.
Tioga, on the other hand, has three wins of eight points or less.
CSP has a very balanced offense, averaging 169.2 yards per game on the ground, and 164.7 yards through the air.
At times this season, Tioga has been susceptible to the pass, but it has 12 interceptions, and recorded seven QB sacks against Frankfort-Schuyler Friday. In the last two games, the Tigers have had trouble stopping the run, allowing 220 yards on the ground against Walton, and 151 to F-S (if you take away the negative-39 yards of QB sacks).
CSP QB Gerrit Hinsdale has thrown for 1,568 yards and 23 TDs, against just four interceptions, with 6-5 wideout Cameron Barrmore hauling in 37 receptions for 740 yards and 10 TDs. The duo hooked up eight times for 216 yards and three TDs in last year's game against Tioga.
Tioga has averaged 400.5 yards per game on the ground over its last four games, with sophomore tailback Emmett Wood rushing for 1,002 yards and 15 TDs in those four games.
Prediction:
This game will come down to Tioga's ability to slow down the Hinsdale-to-Barrmore connection, but the Wolfpack have more weapons it can utilize. The Tiger defense will have its hands full.
Offensively, obviously Tioga needs to establish its running game, but it also must be able to throw the ball — most likely for more than its season average of 46 yards per game.
I think this game is going to be closer than most pundits, but CSP seems to have the edge. …
CSP 34, TIOGA 26.
The Mick's Pick:
CSP 44, Tioga 28. …
Country Bob:
Tioga 24, CSP 21. …
Little Red:
CSP 34, Tioga 21.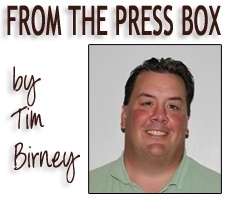 Print Friendly Version