THE FINAL WORD: A TOUGH ENDING TO A GREAT SEASON FOR TIOGA FOOTBALL
(2019-11-26)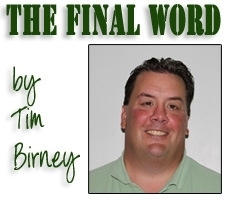 At halftime Friday night, Tioga appeared headed back to the state finals, but defending state champ Clymer / Sherman / Panama turned up its level of play, and an injury to sophomore standout Emmett Wood drastically altered the complexion of the game.
Emmett Wood is by no means a one-man team for the Tigers, but he is the best player on the team on both sides of the ball.
Using his speed on defense, Wood did a very good job of stopping CSP from getting to the corners with their sweeps, and did a nice job in coverage against their intermediate pass game. After he left, the Wolfpack consistently picked up 8 to 10 yards with the sweep.
His loss on offense is more obvious. Once he left the game, the Wolfpack was able to concentrate on senior QB Brady Worthing. Despite that, Worthing was able to gain 4 or 5 yards a carry, but several penalties proved costly to the Tigers, cutting short a pair of their fourth-quarter possessions.
As I said, Emmett Wood was clearly not a one-man team. Senior Dom Wood was exceptional on both sides of the ball, especially on defense. Senior Aaron Howard and Bryce Mashas also played well up front, junior Sloan Manuel delivered some crushing hits from his linebacker spot, and sophomore Gavin Godfrey was excellent in coverage in the secondary.
Ultimately, the Tigers just came up a bit short against a team that is likely to win its second consecutive state title. It was also quite a turnaround from the 54-19 thumping Tioga took at the hands of CSP in the semis last year.
The loss takes nothing away Tioga's season either. The team won another division title, another Section IV title, and another Regional title. Not bad.
In his 10-year run, Tioga coach Nick Aiello is reaching legendary status. He has coached the Tigers to a 91-22 record with eight Section IV and Regional titles in the last nine years, and a state title in 2015. His teams have posted winning records in nine of his 10 seasons.
Aiello has a 22-2 record in the Section IV playoffs, and a 10-7 record in the state playoffs. His regular-season record is 59-13, which includes a 3-7 mark in 2016.
And by no means, do I think Aiello's run at Tioga is over.
——————
Speaking of 2020, Tioga will need to replace Worthing at QB and in the secondary, Dom Wood, Mashas, and Howard on both the offensive and defensive lines, and Mason Booser at receiver and in the secondary.
Worthing is a special talent athletically, and when you consider his leadership ability, he will be difficult to replace. Up front, the Tigers have options, but will need to cultivate some depth.
Offensively, Emmett Wood, who rushed for 2,356 yards and 37 TDs and caught two passes for 70 yards, including a 60-yard TD, returns in the backfield, where he'll be joined by Isaac Peterson (220 yards and two TDs), Gavin Godfrey. All three will be juniors next season.
Fullback Sloan Manuel (145 yards and one TD, three receptions for 58 yards and one TD), who will be a senior, also returns, along with a slew of other skill-position players, including freshman-to-be Ethan Perry, junior-to-be Cobe Whitmore, and senior-to-be tight end Derrick Gage among others. I expect all four of these players to be major contributors for the Tigers next season.
Defensively, the Tigers will be athletic. The only question will be plugging the holes in the trenches, but big Cole Williams is a good building block.
With Newark Valley dropping to Class D in 2020, don't be surprised if the epic rivalry between these two programs reaches new heights.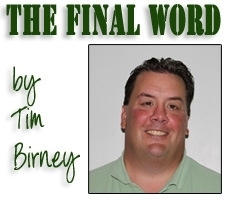 Print Friendly Version