VALLEY SPORTS REPORT: THE 'SUPER 7' STORYLINES OF THE FALL
(2019-11-29)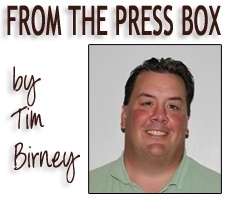 I've talked about storylines in the past and how they normally come in one of four realms: the start of a storyline, the continuation of one, the likely culmination of one, or a storyline totally out of the blue.
The 2019 fall season is no different.
Without any further ado, I give you, from No. 7 to No. 1, the "
Super 7 storylines
" of the spring:
7. Young quarterbacks lead the way in the Valley:
I don't know that it's ever happened before, but three of the quarterbacks in the Valley this year were a sophomore, a freshman, and an 8th-grader — and all three had pretty good seasons.
Sayre sophomore Brayden Horton threw for 1,625 yards and 19 TDs (13 interceptions), and ran for 412 yards and 12 TDs in 11 games, while Waverly 8th-grader Joey Tomasso threw for 1,307 yards and 10 TDs (eight INTs) in nine games, and Athens freshman Mason Lister threw for 1,273 yards and 11 TDs (nine INTs), and ran for five TDs in 11 games.
All three are going to continue to improve, and lead their respective teams to a lot of wins. This is a storyline with a few more chapters to be written.
6. Athens boys reach fourth consecutive District 4, Class AAA title game:
The Wildcats, featuring several three- and four-year starters, including seniors Luke Arnold, Jesse Sumner, David Scheftic, and Doug Vosburg, reached their fourth straight District title game this season — setting a new bar for Wildcat soccer.
There were several standouts to graduate from the first three teams to reach the finals, but the seniors on this team were the glue that kept it rolling. Without them in 2020, it may be difficult for the Wildcats to write another chapter in this storyline.
5. Sayre football returns to District 4 playoffs:
The Redskins saw their season come to an end against Muncy again this year, marking the second straight year and third in four years they've lost to the Indians in the District 4 playoffs.
While that may be frustrating to everyone involved with Sayre football, the consecutive postseason appearances under second-year coach Kevin Gorman marks the first time the Redskins have qualified for the District 4 playoffs two years in a row since the state playoffs began in 1988.
In Gorman's two years on the Sayre sidelines, his teams are 14-8 — the most wins in a two-year stretch since 1980-81. The last two-year span to top 14 wins was 1969-70. I expect this is a storyline that has another chapter or two to be written.
4. Waverly cross country runners make history:
Both the Waverly boys and girls cross country teams enjoyed good seasons, but the postseason gave three individuals a time to shine.
Junior Collin Wright became the first harrier in program history to qualify for the New York State Championships three times, while seniors Sheridan Talada and Elizabeth Fritzen made it three Wolverines at the State meet in frigid Plattsburgh.
Sheridan became the first Lady Wolverine to ever medal at the State meet, and Wright had his best finish.
Wright returns next year in hopes of writing the final chapter in this storyline.

3. Waverly volleyball returns to Section IV finals in Sinsabaugh's final season:
Coming off the program's first-ever Section IV title, Waverly finished the 2019 regular season with a 10-5 record and earned the sixth-seed in the Class C playoffs.
The Lady Wolverines upended third-seed Lansing in the quarterfinals for coach Kesha Sinsabaugh's 100th career win in her ninth and final season, then made their way through semi-final pool play to earn a shot at defending their title.
With four starters graduating, and Sinsabaugh stepping down, any further chapters in this storyline would have to be considered a sequel.

2. Athens girls soccer repeats as District 4, Class AAA champions:
In his first two years at the helm, Athens girls soccer Rich Pitts suffered through frustrating opening-round losses, but that only made his resolve stronger.
Pitts strengthened his non-league slate, and back-loaded his schedule. It worked, and the Lady Wildcats won back-to-back District 4 titles.
Athens graduates eight seniors, so if there's another chapter to be added to this storyline, Pitts will have to do it with a young roster.

1. Tioga football wins eighth Section IV title in nine years:
When the season began most pundits viewed Walton as the team to beat in Section IV's Class D, but a pair of wins over the Warriors, including a 44-36 class in the championship game, lifted the Tigers to their third straight Class D title and eighth in nine years.
Tioga went on to win its eighth consecutive Regional championship, before seeing its season end in a heart-breaking 28-27 loss to defending state champion Clymer / Sherman / Panama in the state semifinals.
The Tigers graduate a strong senior class, but all-everything sophomore Emmett Wood and a very strong sophomore class return to make a run at making it nine Class D titles in 10 years. A couple additions to the Class D ranks in 2020 will make it tougher, but don't be surprised if there are a few more chapters to be written in this storyline.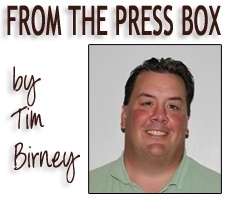 Print Friendly Version