FROM THE PRESS BOX: CRYSTAL BALL LOOK AHEAD TO THE 2020 FOOTBALL SEASON
(2019-11-29)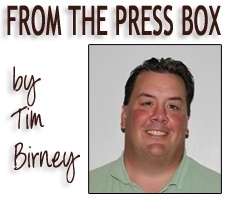 It was a decent season for high school football in the Valley, with Tioga winning another Section IV title, and Sayre qualifying for the District 4 playoffs in consecutive years for the first time since the inception of the Pa. state playoffs in 1988.
Despite posting a losing record (4-5), Waverly overachieved in the rugged Class B ranks of Section IV, and Athens, despite a 1-10 record, proved to be a tough out for Valley rivals Sayre and Waverly on consecutive weekends late in the season.
So, what does 2020 look like? Well, with preseason practices still about 8 1/2 months away, the crystal ball is a bit murky, but it appears three or, perhaps, all four Valley teams could qualify for the postseason.
Athens Wildcats:
Yes, the Wildcats were 1-10 in 2019, but five of those losses were by eight or fewer points, and two others were by 10 and 12. So, for a 1-10 team — the program's worst mark since an 0-11 record in 1988, they were very competitive. And, they were competitive with a roster comprised mostly of sophomores and freshmen.
Athens loses a pair of key offensive contributors in Damian Hudson and Keegan Rude, but returns freshman QB Mason Lister, sophomore tailback Shayne Reid, sophomore wideout J.J. Babcock, and junior tight end Ben Pernaselli. Also returning are junior Tanner Dildine, sophomore Troy Jennings and freshman Caleb Nichols, who should all see bigger roles in 2020.
The biggest question facing Athens is its offensive and defensive lines. Juniors Ian Wright (6-6, 320 pounds), and Connor Sindoni are good building blocks for coach Jack Young and his coaching staff, but they'll have to plug guys in around them, and raise their level of play, if the Wildcats are to engineer a turnaround.
The NTL Large School Division was pretty good this year, and will be again in 2020. Troy and North Penn-Mansfield should be very good again next year, while Canton and Wellsboro lose a lot to graduation but should be in the mix again.
Prediction:
There is no way to go up for the Wildcats. The big question is, how far up can they go in 2020? I expect the offense to be very dangerous, but the defense will need to be much-improved. …
2020 regular-season: 5-5
.
Sayre Redskins:
The Redskins lose eight quality seniors from an 8-2 team, so it will need a lot of young players to step up in 2020. The good news is, a lot of young players saw a great deal of action under second-year coach Kevin Gorman.
The Redskins will return sophomore QB Brayden Horton, who accounted for 31 TDs (19 passing and 13 rushing), but he loses his top running back, and top three receivers.
Sayre will look to sophomores Jake Bennett and David Northrup, and freshman Zack Garrity to replace Isaish Firestine in the backfield, while freshman Lucas Horton will need help from juniors Matt Lane and Tavone McClenny to replace Corbin Brown, Ethan Miller, and Zach Watkins in the receiving corps.
The defense takes a similar hit from graduation, but five of their seven tacklers return, including Elmer Stevens, Bennett, and Northrup at linebacker. Sophomore Donovan Wynn returns up front, along with Jordan Goodrich to anchor the defensive line. The big question is re-stocking the defensive backfield, where only Lucas Horton returns.
The NTL Small School has come down to Sayre, Muncy, and Montgomery in recent years, but South Williamsport rejoins the league next fall, and will become an immediate contender. Muncy returns nearly en tact, and is the preseason favorite to win the division.

Prediction:
Despite the graduation losses, the cupboard is far from bare. A big key for Sayre's hopes of a division title repeat could be where South Williamsport slides into the schedule, as the Redskins will be a much better team in Week 9 than in Week 1. …
2020 regular season. 7-3
.
Tioga Tigers:
The Tigers exceeded even the lofty expectations placed upon them every year, with a 10-0 march through their Section IV schedule, resulting in their eighth Class D title in nine years. After winning their eighth Regional titles in as many tries, Tioga dropped a 28-27 decision in the state semifinals to defending state champion Clymer / Sherman / Panama, which went on to win the state title in a 47-6 rout of Moriah.
The Tigers lose eight seniors, including six two-way starters in the postseason, but return a wealth of underclassmen, including an incredibly talented sophomore class, led by all-everything tailback Emmett Wood, who accounted for 42 TDs this season.
The big question is who will replace Brady Worthing at QB, but coach Nick Aiello has three options in junior Ethan Agan, and freshmen Ethan Perry and Caden Bellis.
Tioga has an embarrassment of riches in athletes who could step up as big-time contributors in 2020. Look for sophomores Cobe Whitmore, Isaac Peterson, Gavin Godfrey, Chris Walsh, and Justin Hopkins, Perry, regardless of where he's playing, and juniors Derrick Gage, Sloan Manuel, Jacob Fethers, Jerrick Allen, and Evan Hubbard all to step up and play bigger roles.
Newark Valley, Harpursville-Afton, and Sidney will drop to Class D in 2020. There are rumors Lansing will return to 11-man football and will be in Class D, but the same rumor mills says Groton and Moravia will drop to 8-man. No matter how it plays out, with the addition of those three new teams to Class D, Tioga's road to another Section IV title is now a great deal more difficult.
Prediction:
You can bet Tioga is going to end up playing a good Class C school in 2020, and with Newark Valley in Class D, my money is on Waverly, although Chenango Forks (or both) is not out of the question. … An early bonus prediction: Tioga plays arch-rival Newark Valley in the 2020 Class D championship game (after playing them in the regular season, too.). …
2020 regular-season record: 8-2
.
Waverly Wolverines:
The Wolverines posted a 4-5 record in the rugged Class B of Section IV, and did not lose a game by more than 20 points, dropping a 27-7 decision to powerhouse Chenango Forks, which will play for the Class B state title Saturday.
Waverly graduates a strong senior class, but returns quite a bit of experience all over the field for 2020.
Quarterback Joey Tomasso will be back for his freshman season, along with juniors David Hallett and Austin Kimble in the backfield. Tomasso will look for juniors Aidan Westbrook and Caden Wheeler to replace Jalen McCarty and Ethan Stotler in the receiving corps. Junior Gaven Anthony could be poised for a big season in the backfield and / or at wideout.
The Wolverines will also have good experience returning in the trenches in juniors Logan Shipman, Hunter Rando, Kam Peters, and Trevor Meyers, but will need to cultivate depth.
Waverly drops to Class in 2020, and usually that proves beneficial. However, the Wolverines will be joined in Class C by Chenango Forks, Chenango Valley, Oneonta, and Norwich, to go along with Susquehanna Valley and Windsor. Put it all together and Class C will be tougher in 2020 than Class B.
Of course, the aforementioned rumor mill is also spitting out nuggets that spell a possible end to the Watkins Glen and Odessa-Montour merged program, as well as the merged S-VE and Candor program, which would result in all four playing in either Class D or 8-man.
Prediction:
Section IV won't decide on any type of divisional alignment until December or January, so it's tough to predict how far the Wolverines can go in 2020, but I do believe they'll improve on the 4-5 record in 2019. …
2020 regular-season record: 7-3
.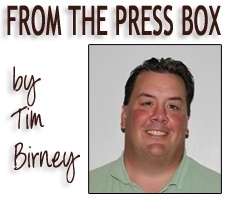 Print Friendly Version