THE FINAL WORD: PUTTING A BOW ON THE 2019 FALL SEASON
(2019-12-01)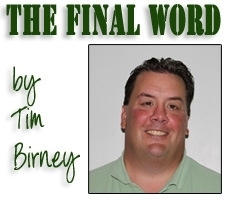 When a team wins its third consecutive Section IV football title, and it's not even their longest streak in the same decade, that team is obviously doing things right.
Of course, I'm talking about Tioga football. As they have been for most of the last decade, the Tigers were the last local team standing in the postseason.
Tioga entered the 2019 season as a contender, but not the favorite, to win the Class D title. The distinction of favorite belonged to Walton, but the Tigers knocked off Walton in Week 1.
All season long there were doubters thinking Greene, Delhi, or Walton would unseat Tioga from the pinnacle of the Class D hierarchy in Section IV, but one by one, the Tigers dispatched of the pretenders en route to its eighth title in nine years.
Once in the state playoffs, Nick Aiello's charges made it 8-for-8 in the state quarterfinals during his tenure, then dropped a 28-27 decision in the semifinals to now two-time defending state champ Clymer / Sherman / Panama.
It was quite a season for the Tigers, featuring a breakout season by sophomore tailback Emmett Wood, who rushed for 2,356 and 37 TDs, and had 42 TDs in all.
Emmett Wood found his success behind an offensive line anchored by his brother Dom Wood. He was also aided by a QB in Brady Worthing, who ran the offense flawlessly, and was a threat to score anytime he chose to keep the ball as well.
The Tigers also featured a host of under classmen who will return next year in hopes of making it nine Class D title in 10 years.
The Athens girls soccer team also brought home postseason gold, winning back-to-back District 4, Class AAA titles for the first time in program history.
Coach Rich Pitts has taken the program to the next level, but players like Abby Sindoni, Emma Roe, and Haley Chambers — all starters the last two years — are big reasons for his success.
The Lady Wildcats take a big hit from graduation for the third straight year, but they'll still be a team to keep an eye on in 2020.
Not every team was able to bring home gold, however.
The Athens boys made it to the District 4, Class AAA finals for the fourth consecutive year, but couldn't quite pull off the repeat.
The Wildcats lose a ton of talent to graduation — a senior class that has achieved unparalleled success in program history will not be easy to replace. Coach Jake Lezak will face his toughest challenge in years in 2020.
Defending champion Waverly exceeded expectations by reaching the Section IV, Class C volleyball finals this season, but their hopes were dashed by a strong Windsor squad.
The Lady Wolverines will have to replace a strong senior class, and coach Kesha Sinsabaugh, who coached Waverly to its first-ever Section IV title in 2018. Sinsabaugh's final win — a sweep of Lansing in the Class C quarterfinals — was her 100th in a nine-year career at Waverly.
The Waverly girls soccer teams also saw its three-year run of reaching the Section IV, Class B finals end this year with a home loss to Oneonta in the semifinals this fall.
The end of the soccer season also marked the end of Melina Ortiz's five-year varsity soccer career at Waverly. She was a joy to watch, and will take her talents to Division I Siena College next fall.
The Sayre football team, which won the NTL Small School title, also saw its season end a little sooner than it had hoped. After an 8-3 season, the Redskins have posted their two-year stretch (14-8) in 30 years in coach Kevin Gorman's two-year tenure.
There were other noteworthy accomplishments as well.
The Athens boys cross country team, led by senior T.J. Toscano, won its first NTL Large School Division title since 1997.
The Athens volleyball team, under second-year coach Heather Hanson, qualified for the District 4 playoffs for the second year in a row after a 10-year absence, then won its first postseason game since 2006.
The Tioga volleyball team advanced to the Section IV semifinals for the 11th consecutive year, but saw its streak of 10 Section IV final appearances come to an end.
Not all success can be measured in wins and losses.
The Tioga girls soccer team, which started the season with 12 girls, played the majority of its season with 11 girls, and posted a 4-9-1 record, which is more wins than the last two seasons combined. The core of the team is a group of juniors who have started and played three years with no more than one sub for the majority of that time.
A young Waverly football team went 4-5, but may have over-achieved in the rugged ranks of Section IV, Class B, especially considering they had an 8th-grader at the helm in QB Joey Tomasso, whose performance this year is a harbinger of very good things to come.
The Waverly boys soccer program, which didn't field a varsity team in 2017, won two games this season, including its first win over Notre Dame since 2009, and were much more competitive in most of its losses than in 2018.
A year after winning just one game and not being competitive in many of its losses, first-year coach Greg Hughey returned the Sayre boys to respectability. The Redskins won three games and tied one, and had several one-goal losses.
The Waverly cross country teams also enjoyed banner seasons under first-year coach Nate Culver, ultimately sending three runners to States. Both Waverly teams won the annual Tom Koons Valley Invite, and racked up several first-, second- and third-place team finishes.
On the individual front, senior Sheridan Talada became the first Waverly girl to earn a state cross country medal, while her teammate Collin Wright, a three-time state qualifier, had his best showing yet at States, and senior Elizabeth Fritzen overcame some personal adversity to cap a good career with her first trip to States.
And, Sayre senior Kayla Hughey capped a stellar cross country career by earning a trip to the PIAA Championships.
Not everything was positive in the fall season.
The Sayre girls soccer team had 13 on its roster, but two also played volleyball, so were unavailable for a large chunk of the season, leaving the Lady Redskins with just 11 for the majority of its games — and less than 11 for the last several games of 2019. All-everything sophomore Roz Haney and senior Abby Moliski kept the team in several games, but the perennial playoff team won just one game.
The Athens football team suffered through a 1-10 record, its worst mark since 1988.
For the third consecutive year, Tioga did not field a varsity boys soccer team, although it did field a modified team.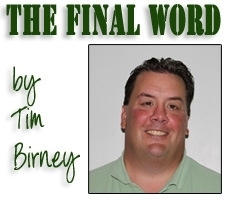 Print Friendly Version