FROM THE PRESS BOX: CRYSTAL BALL LOOK AHEAD TO 2020-21 BOWLING, SWIMMING, INDOOR TRACK SEASONS
(2020-03-17)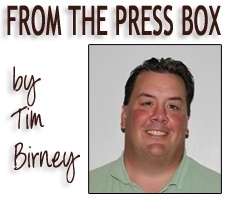 The winter sports season saw the final act of one of the best swimmers to come out of the Valley in Waverly senior Mike Atanasoff. It also saw the opening act of Taegan Williams, who could leave an indelible mark of her own on the Athens girls swim program.
On the bowling hardwoods, the Waverly and Tioga boys both won division titles, and the Waverly girls were divisional runners-up.
Waverly senior Isaac Chandler enjoyed a record-breaking indoor track & field season, while the Lady Wolverines had several standouts compete in their final season.
The 2020-21 winter sports season is still eight months away, so the crystal ball is a bit murky, but it foretells more success on the lanes, in the pool, and indoors on the track and field.
BOYS & GIRLS BOWLING
Tioga Tigers:
Tioga returns its top six bowlers from a team that posted a 35-5 record and won its fifth consecutive IAC Small School Division title.
The Tigers will return three of the top 12 averages in the IAC in junior Kolton Pond (191), and sophomores Rocco Fariello (186) and Dylan Slater (183), as well as freshman Gage Cain (166) and sophomore Jarrett Myers (157).
Freshman Frank Chapman (135) showed dramatic improvement at the end of the season, and could become a bigger factor next year.
Prediction:
Tioga is definitely the team to beat in the Small School Division in 2020-21.
Lady Tigers:
The Lady Tigers graduate just two seniors, but those seniors — Bailey Elston and Mackenzie Macumber — had the highest two averages on a team that finished fifth in a six-team division.
Tioga returns six bowlers who saw considerable action this season. All six have averages between 106 and 113.
Prediction:
The Lady Tigers will need two or three of their returners to show great improvement if they want to win a division title. Regardless, Tioga should be improved in 2020-21.
Waverly Wolverines:
Waverly graduates just one senior from its IAC Large School Division title team, but the one is Derrick Canfield, who has been among the best bowlers in the league the last few years.
Waverly returns two of the top 11 bowlers in the IAC in freshman Zach Vanderpool (217 average) and junior Matt Mauersberg (184), and two bowlers — sophomore Cody Blackwell (175) and freshman Ashton Pritchard (174) — that could move into the top 10 next year.
Also returning are junior Richard Stevens (154), freshman Ethan Roberts (154), and 8th-grader Carter Hayes (146). All three are candidates for the starting six.
Prediction:
Despite the loss of Canfield, Waverly could be better next year, and is the early favorite to repeat as divisional champ.

Lady Wolverines:
Waverly finished in second place, six games behind Union Springs / Port Bryon in the IAC South Large School Division.
The Lady Wolverines will return two of the top bowlers in the league in freshman Victoria Houseknecht, and 8th-grader Rachel Houseknecht, as well as one of the top newcomers in the IAC in freshman Shantilly Decker.
Waverly will need to replace a trio of seniors in Sadie VanAllen, and Morgan and Megan Lee, who were consistently in the top six. Junior Haley Kittle is an early candidate to step into the starting line-up next year.
Prediction:
Waverly has a proven history of coaching bowlers up, and having them ready. With the Houseknechts and Decker at the top of the line-up, the Lady Wolverines should challenge for a division title.

BOYS & GIRLS SWIMMING
Athens Wildcats:
Coming off a 7-3 season, Athens will return nearly en tact in 2020-21.
The Wildcats will return a slew of point-winners from this season, led by sophomore Kaden Gorsline, junior Mason Henderson, Zac Gowin, and Joe Toscano, and freshmen Chris DeForest and Ethan Denlinger.
Athens topped District 4 power Lewisburg this season for the first time in a decade, with its only losses coming to Waverly, Bloomsburg, and Elk Lake, a loss it avenged three weeks later.
Prediction:
The Wildcats return a wealth of talent, and could get a boost from its junior high program as well. Don't be surprised if they improve on this season's 7-3 mark.
Lady Wildcats:
The Lady Wildcats return a great deal of talent from a team that posted a 7-2 record.
Taegan Williams led a strong freshman class, which also included Taylar Fisher, that made an immediate impact this season, and they should be even better next year.
Sophomore Brooke Kopatz, junior diver Emma Roe, and freshman Ally Thoman were also consistent point-getters and will return.
Sophomores Hannah Walker and Raven McCarthy-Gardner, and juniors Kaitlin Kisner and Makenna Galvin could become bigger contributors next year, looking to replace points earned by seniors Lauren Neville, Allyson Rockwell, and Cristina Bard.
Prediction:
The Lady Wildcats return quite a bit, and could get some help from the junior high ranks. Their only losses came against District 4 powers Lewisburg and Bloomsburg. Even if they don't improve on their record, I expect they will be a better team.
Sayre Redskins:
The Sayre boys had just two boys on the roster this season, and they are both under classmen.
Lady Redskins:
The Lady Redskins graduate their top two swimmers in Jillian Shay and Kayla Hughey, but will return seven girls next season.
While the girls team has better numbers returning, coach Carrie Wright has plenty of recruiting to do for both squads.
Waverly Wolverines:
The Wolverines will lose record-setting senior Mike Atanasoff to graduation, as well as record-breaking diver Gage Streeter, and a couple of other contributors, but the cupboard is not bare for a program that has won three straight regular-season duals titles and is riding a 43-meet win streak.
Sophomore Kaden Wheeler, juniors Ryan Bennett and Collin Keefer, and freshman Oscar Williams will likely step to the forefront for the Wolverines, and each have a legitimate chance to qualify for States.
Expect junior Dillon Madigan, freshmen Jerrell Sackett and Ryan Clark, and 8th-grader Liam Wright to become bigger contributors next year.

Prediction:
The Wolverines won't be quite as deep as they have been, but the crystal ball foresees another unbeaten season in the IAC.
Lady Wolverines:
The Lady Wolverines, who swim in the fall, will return nearly en tact from a 6-5 season, including a 6-4 league mark.
Waverly returns sophomores Lourden Benjamin, Willow Sharpsteen, and Delaney Vascoe, junior Maggie Whitley, freshman Sophia DeSisti and freshman diver Josie VanDyke, who were all consistent point-getters.
Junior Mara Callear, and sophomores Mackenzie Nichols and Nicole Bunke are among those who could step up an become consistent point-earners.
Prediction:
Watkins Glen will remain the team to beat, but don't be surprised if Waverly makes it a two-team race at the top of the league standings.
INDOOR TRACK & FIELD
Waverly Wolverines:
Waverly will graduate its lone state qualifier in Isaac Chandler, who won a bronze medal in the pole vault, but returns nearly everyone else.
Juniors Collin Wright, who qualified for States as a sophomore, Caden Wheeler, and Jayden Rose, and sophomore Nate Ackley are the Wolverines' best bets to follow Chandler to States.
Lady Wolverines:
The Lady Wolverines graduate a slew of talented seniors, including former state qualifiers Melina Ortiz and Sheridan Talada, and consistent point-getters Elizabeth Fritzen, Cora Smith, Paige Ackley, Marissa Eisenhower, Zoe Lunduski, and Alyssa Simonetti.
The Waverly girls will be young next year, but the coaching staff has a history of finding ways to stay competitive.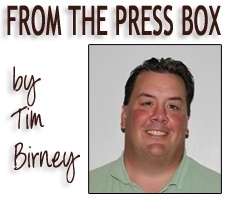 Print Friendly Version