FROM THE PRESS BOX: CRYSTAL BALL LOOK AHEAD TO THE 2020-21 WRESTLING SEASON
(2020-03-20)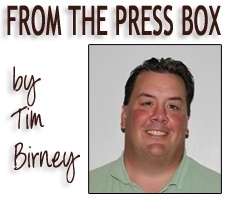 The 2019-20 wrestling season will long be remembered after 10 Valley grapplers (six Tioga, three Athens, one Waverly) qualified for their respective state tournaments, and eight (five Tioga, two Athens, one Waverly) earned state hardware, including Tioga 8th-grader Gianni Silvestri, who became the youngest wrestler in Valley history to win state gold.
Tioga continued its historic run, winning its fourth straight Section IV, Division 2 championship, its second straight Section IV Duals title, and repeating as team champ at the New York State Division 2 Championships.
Waverly (11-9) had its first winning season since 2010-11, while Athens (10-7 overall, 6-2 NTL) was in the mix for an NTL title until the bitter end, and Sayre (5-17) showed improvement.
The 2020-21 season is eight-plus months away, but the crystal ball is clear enough to see another very good year in store for Valley wrestlers.
Athens Wildcats:
The Wildcats lose a pair of state qualifier in heavyweight Keegan Braund, and 182-pounder Alex West, but virtually everyone else returns.
Two-time state place-winner sophomore Gavin Bradley (39-4) leads the Athens returners, along with five others — sophomore Kaden Setzer (21-10), junior Kyler Setzer (20-10), sophomore Karter Rude (19-11), junior Ben Pernaselli (21-14), and junior Zach Stafursky (20-20) — with at least 19 wins.
Jake Courtney (13-9) and Aidan Garcia (15-13) lead a freshman class that gained quite a bit of experience this year. Don't be surprised if freshman Riley Hall takes a big step forward after a 5-13 record this year.
Prediction:
Other than Pernaselli, the Wildcats will be unproven in the upper weights, but the bottom of the line-up should be very good. Their two losses in the NTL this year were by a combined four points. I expect they'll be in the mix for a league title once again next year, but Canton will be tough to beat. … Bradley is a good bet to return to States in 2020-21, but he may be a solo act for the Wildcats in Hershey next year.
Sayre Redskins:
First-year coach Ralph Warner directed the Redskins to five wins this season, and it could have been more, but those efforts were derailed by injuries and eligibility issues. A line-up that had 12 weight classes filled at the start of the season, had just five or six filled late in the season.
Sayre returns everyone next season, led by sophomores Jake Bennett (25-8), Nik Polzella (16-13), freshman Layla Bennett (9-7), and Jordan Goodrich (11-10) — the only four wrestlers with winning records.
Junior Jake Burgess (10-22) finished strong and was the only Redskins to join Bennett at Districts.
With all 13 wrestlers eligible to return next year, and the potential for five or six re-enforcements from the junior high ranks adding to the roster, numbers are on the upswing for Warner and the Redskins.
Prediction:
If the Redskins can fill every weight class next year, odds are very good they'll improve their win total. … Individually, Jake Bennett is a good bet to make a deep run in the postseason in 2020-21, with a chance to get to Hershey.
Tioga Tigers:
Tioga graduates eight seniors, including four Section IV, Division 2 place-finishers — among them three-time state place-finisher Brady Worthing, but the cupboard is far from bare for the four-time defending sectional champs.
The Tigers return five state qualifiers in Silvestri (40-1), freshman Donovan Smith (39-4), 8th-grader Caden Bellis (39-4), sophomore Emmett Wood (39-8), and sophomore Mason Welch (33-12).
They also return three other wrestlers with winning records in sophomore Justin Hopkins (24-19 wresting two weight classes up), freshman Emily Sindoni (22-15), and 8th-grader Levi Bellis (16-12).
Coach Kris Harrington will get some re-enforcements from a strong junior high program, but one of his biggest addition may come from the basketball team. Freshman Bryce Bailey, who was a highly-decorated youth wrestler, returns to the mats next year after playing hoops the last few years, and could make an immediate impact.
Prediction:
Tioga graduates six starters, so there will be some holes to fill. The Tigers have some upper weights coming up from the junior high ranks, it will be interesting to see how quickly they adjust to the varsity competition. … Tioga will be in the mix for another Section IV Duals title, and has to be considered the favorite to win the Section IV, Division 2 title. … Don't be surprised if all five returning state-qualifiers next year make a return trip to Albany.
Waverly Wolverines:
Waverly graduates just four seniors — all starters, including Ethan Stotler (44-3 and fourth at States), but will also lose sophomore Garrett Skeens (32-12 and third at Sectionals), who is moving out of the school district.
The Wolverines return four wrestlers with winning records in freshman Gage Tedesco (29-8) and junior Trevor Meyers (31-14), junior Austin Kimble (21-14), and freshman Connor Stotler (23-21).
They also return three young wrestlers that gained valuable experience this season in sophomore Andrew Kimble (8-11), freshman Mason Ham (9-24), and sophomore Cole Stanton (7-22).
Junior heavyweight Kam Peters (4-2) is a candidate for a break-out season in 2020-21.
Prediction:
The Wolverines need re-enforcements from the junior high ranks to fill out the lower weights next year, but they should be pretty solid in the upper weights. They may be hard-pressed to equal this year's 11-9 record. … Individually, Tedesco and Meyers could challenge for Section IV titles, and Austin Kimble and Connor Stotler are both candidates for big jumps in their win totals.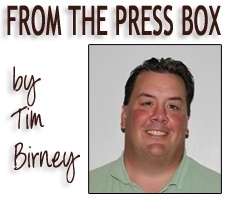 Print Friendly Version