FROM THE PRESS BOX: INDIVIDUAL PERFORMANCES MORE THAN TEAM ACCOMPLISHMENTS HIGHLIGHTED FIRST DECADE OF SOFTBALL COVERAGE
(2020-05-03)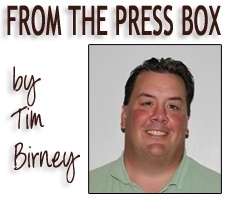 The first 10 years of softball coverage in the Valley Sports Report-era has been dominated by individual performances, more so than team accomplishments.
Waverly did capture the program's first-ever Section IV, Class B championship last year under coach Brian Wendela, with two-time first-team all-stater Wendi Hammond leading the way in the pitcher's circle.
Tioga reached the state finals in 2009 (the year before VSR launched) under coach Jim Wood , but three times since has lost in the Section IV, Class C title game to Notre Dame — twice by one run, and the third time in 10 innings.
Athens reached the District 4, Class AAA championship game under coach Rich Decatur for the first time in program history in 2012, with two-time all-staters Christin Dunkling and Mackenzie Hafer at the forefront.
The Lady Wildcats returned to the finals, again under Decatur, in 2015 with Jensen Dunkling and Aubrey Allen leading the way.
Last year, under first-year coach Mickey Farrell, the Lady Wildcats won the program's first-ever NTL title, led by four-time all-state performer Emma Adams and all-state pitcher Megan Bennett.
And Sayre, well it was a tough decade for the Lady Redskins. They kicked it off with a 1-16 record in 2010, and capped it with a 1-18 record in 2019. In between, a 5-12 record in 2014 was the best they could muster.
As I said, the decade was dominated by individual standouts at all four schools.
At Athens, Adams was named first-team all-state twice, and second-team all-state twice, while Christin Dunkling was second-team once, and first-team once, and Hafer was a first-team pick once and honorable mention once.
Allen, Jensen Dunkling, and Bennett each earned second-team honors for the Lady Wildcats.
At Sayre, Kate Cron was twice named a second-team all-state player.
At Tioga, Sarah Wayson was a four-time all-state selectee, twice named to the first team, and once each to the second and third teams, while Sam Wood was a three-time all-state performer, twice being named to the second team, and once to the third.
Basketball standout Kara McDuffee was also a second-team all-state softball player her senior year for the Lady Tigers, while Dani Barto was a third-team pick, and Haley Hoffman and Mariah Culver were both fourth-team selections.
At Waverly, Hammond was the only first-teamer, but several other Lady Wolverines were honored throughout the decade. Sam Mennig and Zoe Mennig were third-team selections, while Riley Hall was a fourth-team pick, and Sabrina Bowman, Kiana Manuel, and Shailei Kraft were fifth-team picks.
If you didn't notice, there were a pair of sisters — the Dunklings and Mennigs — among the all-state players. Those are some pretty good bloodlines.
As a team, Tioga enjoyed a tremendous amount of success in the IAC in the decade, winning five straight Small School titles from 2014-18. Once the postseason rolled around there were a lot of wins, however, there was quite a bit of frustration as well.
In 2010, a year after beating Greene for the Class C title, the Lady Trojans avenged the loss with a 2-1 win over the Lady Tigers in the Class C quarterfinals.
Tioga bounced back in 2011 with a 3-0 win over Greene in the semifinals as Wayson out-dueled Greene's all-state pitcher, Rebecca Hanrahan.
However, Olivia May came out on top in the finals, out-dueling Wayson in a 2-0 Notre Dame win.
The Lady Crusaders would prove to be Tioga's nemesis later in the decade as well, topping them 3-2 in the Class C finals in 2015, and 2-1 in a rematch the following year — coach Heather Peck's first two seasons. Both were classic contests.
In 2018, the two teams hooked up again for the Class C crown, and Notre Dame outlasted Tioga again, winning 6-3 in 10 innings.
Before 2019, Waverly had similar frustration in the postseason.
In 2013, the Lady Wolverines advanced to the Class B title game for the first time since 1977 with a win over Oneonta, but lost 7-0 to Windsor and freshman wunderkind Paige Rauch, who went on to star at Division I Villanova.
In 2014, Waverly lost 2-0 to Notre Dame in the Class B semis, then in 2017 and '18, the Lady Wolverines lost in eight innings to Susquehanna Valley (4-2, and 1-0).
Last year, Waverly finally broke through. Ironically, the Lady Wolverines needed eight innings in the semifinals to top Windsor, 3-2.
In the finals, Waverly trailed Susquehanna Valley, 1-0, heading into the bottom of the sixth inning, but Hammond clubbed her 13th home run of the season to tie the game at 1-1 . Moments later, Hali Jenner doubled, and Riley Hall delivered the go-ahead RBI single to make it 2-1.
Hammond struck out the side in the top of the seventh to spark a wild celebration at home plate as the Lady Wolverines won the program's first Section IV title. Hammond tossed a complete-game three-hitter and struck out 13.
Athens played in its first two District 4, Class AAA title games early in the decade, and closed it out with an historic accomplishment.
In 2012, Christin Dunkling tossed a four-hitter to lead Athens to a 2-1 win over Selinsgrove, and into a match-up against top-seeded and defending District 4 champion Jersey Shore in the semifinals.
Six days later, it was Katelyn Serfass' turn in the pitcher's circle, and she took full advantage. Serfass fired a 2-hitter in a 2-0 win, with Jensen Dunkling and Christin Dunkling providing RBIs in the sixth inning.
In the finals, Athens led 3-2 after 4 1/2 innings, but errors proved costly and Milton rallied for a 6-3 win.
Three years later, Allen settled down after a shaky first inning, and threw six scoreless inning to lead Athens to a 9-3 win over Mifflinburg. Kaitlyn Testen and Allen led Athens at the plate.
Athens never got it going in the title tilt, committing two costly errors in the first inning as Jersey Shore jumped out to an 8-0 lead en route to a 10-0 win.
The Lady Wildcats have won just one playoff game since 2015.
Last year, however, the Lady Wildcats did win the program's first-ever NTL title.
Senior Emma Adams, who was the NTL "Defensive Player of the Year," was a driving force at the plate, hitting .564 with eight doubles, seven home runs, 13 RBI, 24 runs scored, and seven stolen bases as the lead-off hitter. She graduated as the program's all-time hits leader.
Junior Megan Bennett had a dominant season in the circle, posting a 12-3 record with a 0.94 ERA, and 157 strikeouts and just 18 walks in 110 1/3 innings. She had eight shutouts, and one no-hitter.
Junior Haley Barry, and sophomores Harley Sullivan and Emma Repsher were key contributors and first-team all-NTL selections.
——————
Like all of us, I'm extremely disappointed that the 2020 season was taken away from us, and a host of talented seniors won't be able to play their final high school campaign.
I was excited to watch Megan Bennett's senior season in the circle at Athens, to see how much better she might be after an excellent junior season. I was also looking forward to watching junior catcher Harley Sullivan behind the dish, and senior Haley Barry at the plate.
I was curious to see how the Lady Wolverines would do behind a new arm in the pitcher's circle. I was also expecting seniors Riley Hall, Paige Lewis, and Morgan Adams, and junior Hali Jenner to step it up at the plate to help replace Hammond.
I was excited about the prospects of Tioga's Giovanna Rossi hitting a handful of towering home runs in her senior season. I was also curious to see if Kindra Wessels could put together a better season at the plate (she hit .508) and in the circle (1.82 ERA) than her terrific sophomore season.
I was also looking forward to watching the progression of Julia Bellis and Austyn Vance, who had very good freshmen seasons.
And finally, I was hoping we would see some progress with the Sayre program in Rich Decatur's second season at the helm.
The first decade of softball coverage for me was a pretty good one. It's heartbreaking that the second one starts with no coverage at all.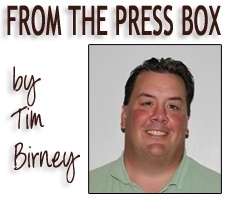 Print Friendly Version