BAKER'S SPORTS PEN: LONGTIME REVIEW SPORTS EDITOR BOB BAKER JOINS VSR 'COLUMN BRIGADE'
(2020-05-05)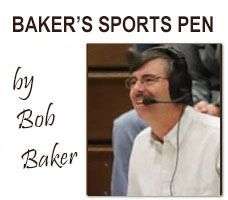 PUBLISHER'S NOTE: Longtime Daily Review Sports Editor Bob Baker has joined former Evening Times Sports Editor Glenn Rolfe as a guest sports columnist here at Valley Sports Report. I'll let Bob introduce himself with his first column, and thank him for his contributions. — T.B.
——————

I'm back in the saddle again.
I've got a fever … and the only prescription … is more COLUMNS!
After reading Tim Birney's and Glenn Rolfe's recent stories about "the good old days of Bradford County sports," I couldn't help but get excited about joining the column crew. They are real gentlemen and the "Valley" IS and WAS blessed to have them on their side.
So after 16 years of happy retirement from the journalism side of the aisle, I have decided to bring back Baker's Sports Pen.
Some might say "Who is Baker and what's his sports pen?"
I will quickly re-introduce myself with a little background check.
I am Bob Baker, known as "Bake" to many and "Bakes" to others (I think it was Glenn who added the S) and I had the privilege of covering high school sports throughout Bradford, Sullivan and Tioga Counties, along with Waverly, N.Y., while working 23 years at
The Daily Review
.
My former managing editor once said I had the best job, "getting paid to watch sporting events" … he was so right.
I got to meet a host of coaches, fans and athletes along the way, plus some very interesting characters, but the one thing I remember most about all of them was their love of the game and their passion for their respective teams and schools.
There was nothing better than traveling Saturday afternoons for football games in Canton or Athens. Until you've watched a game from the Warrior press box or the Wildcat sideline … it's just the best. Volleyball at Troy was poetry in motion or perhaps a baseball game in Wyalusing, a softball battle in Canton or a Towanda wrestling match was calling.
Up for cross country action in LeRaysville with the Panthers or how about an April track meet at Towanda or the former SRU High School, complete with snow.
You could always warm up in the winter with a Black Knight swimming event and work on your late summer tan at a Sullivan soccer match. Towanda later added golf and tennis, so the sports lineup was complete.
After leaving the Review and joining a local bank, I had the pleasure of shifting gears to the broadcasting side of the island.
There I got to work with some outstanding talents. Recently, I've been teamed with Shane Wilbur at WIGGLE-100 (wow is he good). I have also worked with fellow-Mets fan Kenny Lane and my good buddy Mickey Fox at 95.3 the Bridge. Their excitement about the Black Knights is unmatched.
However, for 14 wonderful years I shared the booth with two of the best: Mike Miller and the late Milt Munkittrick. The Yankees may have had the M&M Boys in Mantle and Maris, but the NTL had it twice as nice with MM & MM.
Last year, Mike completed 50 years of broadcasting high school sports. And, Milt could give you stats from all the games. He was a walking encyclopedia of knowledge about the NTL.
I always said broadcasting a game with Mike is like working with Vin Scully. He was knowledgeable, respected by everyone and very much in tune with the coaches, players, fans and officials. Mike still needs a proper sign-off game. He was unable to complete his final season due to family matters. I'll keep working on that one last game.
I hope in the future to share more thoughts about Mike. I miss you my friend.
I also worked with many wonderful photographers at the Review. There's Ed Boardman and my best man, the late John Thomas. Ed taught me so much about photojournalism. John knew nothing about sports, but once I took him along to the games, he was hooked.
As I said John knew absolutely zero about sports, but got fantastic shots – especially at Canton football games. I asked him what's your secret. "I just listen to the Canton coaches. They always knew exactly what play the other team was going to call."
Talk about using your sources to the max.
I also launched the young careers of many of today's NTL standout journalists. I was the one who gave Tim (Birney) his start in the newspaper world. I would like to publicly apologize for leaving him and traveling to Florida. Hey, it's like when you go swimming in the ocean … do you dive right in or wade? Tim chose to dive. He could make a fortune hosting Valley Sports Trivia nights — the Valley has one of the best.
After Tim left for greener pastures, Pete Hardenstine joined our group and put in many years at the desk before venturing off to The Rocket Courier. Pete really knows his stuff and I couldn't keep him from his alma mater.
Then, Brent Trowbride came on board. And, if you need to know anything about wrestling in the NTL or District 4, Brett is the one to call. I eventually let him handle all the wrestling. I knew I was in good hands.
As for me, I have shuffled off to New Albany enjoying life on the hill following my retirement in May of 2019. I've aged a little and dropped a few pounds (which is a good thing), but I'm sure I couldn't defeat Rich Eisen in a 40-yard dash.
My wife Tina keeps me in line and I'm proud to say, I have loved all our 31 years together. She's a whole 'nother column down the road. She loves Cooperstown and I even got her to a couple of Penn State football games. My dog Sherman also keeps me in shape with our walks.
I've got some great in-laws, a host of friends and we're all one big happy family.
I've been very blessed to have covered some very special athletes and to name a few wouldn't be fair to the ones I miss. I've watched coaches show their dedication, not only directing their teams, but dealing with the athletes as friends.
Hopefully, I brought a few smiles with the Sports Pen. I got to tell about myself in many of my columns. I think that's important in today's world of journalism – getting to know the person behind the words.
We're an interesting fraternity.
My thanks to Tim for allowing me to bring back the Sports Pen and to The Rolfeman for some great memories. I hope you all enjoy reading The Sports Pen as much I will have in sharing my thoughts.
And don't forget to give your pet an extra hug tonight.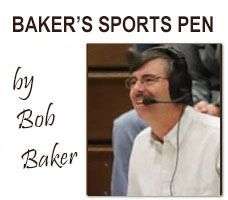 Print Friendly Version