FROM THE PRESS BOX: LOOKING BACK — THIS GENERATION AND THEIR PARENTS
(2020-05-13)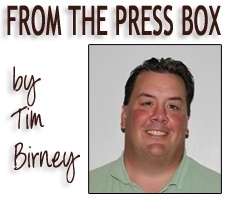 I've been doing this a long time — more than three decades now.
In that time, I've had the privilege of covering a lot of tremendous athletes. As a matter of fact, I've covered many second-generation athletes as well.
Athens girls coach Brian Miller played in the first game I covered for The Review. He was a fiery competitor with a sky-high basketball IQ, and a was a dead-eye from the perimeter. His daughter Kayleigh is a standout on the Athens team now, and has many of the same traits.
Perhaps the best player I've ever covered was current Waverly boys coach Lou Judson, who was a standout at Troy, and then at Mansfield University. Judson was an intense presence on the floor, who could score at will, and was a great all-around player.
His son, Gavin, played two years at Waverly before moving back to Pittsburgh for his senior year. He was a shooter as well, and his all-around game was beginning to flourishing.
One of the most over-looked athletes in the Valley in the last 30 years is Sayre's Greg Garrity. A ferocious competitor on the football field and wrestling mat, he was also a state gold medalist in the 4-x-4 at the PIAA Track & Field Championships in 1993, along with Kevin Ferguson, Doug Perry, and Dave Coyle. (Oh, and he was a highly-regarded BMX racer as well.)
His son Nate was a first-team all-state football player for the Redskins, and his younger son Zach, only a freshman, is currently a promising three-sport athlete at Sayre.
In my younger days, I covered Scott Woodring, a mobile big man for the Athens Wildcats. The last few years I've had the privilege of covering his son Scotty, who is the best big man I've seen in the Valley.
I also had the pleasure of covering a pair of brothers — Rich and Jeremy Horton — at Sayre in my early days in this sports gig.
Rich and Jeremy were both very good all-around athletes, but they will likely be eclipsed by their sons — Lucas and Brayden.
Lucas, a freshman, had a good year at wide receiver, and was one off the top newcomers on the hardwoods this winter. Unfortunately, his debut season on the diamond was delayed.
Brayden, a sophomore, made a big splash his freshman season on the gridiron, taking over at QB midway through the season, and leading the Redskins to the District 4 playoffs. He also established himself as one of the premier catchers in the area in just one season on the diamond.
I also covered Chris Bennett, a football and baseball standout for the Sayre Redskins in the early '90s. His daughter Megan helped Athens to its first-ever NTL title on the softball diamond last year, and will pitch at Alfred University next year.
I was in college while Joe Tomasso was making his mark as a three-sport athlete at Waverly, but I did get to cover his wife Gwen (Lynch), who was a great all-around athlete, and was at her best on the hardwoods.
Their children have definitely made the most of good bloodlines. Alex was all-state in basketball and golf twice, Sidney was all-state on the hardwoods this year as a junior, and was also a three-time state qualifier on the links.
Joey Tomasso is at the beginning of what could be an all-time career for the Wolverines. He started at second base as a 7th-grader on the varsity baseball team, then started at QB and point guard as an 8th-grader for the football and basketball teams, respectively.
Like Tomasso, I missed the majority of Jill (Stolicker) Nittinger's high school playing days while I was in college, but she could play and was one of the first 1,000-point scorers for the Lady Wolverines.
Her daughter, Elle, also topped 1,000 points for her career, and qualified for the NYS Track & Field Championships in the discus.
The fact the girls' father is a Nittinger doesn't hurt — those are good bloodlines as well, but that's fodder for another column.

Her younger daughter Olivia has already made her mark on the cross country circuit, and is looking to do the same thing on the hardwoods the next couple years.
Also during my college days, Jason Miller made his mark on the football field and basketball court at our alma mater. Then, I followed his exploits playing professionally in Europe, although that was much more difficult in the days before the Internet.
Jason's son Peyton followed in his father's footstep at Waverly, playing for him in the football program, and breaking a host of QB records in the process. He was also a standout on the hardwoods, and an all-state baseball player.
I was also in college when Mike Adams made his mark for the Wildcats on the NTL football field, but I had the privilege of covering his daughter, Emma, who was a key player on Athens' District 4 title on the soccer pitch two years ago.
Emma, however, made her bones on the softball diamond, where she established a new career hits record for the Lady Wildcats, and led them to their first-ever NTL softball title. She is now playing Division I softball at Albany.
I also played against a few guys, whose kids I would eventually cover.
Dan Lane was a fiery competitor, who could flat out score, and along with Ed Speiss and Tim May led SRU to the final eight in the State tournament in 1983. He scored nearly 1,500 points in his career.
His son, Aaron, now a senior at Athens, ended his career with 1,300-plus points and is second all-time in school history to former Penn State standout and NBAer Bobby Weiss. He also topped 50 goals on the soccer pitch, and was an all-star pitcher for the Wildcats.
His older son, Ethan, was also a 50-goal scorer on the soccer pitch, and a 1,000-point scorer on the hardwoods.
Hands down the most ferocious competitor I ever played against, or covered for that matter, was NEB's Billy Clark. He was physical and athletic, and had all the intangibles, plus he worked harder than anyone else, which makes up for any flaws a player might have.
His daughter Taylor was a basketball standout at Athens in the early days of VSR, and went on to play Division I hoops at Hartford, while his son Garrett also enjoyed a good three-sport career for the Wildcats.
From the time I first stepped on a basketball court representing Waverly Rec. and played against a Sayre team, Tom Hendershot was there wearing the red-and-blue. That went on for a decade.
Years later, I would cover three of Tom's kids. Paige was an all-star soccer player at Tioga, while her brothers, Parker and Pierce, were baseball and basketball standouts, are now both playing Division I baseball now — Parker at Penn State, and Pierce at St. Bonaventure.
I've even covered a few of my former teammates' kids.
Kevin Hammond was a fellow lineman on our woeful 1982 Waverly football team. His daughter, Wendi, was a two-time all-state pitcher on the WHS softball team and led the Lady Wolverines to their first-ever Section IV title last year. She was also a multiple-time league all-star on the soccer pitch and hardwoods. She is now playing Division I softball at Albany.
Sam Goble was the best running back I had ever seen in the Valley until Tioga's Jesse Manuel came along, and was a pretty good baseball player as well. His daughter Samantha was also a two-sport star at Waverly, excelling in the pool, but really making her mark on the track, where she was a multiple-time state qualifier. She recently graduated from Nazareth, where she also enjoyed a good track & field career.
Mark Cron had quite a fastball and a cannon at shortstop. He was also a hard-nosed football player. His kids, Coty and Victoria, also made their marks for the Wolverines. Coty earning his biggest accolades on the diamond, while Victoria had a good basketball career.
I'm also looking forward to covering the children of some of the former athletes I've covered.
If Judson is No. 1 in terms of basketball players I've covered, David Sickler is No. 2. He was smooth, and could shoot the lights out. Like Judson, you could count the number of mental mistakes he made each season on one hand. I'm looking forward to covering his son Evan, who has made a name for himself in the youth ranks, and could make a mark next year as a freshman.
If I were to do a top 10 of basketball players I've covered, Sayre's Jimmy Davies would definitely be on it. He might even be in the top five. His son, Evan, is already a winner after his battle with cancer. I'm looking forward to his time on the hardwoods, and the diamond.
I wonder how close I am to covering a third-generation athlete?
(I definitely did not include everyone on this list for obvious reasons. Like most people these days, I have plenty of time to think on the topic, so I'll likely write another column like this in the near future.)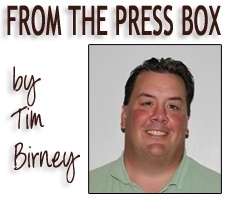 Print Friendly Version